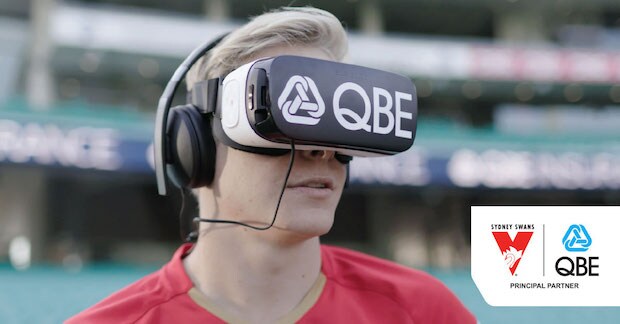 QBE Insurance and long-term partner, the Sydney Swans, will this week launch the first ever, immersive 360 - degree virtual reality (VR) AFL fan experience.
Swans360⁰ - made possible by QBE will be rolled out as part of an experiential and digital campaign across QBE and Sydney Swans owned channels.
The four minute VR experience will officially launch at the Sydney Cricket Ground (SCG) this Sunday, 1 April – the first home game for the Sydney Swans in 2018. It will also be available to view on the Sydney Swans app.
Fans can experience Swans360⁰ - made possible by QBE befor e every home game in the QBE Fan Zone on Driver Avenue.
They'll be invited to step into a mini SCG replica, complete with the iconic clock tower, take one of seven swivel seats and be transported into the shoes of a Sydney Swans player on match day.
Created with world - renowned production company, Rapid, the film uses revolutionary VR technology and techniques and was filmed during one of the most memorable games of last season – Sydney's Round 14 clash with Essendon, which the Swans won by just one point during the dying seconds.
Directed by Rapid's Dave Klaiber and h osted by Sydney Swans great Michael O'Loughlin, the film takes viewers into the inner sanctum of the change rooms, the coach's huddle and out onto the SCG with the team at the start of the game.
They also experience the exhilaration of winning during one of the best comebacks in the club's history.
QBE partnered with sports and entertainment agency, Octagon and their production arm Milkmoney, to develop the fan activation and broader digital content campaign that will run throughout the 2018 AFL season.
QBE Chief Customer Officer, Bettina Pidcock, said the campaign was a demonstration of the insurer's commitment to innovation and its long - term partnership with the Sydney Swans.
"For 32 years, we've been like the 23rd player in the team, so we wanted to give fans the opportunity to step into our shoes and have a truly immersive match day experience," Ms Pidcock said.
"At QBE, we're embracing new technology, like virtual reality, auto nomous vehicles and drones to help create safer roads, faster catastrophe responses and a range of community benefits.
"Swans360⁰ - made possible by QBE is a brilliant way to showcase the power of that technology for our customers and Swans fans, as well as celebrate one of the world's longest standing sporting sponsorships."
Dave Klaiber, Rapid Director said: "With 360 - degree VR you don't just watch it, you experience it, and this is such a great application for the technology. To get the game against Essendon was incredible and to be able to capture and bottle that type of emotion in VR was one of the highlights of my career."
Sydney Swans senior coach John Longmire said Swans360⁰ - made possible by QBE is a unique way to experience the thrill of an AFL game.
"It's one of the most amazing games I've ever been a part of and this VR experience makes you feel like you are right there – there's nothing else like it.
"Every Sydney Swans supporter should experience this as it will give you a whole new perspective of game day."
The Swans360⁰ - made possible by QBE campaign commenced with a series of 15 - second teaser clips showing players,, including Lance 'Buddy'' Franklin and Isaac Heeney, as well as coach John Longmire, sharing their reactions to experiencing match day in virtual reality.
Ahead of the official launch this weekend, QBE has released a 40-second behind the scenes video, showing how the VR film was made.
Fans will also be able to watch a 30-second version of the VR video on the Swans Facebook page.
The campaign will continue to rollout throughout the season, with additional content to follow through both QBE and Sydney Swans digital and social media channels.
Swans360⁰ - made possible by QBE is a collaborative effort between QBE, Sydney Swans, Rapid,, Octagon and Milk Money, with the support of the AFL and Channel Seven.
Fans can experience Swans360⁰ - made possible by QBE at the QBE Fan Zone on Driver Ave,, from two hours before the start of each home game from 1 April.