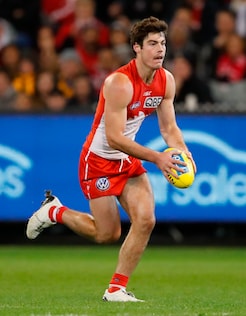 George Hewett has a fairly extensive list of scalps this season, though the reliable Sydney tagger has revealed he still doesn't feel comfortable in his role as a lockdown player.
The hard-nosed Swan got the better of his duel with three-time Saints best and fairest winner Jack Steven on Saturday night, playing a crucial role in his side's 71-point win.
Hewett held Steven to just 13 disposals on the night, well below his season average, adding to impressive performances on the likes of Patrick Cripps and Dayne Zorko.
Yet the 22-year-old isn't getting carried away, saying the prospect of facing the game's best midfielders keeps him "on edge" heading into every match.
"I don't know if comfortable is the right word," Hewett told AFL.com.au.
"You're always on edge. But it's good. It makes you concentrate more and be in the moment more. It makes me make the most of each play."
Hewett not only played a defining defensive role in thwarting Steven's run and carry for the Saints, but he also impacted the game going the other way.
He finished with 19 disposals and five clearances himself to earn particular praise from Swans coach John Longmire.
"There's talk about other midfielders in our team, but there's George who gets a fair bit of time in the midfield and generally plays pretty well," Longmire said.
"He's able to play a two-way game pretty effectively. He's very strong in the body and he applies himself very well against opposition players, but he's also able to have an impact at the right time and make the right decisions.
"That balance is important, and we know Jack Steven is obviously a very good player. It's important to be able to control that at that time."
Sydney created a virtually unassailable buffer in the first quarter, kicking nine unanswered goals to start the match before controlling the contest through the remainder of the game.
Hewett's impact in helping the Swans get on top from the centre was evident during that period, with Steven held to just one disposal in the opening term.
"It obviously helped with (Callum) Sinclair and all of the other boys in the middle winning it," Hewett said.
"Obviously he's pretty quick, so I just tried to cut out his angles and body him so he couldn't get the handball receives. He still got a few late, but overall it was alright."