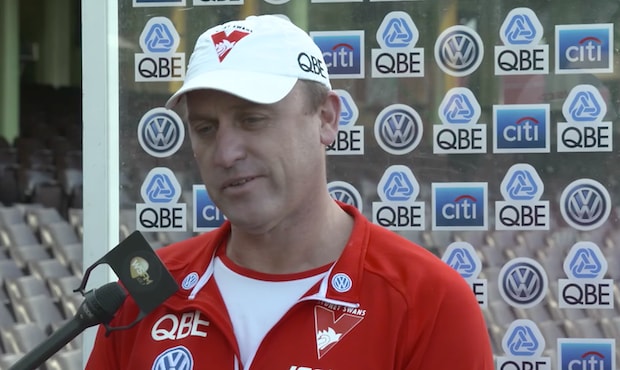 Sydney Swans coach John Longmire addressed the media ahead of training at the SCG on Wednesday morning.
Sydney is set for a blockbuster clash with the ladder-leading West Coast Eagles at the SCG on Friday night.
Here are some key quotes from the press conference.
How Longmire found the dive at Big Freeze 4
"It was cold. There were three tonnes of ice in the swimming pool apparently and they had plenty more ice underneath. They were loading it in and I said at point 'okay, we've got the point – it's going to be cold' and it didn't disappoint. It was very, very cold, especially in jockey silks."
Conjuring the costume
"We had a combination of a Rhyce Shaw suggestion and a Nick Davis delivery of the jockey silks. I don't he needs them back – I think they're a bit stretched. So the poor jockey might struggle a bit when he gets them back. It was a great cause. Neale Daniher is a fantastic bloke and it's such a cruel disease. To see the money raised and the comradery among the coaches to get there and support Neale and the cause was pretty special to be a part of. We made fools of ourselves but it was for absolutely the right reasons."
Facing a red-hot opponent
"They're sitting on top of the ladder for a reason. They're a quality team, Adam Simpson has got them playing really good footy at the moment. One versus three at the SCG this week, Friday night footy, it's a great opportunity to play the best team in the competition. Our form's been solid and we're really looking forward to a big clash."
How West Coast has developed since the sides last faced each other in Round 1
"Every team evolves as the season goes on and makes some changes. They've just been playing really consistent footy. They play a consistent brand of football, their players have been really good, you expect them to get some more players back. While they might have lost Jack Darling they will still be a very strong unit here."
The chance of bringing in a tall defender
"With Darling out we're not sure what they'll do as far as bringing that next player in. That's a possibility. We've got the ability for our players in the backline to play taller. Aliir Aliir is a possibility, Harry Marsh can player taller. We'll have a look at that and finalise our team tomorrow."
Whether Aliir can help in the ruck
"If he's in the team he can. We've been able to use a couple of other combinations in the ruck. We think Callum Sinclair has done a good job. There's no question this week is a massive task. They've not only got Nic Naitanui but Scott Lycett in the ruck as well. When you have the two of them it's a big challenge. Other teams have gone with one ruck, two rucks against them. We're still weighing that up."
The strength of West Coast's midfield
"You get great ground position if you're able to win the clearances. You've got a dominant ruckman, you win the clearances, you get good ground position and that's an important part of AFL football. You're then able to set up repeats and really work the opposition over. We're aware of that. Our boys in the midfield have been going okay and they will have to be going really well this week to match that. But West Coast are very good at transferring the ball from the back half and scoring as well. They're elite at scoring from their defensive half and transferring the ball all the way up the ground. So they can play a number of different styles."
Will George Hewett play a tagging role?
"We expect all our midfields to have run-with roles when the opposition have got it. George has been doing a good job in that position. Luke Shuey comes in and obviously he's a really important player as well. That's the danger of them – if you look after one there's a chance that one or two others pop up and they're A-grade players."
The Sydney-West Coast rivalry
"Back when we had that '05-'06 period it was quite extraordinary the amount of games that were decided by a kick or less – and finals games too. Some of the biggest games that these two clubs have played in were decided in that period. That was great for football and great to be a part of. Nerve-racking at times. To get the game back here when you've got a couple of teams in the top four playing against each other on Friday night is exciting. We know we've got the job very much in front of us and we're playing the best team in the competition. It's a big task but we're looking forward to it."
The influence of former West Coast ruckman Dean Cox on Sydney's coaching panel
"Dean Cox has been great for our footy Club. From the moment he walked in you could tell he's very passionate, up and about, great energy and he really knows his football. He's been a fantastic addition. Obviously he knows West Coast but it's one thing knowing them and another trying to execute those plans and trying to deliver on match day. He's been very good for us and he's certainly helped Callum Sinclair."
Preparing for a giant rucking duel
"The ruck crew have got their own little – it's almost like a secret society. They get together and have a chat about the strengths and weaknesses of the opposition. They go over it thoroughly. Callum is aware of what they do, having played there, and Dean as well. Those guys know what they are about – the opposition ruckmen. Naitanui at the moment is back to his best, in dominating form and his ability to be able to get his hand on it. He is such a big man in the centre square, he's a real handful for teams and he will be a real handful for us. Sinclair has been going really well and our boys at ground level have been giving it a real crack."
Sam Naismith's impact while injured
"He's been working with our reserves and is helping out there which he's really enjoyed. He's been jumping into that and having a real go. It's great for those guys that are injured that they can turn a real negative into a positive and work with our younger players."
Will Kieren Jack return?
"He's a chance to play. He's pulled up well. It was good to have the weekend off. As Tommy Papley was the week before they were getting pretty sore and coming off a six-day break this week and going into the Eagles it was important he didn't play last week because it gives him the best possible chance to play this week. He's not over the line yet, he's got to train, but he's a chance to come back into the team."
How Jack's current soreness compares to last year's hip injury
"It's not as bad as that. Last year was about his strength in that area. He's been able to get on top of that since he had that period out last year. He had a bit of a corky on the same hip last week which sort of exaggerated the problem. But it's a lot stronger than it was last year. He ran Monday and ran well, so that's a good sign that he's in a much better shape than he was last year."
Grab your tickets!
"We want a big crowd here for Friday night footy. It's one versus three on the ladder, a massive game, two teams whose form has been pretty strong, we need a big crowd to support us and get behind us. We want a red-and-white army here on Friday night."