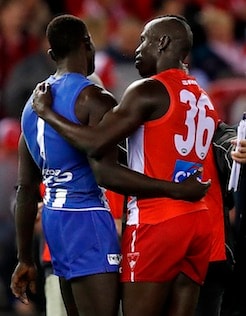 Sydney Swans defender Aliir Aliir has been recognised among the most culturally powerful people in Australia by the Australian Financial Review.

A panel of seven judges recently met to debate what it means to be Australian today and formed the list of the top 10 most culturally powerful people in Australia.
Aliir was named alongside North Melbourne defender Majak Daw, 27, the first Sudanese player to make the draft, in eighth position on the list.
The pair met in a remarkable clash in Round 17 with Aliir going on to kick the winning goal of the match in the closing stages of the game.
The panel including Sam Mostyn (Citibank Australia Chair), Elizabeth Ann Macgregor (Museum of Contemporary Art Director) and Russel Howcroft (PricewaterhouseCoopers Chief Creative Officer) gave compelling reasons for the selection of the pair in the list.
"The impact they are having goes way beyond the football field," Howcroft tells AFR.
"This is our indigenous game and for these two fellows to take it on and be out there with more than a million people watching every weekend cannot be overestimated."
"And they would both consider themselves Australian," Mostyn adds.
"They started playing footy as young boys arriving in Australia, and have brought their families and communities to the game. Those communities now feel welcome at a time when African Australians are so maligned."
Saxon Mullins, the woman at the centre of a Sydney sex assault trial that sparked a fierce debate about consent has been named the most culturally powerful Australian of the year by the panel.
See the full list below.
The AFR Magazine Cultural Power List 2018
1. Saxon Mullins
2. Alan Joyce
3. Tony Ayres
4. Pat Anderson
5. Kurt Fearnley and Dylan Alcott
6. Craig Reucassel
7. Hannah Gadsby
8. Aliir Aliir and Majak Daw
9. Judith Neilson
10. Warwick Thornton