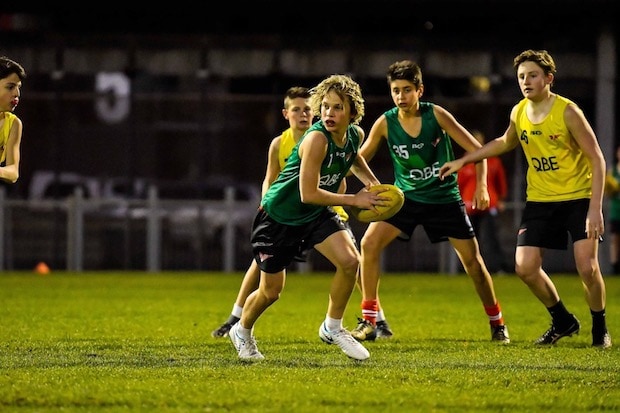 A highlight of the QBE Sydney Swans Academy's program is the annual Joss State Trials, where the Swans youngsters get their first taste of rivalry with the GWS Giants.
The Trials were held over three days last week in the southern NSW town of Albury, as six teams from the Academy's U13 and U14 squads took on six teams from the Giants Academy.
For the 144 Swans Academy boys involved last week, it was a chance to challenge themselves against the best players from all corners of NSW, including the Giants' stronghold in the Riverina.
Chris Smith, general manager of the Swans Academy, says it's an incredible experience for players in the U13 and U14 squads as they take their football to the next level.
"The boys who are chosen are very fortunate to get the opportunity and we were really pleased with their competitive spirit and the way they conducted themselves,'' Smith said.
"There were also quite a few boys in our Academy squads who missed out on selection, but boys develop at different rates so we urge them not to be disheartened, and to work hard to make it next year.''
Smith also paid tribute to carnival organisers, the AFL NSW-ACT, and in particular Darren Denneman and Rebecca McGowan for running such a professional program.
Players in each Swans Academy team were chosen from across the club's zone, which stretches from the far north coast of NSW to Wollongong south of Sydney.
The Giants teams were more geographically based due to the vast distances in their region, which includes western Sydney, the south coast of NSW, the Riverina, the far north and west of the state, as well as the ACT.
"We like to mix our Swans teams up to make them as even as possible and so boys can form bonds with players from all our Academy hubs,'' Smith said.
Senior Swans Academy players from the U16, U17 and U18 squads went to Albury as assistant coaches and team managers.
The Academy teams were named after Swans players. The most successful during the carnival was U13 Team Rampe, undefeated in five games over three days.
At the end of the carnival, coaches gave out awards for the best five defensive acts, and three best players, and the players' also voted. As well, every Academy coach summed up the highlights for his team.

Kiama Power's Ethan Smith was a standout for U14 Team McVeigh, winning the coaches' award.
U13 TEAM RAMPE
Coach, Curt Pahl; assistants Gerard Pignatelli and Braeden Campbell. Team manager, Sam Thorne
Coach Curt Pahl:
"I was most impressed with the way the Academy kids from the Sydney city areas gelled with the boys from the regional areas, and formed a tight group of 23 players.
Our team focus was on running and carrying the ball, and using our leg speed, so I was very pleased to see that come off.
The special moment was winning the final game and seeing the 23 boys get in a tight huddle and then hug and wrestle the assistants, Braeden and Sam, who are still in the Academy themselves. It was great to see the interaction and joy with all of them.''
Team Rampe Awards
Defensive acts: William Kelly (Port Macquarie), Xavier Russell (Maitland Saints), Hugo McKay (Willoughby Wildcats), Dylan McNeil (Manly Bombers), Ronan James (St Ives)
Coaches' best players: 1. James Lugsdin (Manly Bombers) 2. Sam McMeeken (Manly Bombers) 3. Ethan Garcia (Kellyville Rouse Hill)
Player's players: 1. Sam McMeekin 2. James Lugsdin 3. Bo Baffsky (East Sydney Bulldogs)
U13 TEAM HEENEY
Coach, Rod Mapleson; assistants Rob Cheval and Harrison Parker. Team manager, Sudket Fraser-Krause
Coach Rod Mapleson:
"The most impressive thing about Team Heeney was the way all 24 boys arrived ready to play from the very start, and the way they grew in confidence over the three days.
Our team focus was on switching the ball and taking the game on, and by day three they did that at every opportunity. Their tackling and pressure was a highlight from the very start. On the flip side, a lot of players need to improve their foot skills as we turned the ball over far too easily.
The highlight was in game five when Ethan Clarke ran from the centre of the ground past four of his team-mates to lay a tackle on an opposition forward as he was preparing to take a shot at goal. The other stand out moment was a great contested mark in game two by Jarrod Inglis.''
Team Heeney Awards:
Defensive acts: Ned O'Neill (Grafton Tigers), Billy Longmire (Maroubra Saints), Dylan Bonham (Coffs Harbour Breakers), Ethan Clarke (Mosman Willoughby), Jarrod Inglis (Maitland Saints)
Coaches' best players: 1. Koby Hedges (Cronulla Sharks), Ethan Clarke (Mosman Willoughby), Mitchell Sweetnam (Newcastle City)
Player's players: 1. Koby Hedges (Cronulla Sharks) 2. Ned O'Neill (Grafton Tigers) 3. Mitchell Sweetnam (Newcastle City)
U13 TEAM PARKER
Coach, Leigh Forsyth; assistants Mark Leavy and Hamish Ellem. Team Manager, Sam Wilson
Coach Leigh Forsyth:
"I was most impressed by the way the players in Team Parker gave their all and never backed away from a contest, even though they were a bit undersized, particularly against the GWS sides.
Our clear team focus during the tournament was for all players to be accountable. At times some of our players were sucked into the contest, allowing their opponents to go free on the outside. The team improved in this area as they played together more.
There were a number of great moments during the tournament but a special one was when Caleb May took a strong mark at centre half forward, halfway through the last quarter of our last game. He finished it off with a great goal and that iced our first win.''
Team Parker Awards:
Defensive acts: Max Green (Wollongong Lions), Cooper McLennan (Manly Bombers), Joshua Ralph (Moore Park Tigers), Brodie Williams (Glebe Greyhounds), Billy Foster (Figtree Kangaroos)
Coaches' best players: 1. Billy Foster (Figtree Kangaroos) 2. Charlie Woodhouse (Maroubra Saints) 3. Cooper Donald (Canada Bay Cannons)
Player's players: 1. Cooper Donald (Canada Bay Cannons) 2. Lachlan Cabor (Shellharbour Swans) 3. Henry James (East Sydney Bulldogs)
U14 TEAM KENNEDY
Coach, David Heffernan; assistants Abraham Caroca and Sam Eynaud. Team manager, Josh Stern
Coach David Heffernan:
"I was most impressed with the bond formed among the boys in Team Kennedy, and the way they remained up and about after our loss to the GWS Grey team.
Our team focus was on playing accountable football, putting pressure on the opposition and being as competitive as possible.
The special moment came in our first game, when we were playing GWS Orange. We were three points ahead with 30 seconds left to play. Our fullback, Liam Mungovan, punched an amost certain GWS goal through for a behind and we won by two points. That win laid the platform of self-belief for Team Kennedy."
Team Kennedy Awards:
Defensive acts: Thye Hamilton (Wollondilly JAFC), Indhi Kirk (Maroubra Saints), Denver Ross (Maitland Saints), Liam Mungovan (Maroubra Saints), Daniel Bertolissio (St Ives)
Coaches' best players: Equal first - Daniel Bertolissio (St Ives) and Omar Matar (Wollongong Lions) 2. Mitchell Kunigiskis (Pennant Hills) 3. Thye Hamilton (Wollondilly JAFC)
Player's players: 1. Omar Matar (Wollongong Lions) 2. Daniel Bertolissio (St Ives) 3. Mitchell Kunigiskis (Pennant Hills)
U14 TEAM FRANKLIN
Coach, Wade Campbell; assistants Nick Eynaud and Marc Sheather. Team manager, Mitchell Rogers
Coach Wade Campbell:
"I was most impressed with the positivity and camaraderie within the team. It never wavered no matter the results. Everyone had each other's back, and the way we bounced back on day two was extremely pleasing.
We focused on getting the basics right and making smart decisions, as this underpins everything else. After that we wanted to bring intensity to all contests and increase our voice.
The special moment was the first goal we scored on day two, given we didn't slot one during the first day. The challenge was for every player on the team to get around the goal kicker, which they did. The way the boys lifted after this moment was very impressive and they went on to register a win.''
Team Franklin Awards:
Defensive acts: Jordan Taylor (Bangor Tigers), Cameron Parr (North Ryde Dockers), Henry Bear (St Ives), Hamish Anderson (Sawtell – Toormina Saints), Joshua Nicholls (Bangor Tigers)
Coaches' best players: 1. Thomas Unger (East Sydney Bulldogs) Equal second Matthew Griffin (Maroubra Saints) and Harry Davis (Mosman Swans) 3. Chase Deep (Maroubra Saints)
Player's players: 1. Thomas Unger (East Sydney Bulldogs) 2. Matthew Griffin (Maroubra Saints) 3. Chase Deep (Maroubra Saints)
U14 TEAM MCVEIGH
Coach, Damien Eaves; assistants Graeme Hill and Ky McGrath. Team manager, Sam Wicks
Damien Eaves:
"I was really impressed with the way the boys worked together, especially in their defensive, forward and midfield groups. We had a good mix of boys from different regions and they followed instructions perfectly. They had great focus and commitment to personal goals and team goals. They made mistakes but always worked hard to fix them.
Our main area of focus was a commitment to winning the ball and the contests. We asked our players to make smart decisions with the ball and move the ball to our advantage.
Our special moment came in game one. During the pre-game warm-up we didn't let the boys touch the balls for a while, and when we did, they were ready to explode which carried through to the game. Everyone was pumped after that game. We got the start we had talked about.''
Team McVeigh Awards:
Defensive acts: Ethan Smith (Kiama Power), Oliver Latter (Maitland Saints), Noah McGrath (Warners Bay Bulldogs), Dom Goddard (St Ives), Tom Kohlhagen (Westbrook)
Coaches' best players: 1. Ethan Smith (Kiama Power), Equal second Will Sabolch (Western Suburbs) and Tom Kohlhagen (Westbrook) 3. Dom Goddard (St Ives)
Player's players: 1. Will Sabolch 2. Ethan Smith 3. Tom Kohlhagen