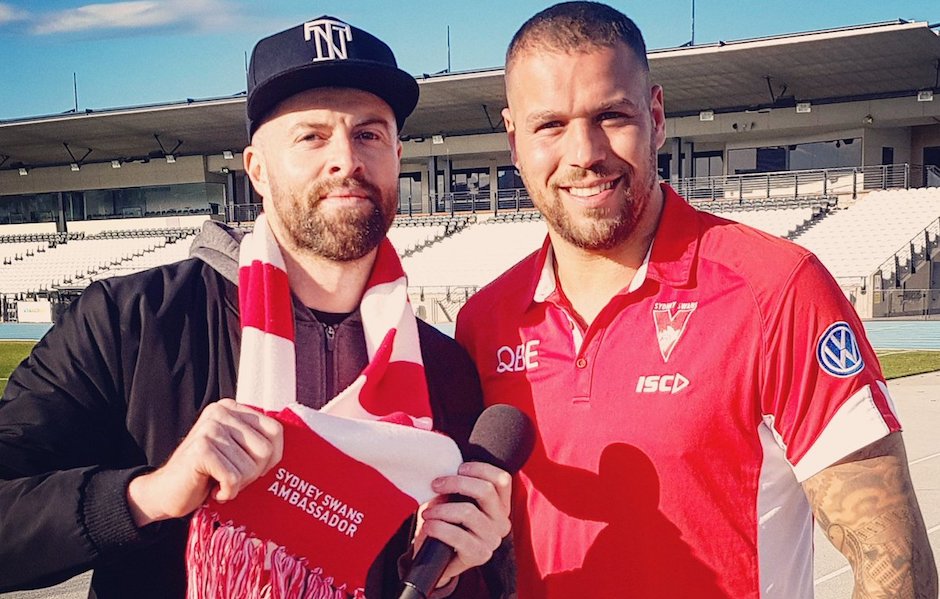 But that was the moment (I love fell in with the red and white) – seeing Warwick Capper looking like a member of Bon Jovi, taking hangers and being a star. How could you not get around those mighty Swans?
Byron Cooke
In this series, we uncover the moment when passionate Swans members fell in love with the red and white.
Warwick Capper's flowing blonde mop, watertight shorts and cavalier persona both on and off the field captivated the hearts and minds of the footy world in the 1980s and '90s.
That was certainly the case for an eight-year-old Byron Cooke, now a Swans ambassador and host on Melbourne breakfast radio show Fifi, Fev and Byron, who fell in love with the red and white as Capper, a Sydney great, booted five goals as Sydney trounced West Coast by 130 points in 1987.
Cooke, born and bred in Sydney's Hills District as a fervent Parramatta Eels fan, watched on with his dad in the SCG stands.
It was the first time the youngster had seen the Swans play in the flesh and, 31 years later, he says it was the seed that would see his passion for the red and white bloom.
"We absolutely thumped the Eagles and Warwick Capper was in his absolute prime," Cooke told sydneyswans.com.au.
"I remember back then I used to love all the big rock bands like Bon Jovi. And I just thought it was cool that Warwick Capper looked like he could be a member of Bon Jovi.
"I just remember going as a kid, 'Who's this dude? This guy's cool. He's got long hair and tight shorts and he always seems to be marking the ball and kicking goals and he's a bit of a star'.
"I had always had a feel for the Swans, but going to that game against West Coast and seeing Warwick Capper do his thing was a turning point. We would then go to games pretty consistently from that point forward and obviously saw some great players throughout the '80s and '90s. There was the 'Plugger' (Tony Lockett) era, the Paul Kelly era and so on.
"But that was the moment – seeing Warwick Capper looking like a member of Bon Jovi, taking hangers and being a star. How could you not get around those mighty Swans?"
While Cooke says Capper's "rockstar personality" was what ignited his love for the red and white, he's certain the Swans' storied history of juggernaut forwards has continued to fuel his passion.
Hawthorn great Dermott Brereton, who hung up the boots with 464 career goals beside his name, donned Sydney colours for season 1994.
Then followed the greatest goal-kicker of all time, Swans Team of the Century full-forward Tony Lockett, who booted 1360 career majors and claimed four Coleman Medals.
Lockett made his Swans debut in 1994 and a fresh-faced dynamo by the name of Michael O'Loughlin would enter the big time in 1995.
O'Loughlin snared 521 goals in a career spanning 303 games and punctuated with the 2005 premiership.
O'Loughlin and the bustling Barry Hall lifted the 2005 premiership cup aloft together – and Hall's goal-kicking feats so too made for a glittering resume, with the former Saint and Bulldog tallying 746 career majors.
It would seem fitting another powerful Swans forward would ensure Sydney's production line of dominant forces would continue to thrive – and so it did.
The Swans secured ahead of the 2014 season the prized signature of star forward Lance Franklin, a four-time Coleman Medallist who in 2018 became just one of nine players in VFL/AFL history to have kicked 900 career goals.
Cooke says players cut from the same cloth as Capper, Lockett, Franklin and the rest are synonymous with the red and white.
"That's what the Sydney Swans are to some level," Cooke said.
"We've had a history of these rockstar-type full-forwards that kick loads of goals. We just seem to keep producing these big and booming forwards and it's part of our history.
"They're the sorts of guys you want to see at the footy. I think it's a part of our personality as a football club. Sydney loves a star and Sydney loves someone that stands out.
"I work in the industry of entertainment and Warwick Capper and all these other rockstar forwards are all about entertainment – that's for sure."
But while the Swans' rich history fuels the fire in Cooke's belly, the former game-day host of SwansTV says he's already buzzing with excitement for season 2019.
"Let's reset and go again," Cooke said.
"I'm super excited – as excited as any other year. I'm as fired up as always.
"The thing with our boys is we're always in the mix and we're always competitive and we will be ready to go around again."