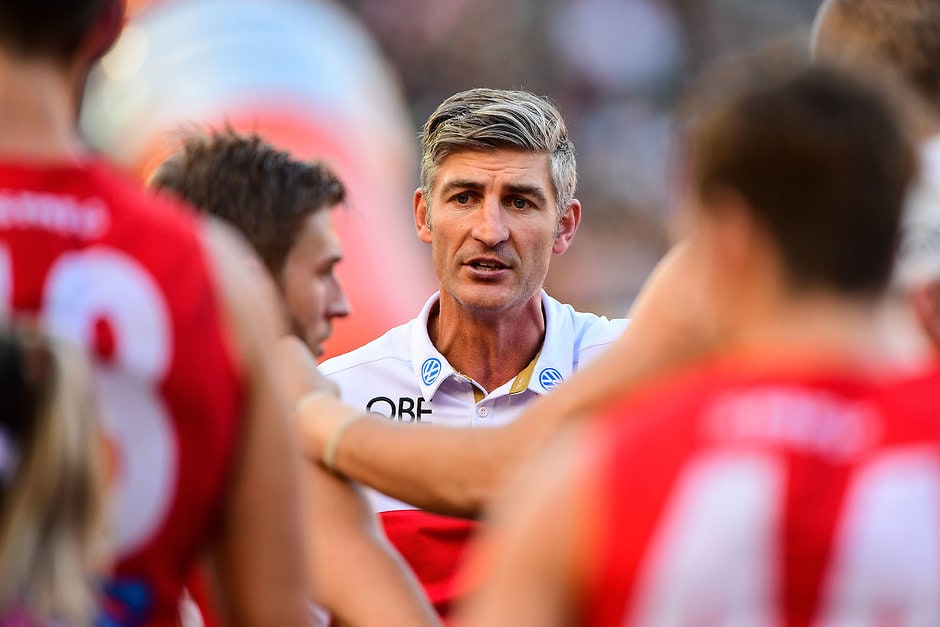 The winds of change are sweeping through the Sydney Swans' midfield brigade as the 2019 campaign draws near, and assistant coach Brett Kirk says the evolution is making for an exciting time.
Newly appointed co-captains Josh Kennedy and Luke Parker have long blazed the trail for the midfield unit, but Kirk says its growing depth is pointing to a bright 2019 season.
"We have a nucleus of really strong midfielders, but you want to keep increasing your depth through there," Kirk told Swans Media.
"We've got some really strong experience in Parker and Kennedy, who've been around for a long time. But we also want to keep giving opportunities to some other players so we're able to bat through to 10-12 players that can roll through there on game day. That might be a mixture of half-forwards, wingers, midfielders, half-backs and so on.
"Players need to be flexible these days because you don't just start in the one spot and stay there. Quite a few of the younger players are able to shift through a number of positions, like Oliver Florent, Callum Mills, Zak Jones, Tom Papley and Will Hayward. They're all guys who are trying to hone their experience over the pre-season.
"The aim every season is certainly to be really strong and contested on the inside of the contest and balance that with speed on the outside – and it's the outside run that we've been really working hard on. Clarke will add something to the outside run and a few of the names I've just mentioned will be looking to as well – Papley, Jones, Mills and the like."
Florent, Mills, Jones, Papley, Hayward and Clarke have played an average of just 50 AFL games, while Hayward is the youngest at 20 and Jones the eldest at 23.
Even many of Sydney's more settled midfielders are in the infancy of their careers, such as star youngster Isaac Heeney (80 games, 22 years of age) and the no-frills George Hewett (71 games, 22 years of age).
A number of young Swans have in recent times also fired in the NEAFL, including Jordan Dawson and James Bell.
Kirk says the key to strengthening the chemistry of the midfield contingent is hard work at training and on game day, and he was full of praise for the effort his troops had shown during the 2019 pre-season.
"You've got to be training together, spending time on the park together, working on your craft and building synergy from just being out there together," Kirk said.
"And what was a stand-out during the pre-Christmas block of pre-season training was the level of intensity the midfielders brought.
"It's good to get the younger players back in earlier. They get an opportunity to use their voice and start working on their own leadership and what drives them. But it's always handy to have the more senior guys then join in on the pre-season a couple of weeks later. They're role models to the younger guys in the way they train and act and go about their business because they've been doing it for so long.
"All in all, the midfield group has approached the pre-season really well."
Former Swans co-captain Kirk, who piled up 241 games in red and white between 1999 and 2010, returned to the club to oversee the forward line in 2016 and 2017.
The 2005 premiership co-captain took control of the midfield ahead of season 2018, and he says the attitude of his troops puts a spring in his step.
"I just love being involved with this footy club and a midfield group that's so committed and always looking at ways to improve," Kirk said.
"This midfield is a really driven bunch. They're generally the last to leave the track because they're looking at every possible way to improve, so when you're surrounded by people like that it's a joy to be involved."