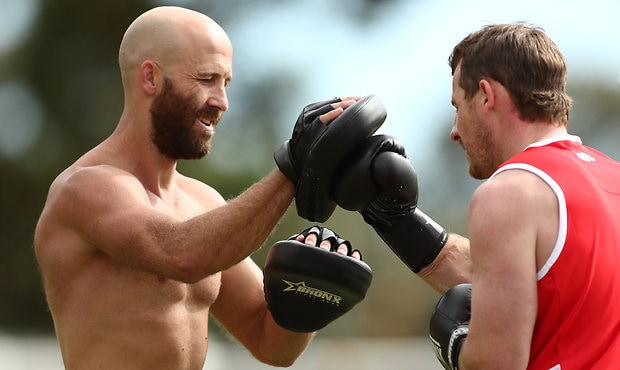 Ageless warriors Jarrad McVeigh, Heath Grundy and Kieren Jack will carry 822 games of experience between them into the 2019 campaign, and Sydney Swans assistant coach and former co-captain Brett Kirk says the key to their longevity is "they are super competitive".
In an indication of just how long the three battle-hardened Swans have graced the red and white, Kirk retired at the end of season 2010 with McVeigh on 147 games, Grundy 70 and Jack 71.
McVeigh (319 games) has since joined Adam Goodes, Jude Bolton and Michael O'Loughlin as one of just four players to have made 300 appearances for the Swans, while Grundy is sitting on 255 matches and Jack 248 as the 2019 campaign draws near.
Kirk says the trio's enormous grit is central to their durability.
"They're all unique and they all bring something different to the table, but one thing they have in common is they're super competitive," Kirk told Swans Media.
"They're really driven to get the best out of themselves. They don't like getting beaten and I'm sure each of them would have shown up on day one at the Swans many years ago with the understanding that someone could be taking their spot. But they're up for a fight and you can see all three of them are really mentally strong."
McVeigh is set to surpass Bolton (325 matches) on the all-time Swans games leaderboard in Sydney's clash with GWS at the SCG in Round 6.
Grundy is on track to push ahead of Swans Team of the Century backman John Rantall (260 games) in the same fixture, while Jack is on pace to play his 250th match as Sydney faces the Adelaide Crows at the SCG in Round 2.
While McVeigh is toiling through his 17th pre-season as an AFL footballer, Grundy his 15th and Jack his 14th, young Swans Tom McCartin and Ryley Stoddart are grinding through their second.
Seven youngsters recently laced up the boots for their first, with Nick Blakey, James Rowbottom, Justin McInerney and Zac Foot signing at November's AFL Draft, before Durak Tucker, Harry Reynolds and Sam Wicks penned deals as rookies.
Kirk says McVeigh, Grundy and Jack provide a wealth of direction for Sydney's next generation of stars.
"For a long time our footy club and culture has been about passing the baton on and sharing stories and experiences and continuing to build on what we stand for," Kirk said.
"All three of those players have made big contributions to our culture and what we stand for. There's no doubt what they do and the conversations they have with the younger players are really important moving forward because they are helping shape the future of the club."