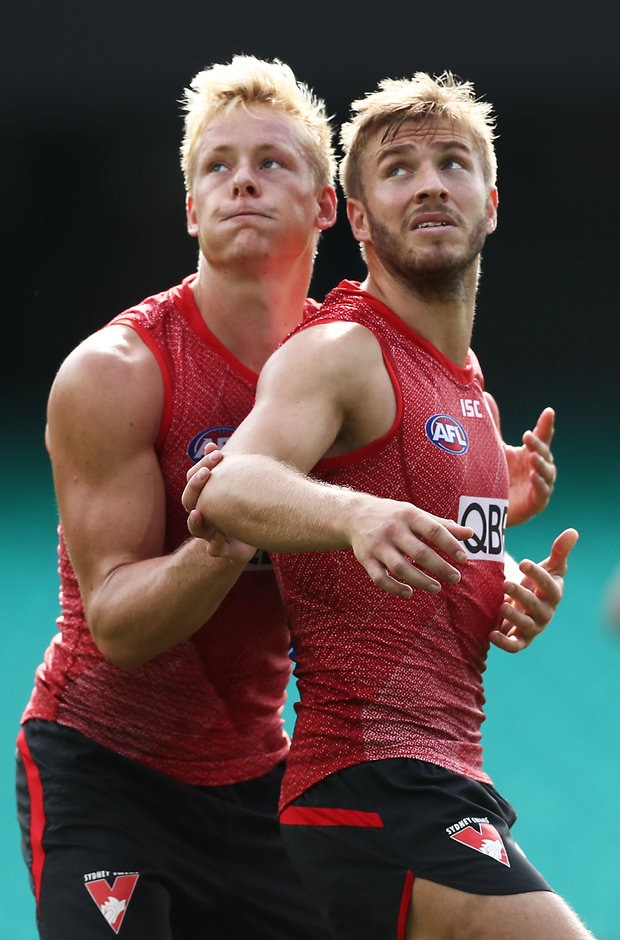 Sydney Swans coach John Longmire says his side could be buoyed by the returns of a veteran midfielder and two young stars for the club's first home game of the season on Friday night.
The SCG clash with the Adelaide Crows could see 248-game Swan Kieren Jack and young forwards Ben Ronke and Tom McCartin return to the fray.
Longmire said Jack and McCartin got through Saturday's NEAFL practice match against the Canberra Demons unscathed, while he's confident a knee complaint sustained in the game won't hinder Ronke's chances of suiting up against the Crows.
"Kieren and Tom played on the weekend and both got through really well, which is a good sign. We're not sure where that sits them in regard to senior selection this week – whether they've done enough. But we'll talk about that this week," Longmire said.
"Ben has had a slight knock to his knee but we're hoping that'll be okay. If he's able to get through our training session on Wednesday he'll be in with a chance. We'll look at the mixture of the team and what it looks like, and what Adelaide's team looks like will come into as well."
The NEAFL practice match saw Jack make his first appearance of the year after a pre-season hampered by a knee injury, but the former co-captain played 60 minutes of the game and earned a glowing endorsement from development coach Lloyd Perris post-match.
Perris praised "a classic Kieren Jack performance" after the 31-year-old led the Swans to a 52-point victory in an outstanding run in the midfield.
McCartin also made his first appearance of the season after undergoing scans to an artery in his neck, and the 19-year-old finished with one goal and Ronke two.
The Swans' clash with the Dogs saw a number of players take significant strides forward after pre-season campaigns affected by injury, with Longmire saying Lance Franklin, Oliver Florent, Zak Jones and Jake Lloyd are all in good shape for Friday's game.
"Everyone's okay. Lance, Ollie, Zak and Jake will all be better for the run," Longmire said.
"There were a few who got through the game and pulled up well for us, which is a good sign ahead of our game against Adelaide."