Made in shade
Neil Cordy
Daily Telegraph, September 8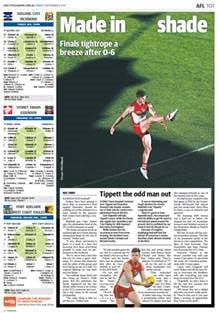 ELIMINATION football?
Sydney have been playing it since May, so Saturday's final against Essendon should be nothing out of the ordinary for a team steeled by the pressure that comes from starting a season 0-6.
Midfield gun Luke Parker says the elimination final at the SCG will be business as usual.
"We knew our game stood up and basically we've been playing elimination finals for the last 15 rounds," Parker said.
"It was about narrowing it down to a week at a time and knowing we'd done everything possible to make sure we performed on the weekend.
"We've never had a start like this but it's been a great challenge, it's shown the character and the pride of this group and how strong we are as a club. I've enjoyed fighting our way back into the finals."
The unlikely finals berth will also bring up Parker's 150th game. But the milestone has barely registered for the star whose entire focus is on victory at the SCG on Saturday and moving a step closer to his second premiership.
"The main thing is that we get the win," Parker said.
"It's just another game for me at the end of the day. But it's a special day for my family who are up here."
Tippett the odd man out
Neil Cordy
Daily Telegraph, September 8
SYDNEY have dropped ruckman Kurt Tippett and Essendon forward Cale Hooker remains out of their side for tomorrow's elimination final at the SCG.
Sam Naismith will take Tippett's place, while the Swans also regain Dan Hannebery and Tom Papley for Will Hayward and Harry Cunningham.
While Hooker has not recovered in time from bone bruising, the Bombers have named Orazio Fantasia and Michael Hurley.
"It was an interesting and tough decision (to choose Naismith over Tippett)," Longmire said.
"(But) it's good to have Naismith back. He's important with his ability to get his hand to the ball and speed around the ground. We're confident he can come in and do the job for us."
The loser of tonight's qualifying final will host the winner of tomorrow's Swans-Bombers clash, almost certainly at the MCG.
Swans selection shock as Tippett dropped for Bombers clash
Andrew Wu
SMH, September 8
Kurt Tippett's wretched season has taken another turn for the worse after the big man was dumped from Sydney's team for the elimination final against Essendon.
The Swans pulled a shock at selection on Thursday night, dumping the highly paid Tippett for beanpole ruckman Sam Naismith.
Star midfielder Dan Hannebery and goalsneak Tom Papley return from injury at the expense of speedster Harry Cunningham and rising star Will Hayward.
While the door is still ajar for Tippett to break back into the Swans' 22, his finals destiny is now out of his hands.
Even a strong performance in the NEAFL grand final on Saturday night may not be enough for a recall, assuming the Swans keep their season alive against the Bombers.
Barring an injury to ruck duo Naismith or Callum Sinclair, or key forwards Lance Franklin and Sam Reid, Tippett may well have played his last senior game of the season. His axing will also renew speculation over his future at the club.
Though well short of his form from early 2016, Tippett's output had been gradually improving since being recalled a month ago, but an untimely ankle sprain in round 23 against Carlton has proven costly.
That the 30-year-old has struggled to play with injuries this season would not have helped him in such a close call.
No place for Tippett
Peter Lalor
The Australian, September 8
Kurt Tippett was a shock exclusion from the Sydney Swans teamsheet for tomorrow's elimination final against Essendon and key forward Cale Hooker has failed to prove his fitness for the Bombers.
Tippett shocked Adelaide supporters at the end of the 2012 when he signed on with Sydney on what was believed to be a $1 million-a-season contract for four years.
Recruited primarily as a forward, Tippett's star dimmed when the Swans paid even more for Buddy Franklin at the end of 2013.
Reshaped as a ruckman-forward, Tippett has struggled with injury but has triggered clauses in his contract that see him tied to the Swans until the end of 2020.
Tippett, who has played the last four rounds, has been pushed out of the Swans side by the return of ruckman Sam Naismith. There had been speculation that Callum Sinclair would be the one to make room, but the other tall in Sydney's set-up held on to his place.
Tippett, who rolled his ankle in the round 23 match, will play on Saturday night at the SCG but it is in the curtain-closing NEAFL final between Sydney and the Brisbane Lions.
"It's good to have Naismith back in the team, he's obviously important with his ability to get his hand to the ball and speed around the ground," Swans coach John Longmire said.
"It was an interesting and tough decision, as we went through it in match committee.
"We're confident he can come in and do the job for us."
Bombers recall key pair for Swans final
Jon Pierik
SMH, September 8
Essendon have recalled two of their prime movers while Sydney pulled a shock selection ahead of Saturday's elimination final at the SCG.
The Bombers have named key defender Michael Hurley (calf) and Orazio Fantasia (hamstring) but were unable to consider Cale Hooker (bone bruising in leg). Hooker had been a late withdrawal from the side that beat Fremantle in round 23.
Bombers football department chief Rob Kerr said the swingman had not been able to run "pain free".
"Unfortunately, he didn't quite get there and we wanted to make the call early to ensure the team and coaches can have a clear focus on the team that will take the field. Cale remains a strong chance to play next week should we win on Saturday," he said.
Hurley had missed clashes against the Gold Coast Suns and Fremantle but has trained strongly over the past week.
"We would also have seen him freshen up in that period," coach John Worsfold said.
AFL has grounds for concern in Sydney
Caroline Wilson
The Age, SMH, September 7
Gillon McLachlan has vowed to find football grounds in Sydney for junior players being turned away by local clubs due to a critical shortage of facilities.
Pointing to the scarcity and inadequacy of grounds as "almost the biggest challenge facing our game", the AFL chief vowed he would not "accept turning kids away" after holding talks in the harbour city on the eve of the finals with the president of Sydney's biggest junior club.
McLachlan called a meeting with Eastern Sydney Bulldogs president Iain Dunstan after launching the finals on Wednesday in the harbour city. "The situation, as he explained it, was quite dramatic," said McLachlan.
Dunstan, who turned away 70 juniors before this season and said that number would grow into the hundreds come 2018 registrations, pointed to the success of the two Sydney AFL clubs, the enormous impact of Lance Franklin, the influx of junior girls and the league's growing impact in Sydney schools as creating a supply-and-demand crisis.
Of his meeting with the AFL boss, Dunstan said: "I think he was genuinely shocked. My view is the AFL has to put in some serious money to fix it and the current growth is only going to exacerbate.
"I understand the girls' success caught them on the hop but right now it's like running a business and spending all your money on advertising and then having no product to sell.
"I appreciated the time he (McLachlan) gave me and for listening, but I've had to resort to civil disobedience because I just think the AFL is spending the money in the wrong places."