Sydney Swans utility Jordan Dawson has been rewarded for his standout 2017 season with the annual Cathy Lees Award.
Presented to the most promising young player or best "blomossing talent" at the Sydney Swans at the end of each season, the annual award is named in honour of the late Cathy Lees who was a passionate supporter but sadly passed away from breast cancer in 1998.
Cathy particularly enjoyed watching the reserves and identifying who the next star will be, her dedication and passion forming the idea behind the formation of the trophy.
This year marks its 20th anniversary and, on Thursday, members of the Lees family, including Cathy's father Alan, made the annual trip to the SCG to induct the newest member of the honour roll in front of players and coaching staff.
"I'm absolutely honoured to receive this," Dawson said holding the specially-designed trophy, donning Cathy's favourite animal, dolphins, in his arms.
"I've heard from a lot of people at this club just how devoted Catherine was.
"To see the names who've won this award before me, I'm following in some great footsteps and if I could be half as good as some of those guys I'd be pretty happy."
Alan, who accompanied Cathy to games and still gets to as many home NEAFL matches as possible, said it meant so much to the family to keep Cathy's legacy going.
"Her association with the young players seemed to us to be a particulaur fine way of doing it," he added.
"That's the beginning of it and 20 years on we've had some wonderful, wonderful players win it.
"It's just wonderful. We think it's a terrific way to remember Cath and we look forward to it every year."
Dawson managed one senior game in 2017, his AFL debut, before maintaining an incredibly high standards in the NEAFL, form that'll be hard for the coaches to ignore according to the Lees family.
"We have absolutely no doubt he'll be in the top team very shortly."
Brett Kirk, who was the second recipient of the award, presented the family with a commerative jumper signed by the award winners still at the club in recognition of their continued support.
The Cathy Lees Award Honour Roll
1998 - Mark Brown
1999 - Brett Kirk
2000 - Heath James
2001 - Tadhg Kennelly
2002 - Sean Dempster
2003 - Scott McGlone
2004 - Paul Bevan
2005 - Simon Phillips
2006 - Luke Vogels
2007 - Ed Barlow
2008 - Matt O'Dwyer
2009 - Dan Currie
2010 - Sam Reid
2011 - Luke Parker
2012 - Harry Cunningham
2013 - Brandon Jack
2014 - Jake Lloyd
2015 - Isaac Heeney
2016 - Nic Newman
2017 - Jordan Dawson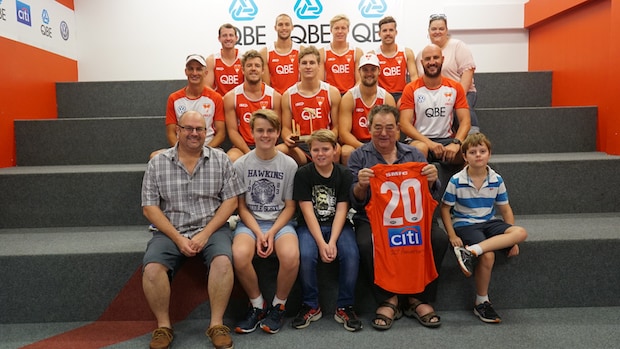 Members of the Lees family join current and previous winners of the Cathy Lees Award, now in its 20th year, at the SCG on Thursday.