Swans suited to getting past 'tough times', insists coach
Adrian Warren
AAP, SMH, May 4
Coach John Longmire admits Sydney have lost their ruthless edge as they face the near unimaginable prospect of back-to-back losses against the two AFL teams expected to battle it out for the wooden spoon.
The winless Swans remain anchored to the bottom of the ladder after last weekend's horror 21-point loss to unfancied Carlton.
Next up is a home clash against Brisbane, a team who haven't beaten the Swans in nine attempts dating back to 2010.
''I'm confident we can rediscover the form that we need to rediscover and I'm confident that our group have been able to deliver for a long time and I'm confident that we can get up and deliver again,'' Longmire said on Wednesday.
''But there is a time when we need to actually go out on the ground and display the sort of football that we know we can. We've said that before and we haven't delivered.''
Longmire has shown little inclination to axe any underperforming stars, as North Melbourne did to such good effect last week with former skipper Andrew Swallow and forward Lindsay Thomas.
''It's not so much searching for answers,'' he said. ''We know we're not playing trademark football, that ruthless hard edge, so we know what the problem is.''
Swans need veteran Jarrad McVeigh against Brisbane Lions
James Buckley
SMH, May 4
In a perfect world, the Swans would ease returning veteran Jarrad McVeigh back through the reserves this weekend, instead of throwing him straight into the seniors for his first game since last year's grand final.
But with his side stuttering at 0-6 and desperately chasing a first win of the season on Sunday against the Brisbane Lions, coach John Longmire is facing little choice but to immediately inject McVeigh's 287 games of experience back into the Swans.
The road map is simple enough for McVeigh - he trained on Wednesday and will be tested once more on Friday before a final selection decision is made.
And Longmire will be licking his lips at the prospect of having his longest serving player back - if there's anything Sydney needs right now it's an experienced head, and a calming influence out of the back half.
"We'll pick the best team that we think can help us play this week and play well and that's what we intend to do," Longmire said.
"Whether we bring him straight back in or whether we bring him through the reserves, we haven't quite got the decision, we're looking at all the facts in front of us and they're not quite in front of us just yet in regards to training sessions.
"He is an important player for us and gives us some good sound experience, but we're also aware that he hasn't played any footy this year and it's the balance between getting that right or not.
"We've been pleased with Isaac [Heeney] coming back in we think he's contributed pretty well off a low base."
Swans trial Steph Curry specs
Neil Cordy
Daily Telegraph, May 4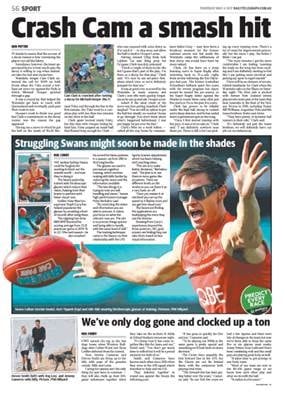 AT 0-6 the Swans' future is hardly so bright they have to wear shades, so why are they wearing them? And will it do anything to lift them off the bottom of the ladder?
The short answer is nobody knows but one thing is for certain, it can't hurt.
They will get some comfort from the knowledge Golden State Warriors superstar Steph Curry has used the glasses to great effect.
The reigning two-time NBA MVP used the specs to help lift his scoring average from under 24 points per game in 2014-15 to over 30 the following season. He also smashed his own record for three-pointers in a season going from 286 to 402 last year.
They are called Stroboscopic glasses and the technical term for their use is perceptual cognitive training.
What they do is make a skill drill harder by reducing the vision and the information available, which trains your brain to execute with fewer visual cues.
"The two things it is trying to train are ball handling and vision," Swans high performance manager Peter Berbakov said.
"By restricting your vision and the amount of information you're able to process it makes you focus on what the relevant cues are. The aim is to process things quicker and being able to handle with the same level of skill."
Beams to miss at least two matches
Greg Davis
Courier Mail, May 4
BRISBANE have been dealt a major blow ahead of this weekend's clash with the desperate Sydney with captain Dayne Beams ruled out of action for two weeks with a quad injury.
Beams suffered the injury during Saturday's insipid 83-point loss to Port Adelaide at the Gabba with scans this week revealing damage to his right quad.
The 2010 Collingwood premiership player is expected to miss the next two weeks with vice-captain Tom Rockliff taking the on-field reins in his absence starting with the match-up with the winless Swans at the SCG on Sunday.
AFL decides rucking rule is here to stay
Greg Denham, Patrick Smith
The Australian, May 4
An AFL review of two controversial rule changes is expected to recommend retaining the "thirdman-up" in the ruck and the "deliberate" out of bounds rules in their current form.
The laws of the game committee will today discuss the contentious issues the two new rules have created as well as their effect on game style but The Australian understands the rules will remain as is for at least the remainder of the season.
It appears the clumsy method of players having to nominate for the ruck before each contest will not change.
Discussion has focused on whether the procedure is beginning to work effectively as players become used to the process after six rounds, or whether it remains a source of confusion.
The rules committee will also be given data examining the effect the third-man-up rule is having at stoppages and on congestion and clearance rates.
The rule was one of three new law changes or interpretations introduced by the AFL last December, making it mandatory that only nominated ruckmen could compete at a contest for a throw-in or a ball-up, with no other player permitted to contest in the ruck as a third man up.
The clampdown of the thirdman-up tactic was made after a two-year analysis determined there was no "discernible advantage" to the game when the set play was used.
The law also supported the recruitment of tall players with a specific skill set, with injury to ruckmen another factor considered by the AFL Commission, who also believed ruck contests would become easier for umpires to adjudicate.
Kennedy admits Swans failed to protect Mills from Blues pack
Caroline Wilson
The Age, May 3
Besieged Sydney captain Josh Kennedy has conceded the Swans failed to adequately protect their young teammate Callum Mills, who was targeted by the Blues players during the club's shock round-six loss to Carlton.
Admitting he had been unaware during the game of the Carlton onslaught inflicted upon the 20-year-old Mills, Kennedy said that the Swans' inability to fly the flag was disappointing and out of character.
"I think we need to look after each other," said Kennedy, who has not yet led his side to a win since assuming the captaincy late last year. "That criticism is not something we want to hear. It's not something we stand for, but it's probably valid. Obviously things have to change."
Kennedy said historically the Swans had withstood similar assaults upon Dan Hannebery, Luke Parker and Isaac Heeney "and basically we've tried to be harder and fiercer in the contest and we've managed to push through and win. This time the comments about us were warranted."
Kennedy said he was aware of the criticism levelled at the team, notably on Channel Nine's Footy Classified, where commentator Garry Lyon pointed to a series of incidents in which young Mills was shoved and on one occasion gang tackled by a group of Blues, Bryce Gibbs, Ed Curnow and Matthew Wright, while Swans Hannebery and Parker looked on.
"We need to stick together," said Kennedy. "We're learning a lot about ourselves and the reality is the amount of criticism we're receiving is nothing compared with the criticism we put on ourselves. Nothing you say to me is anything I'm not saying to myself."