In a series new to 2019, we revisit moments in history involving the Sydney Swans' round-by-round opposition.
History, nostalgia and memories form a special part of what makes Australian rules football great, and we hope the Footy Flashbacks series reignites some of your fondest Swans moments.
In the latest edition, we wind back time to the day a young Jason Saddington set foot on the SCG for his first AFL final.
Jason Saddington will never forget the rush of adrenaline that him like a tsunami on the night of Saturday, September 5, 1998.
Not only was the boy from Mitcham the youngest in action as the Sydney Swans escaped with a two-point victory in a qualifying final against St Kilda, a delirious 36,076-strong crowd watched on from the SCG stands as the home side snatched a 12.17 (89) to 13.9 (87) win.
An 18-year-old Saddington had also taken to the big stage alongside Tony Lockett, Paul Roos, Stuart Maxfield and a host of other champions of the game.
While Saddington can recall very little of his first AFL final, he has vivid memories of a surreal night in his football journey.
"It was extremely exciting. In your first year to be able to go out and play a final at the SCG in front of a huge crowd was incredible," Saddington told Swans Media.
"The games throughout the year were always exciting and the crowds were always fantastic, but I remember on that night there was an extra buzz in the air. It was also a close contest and a hard-fought contest, and it was one of those memorable games that you remember all these years later. I'll never forget being on the ground and the atmosphere that came with it.
"I was extremely nervous and there was a bit of excitement. There was that element of the adrenaline rush of knowing it was going to be a great atmosphere, but there was also that nervousness that came with wanting to perform well. It was a good feeling, growing up as a kid I had always wanted to play finals footy in the AFL and it was super-exciting."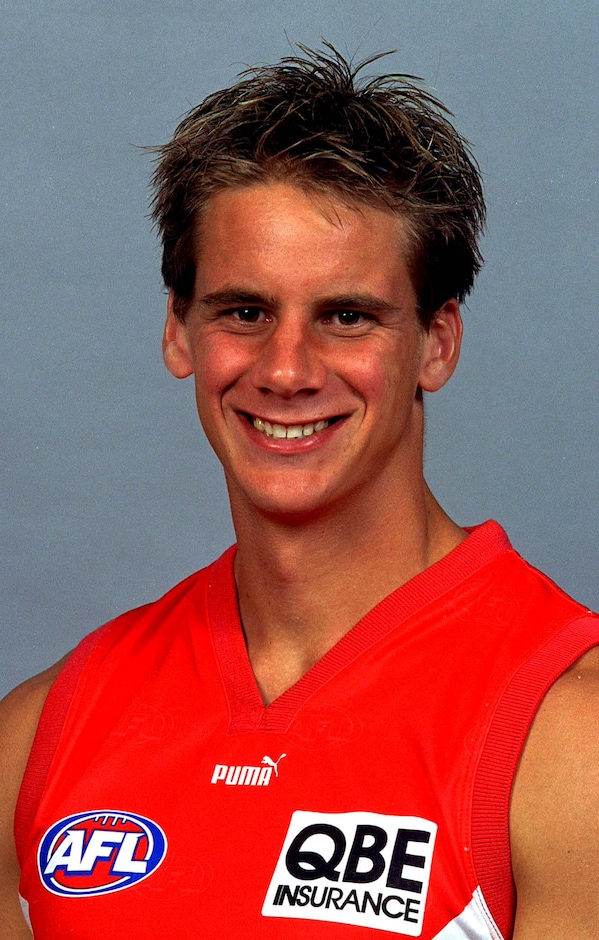 Jason Saddington's 2001 headshot.
Saddington joined the Swans via their first-round selection at the 1997 AFL Draft and was blooded in the opening round of season 1998.
And the big-framed defender, who'd retire in 2008 after a 162-match career with Sydney and Carlton, still struggles to believe the star-studded rollcall of teammates in his early days as a Swan.
"I was a footy tragic growing up in Melbourne and I'd watch as many games of footy on TV as possible, so you'd always see players like Tony Lockett, Paul Roos and Paul Kelly on the TV," Saddington said.
"So to then all of a sudden be part of that team and to be playing with them was something where you pinch yourself at times. It was great to see how they played and how they went about their training, but then to also realise they're great human beings was a great part of my AFL experience."
Many moons later, Saddington is 39 and one of many former Swans on the coaching panel of cross-city rival GWS.
Saddington was appointed as coach of the Giants Academy in October 2014, while past Swans Matthew Nicks, Amon Buchanan and Adam Schneider are also on deck at Olympic Park.
Saddington relishes the opportunity to show the way for the next generation of AFL talent.
"Moving into the coaching ranks and developing young players as they try to realise their dreams and make it to the AFL – I love it," Saddington said.
"But it's also about helping them become the best footballers and the best kids they can be. I'm very lucky to do that and I thoroughly enjoy it.
"I think one of the best things about working with young kids is they keep you young yourself. The only time I feel like I might be getting old is when I try to run around with them on the training track and I quickly realise that the body doesn't like that anymore. But they've got such great enthusiasm and excitement, so it's a wonderful atmosphere to be involved in."
Outside work, Saddington loves spending as much time with his family as possible.
He married his partner Hayley in March and is the proud father of two children – 15-year-old Kai and nine-year-old Archer – while a third is due in February.
Life is very different for Saddington from when he was carving out an impressive career in red and white, but he will forever have cherished memories of his time as a Swan.
"It was the best time of my life."