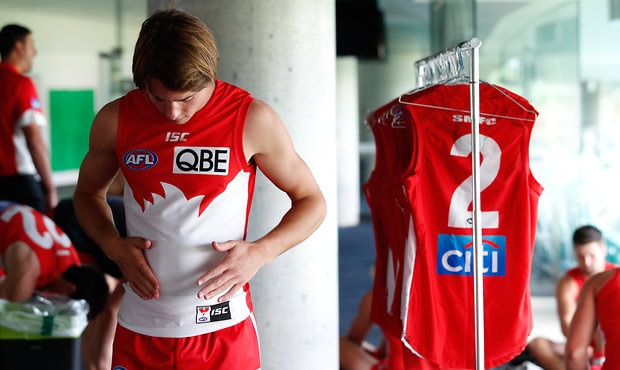 A season plagued by injury and seeing one of his best mates star in the AFL is spurring Matt Ling on ahead of his 2019 campaign.
Sydney secured young midfielder Ling via its first-round selection at the 2017 AFL Draft and extended his contract before he had even pulled on a Swans guernsey.
But a broken toe would limit the Geelong Falcons product to just six NEAFL games in his first season in red and white.
Ling returned to running in December and says his injury-riddled 2018 season is fuelling his hunger for 2019.
"I want to push for selection for Round 1 if I can get back into some solid training and get some good practise games under my belt," Ling told Swans Media.
"I really want to play as many games as I can, and even if that means at NEAFL level, but ideally I'd crack the senior side and play a few games in the AFL.
"I probably didn't realise how frustrating 2018 was until the 2019 pre-season rolled around. I looked at 2018 as an opportunity to build my body because I needed to – I'm pretty scrawny. But it's just really frustrating that while I was able to bulk up over the footy season, I wasn't able to train over the opening few weeks of the pre-season. You get a bit out of touch with the game plan and running fitness, so I'm just stoked to be back in the thick of that now and am really looking to have a big 2019."
Although Ling watched from the sideline as his first season at the Swans drifted away, the youngster says he was thrilled to be cheering on close mate Tom McCartin as he lived out his AFL dream.
The Swans recruited both Ling and McCartin from the Falcons at the 2018 AFL Draft, and McCartin would fill the gaping boots of injured star Sam Reid at centre half-forward in 15 games.
Ling and blossoming midfielder Jordan Dawson – McCartin's housemates in 2018 – were with McCartin when coach John Longmire knocked on their front door, greeted the young trio and told McCartin he'd be making his AFL debut against Hawthorn in Round 8.
Ling was over the moon as Longmire surprised McCartin with the news, he was rapt to see his mate rise to the occasion in the AFL, and he said McCartin's breakthrough season had added fuel to the fire ahead of 2019.
"Seeing my housemate in 2018, Tommy McCartin, play 15 senior games, has really made me want to get out there and experience the same thing," Ling said.
"I was at the house when John came and told him he was playing his first AFL game, and the buzz that me, Tommy and Jordan got out of that was awesome. So I just want to be a part of that.
"I loved watching him run around on the big stage. I remember sitting at home and watching him on the TV whenever he was playing and just going, 'Wow, this is pretty awesome'. It's great seeing one of your best mates – and especially because we're both from Geelong – playing really well and doing what he wants to do. He was pretty inspiring for me this year."
Ling's return to running saw him take a giant stride forward in his quest to follow in McCartin's footsteps, and the 19-year-old said it was great to again dust off his joggers.
"I hadn't run for six months, I'm stoked to be running, I'm super happy to be out of the rehab room and it's great to be out with the boys."