AFL Commissioner Mike Fitzpatrick says Greater Western Sydney is "slightly behind" schedule in its early development and confirmed the Giants will be treated separately when it comes to reviewing the contentious Cost of Living Allowance (COLA).
One of the hottest topics in the game at present is the COLA, with many believing it has led directly to the Sydney Swans' ability to sign Kurt Tippett and Lance Franklin to big-money deals in the past two years.
Both the Swans and Giants receive a 9.8 per cent increase to their salary caps as a result of the cost of living in Sydney. The allowance is being reviewed.
The Giants have since distanced themselves from their cross-town rivals, suggesting the Swans no longer require the assistance from the AFL.
Fitzpatrick said at a press conference in Sydney that the COLA was firmly on the table, but a decision wouldn't be made for some time.
"I wouldn't say it's a key part of the meeting," he said.
"We are looking at competitive balance. I don't want to discuss the agenda in detail, but it is one of the issues being looked at, yes.
"(A decision) won't be made at this meeting, but we'd hope over the next two-to-three months we'll reach some sort of conclusion.
"Obviously whatever happens, clubs have to plan."
Fitzpatrick maintained the COLA review wasn't linked to the Franklin deal, which he said "turned up out of the blue".
Asked whether the two Sydney clubs would be treated independently in the review, Fitzpatrick replied: "If your question is, are Greater Western Sydney at a different stage of development to Sydney? I think the answer is yes."
The Swans' ability to sign Franklin to that nine-year, $10 million deal, just 12 months after winning a premiership and adding Tippett to their line-up, has proven particularly hard for some in the competition to swallow.
The Swans have said player movement and retirements allowed them to create cap space and justify the deal, which was signed off by the AFL, and had nothing to do with COLA, something Fitzpatrick wouldn't be drawn on.
"I'm not going to pass an opinion on that, at this stage," was all he would offer.
The AFL has made an enormous investment in GWS, adding a team to an area that previously had little interest in the game, and has always maintained it is a move that may not bear fruit for decades.
But it has still been a tougher-than-expected start for the new franchise, which has managed just three victories in its first two seasons.
The club has drawn excellent corporate support to date and will officially unveil its new training base at Homebush Bay on Tuesday, and Fitzpatrick has no concerns over its long-term viability.
"The first two years have been tough and I think we expected them to be tough and they didn't disappoint," he said.
"The acquisition of five senior players this year will make a difference and it's something we'd encourage them to do.
"Australian rules sides, as we've seen with the Gold Coast, they're just hard to build. It takes four-to-five years to build them.
"If we looked at their timeline, I think we'd say they're slightly behind where we'd like to see them.
"But other than that, on most indicators, they're good and we believe GWS can become one of the big clubs in the AFL.
"We are committed to the long haul and we do understand it's a very, very competitive market."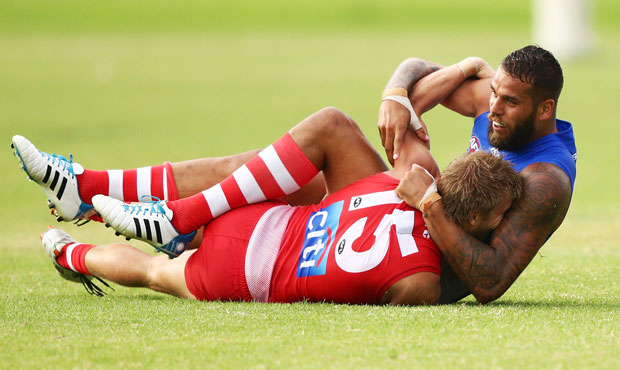 Lance Franklin's move to the Swans sparked debate about the Cost of Living Allowance. Picture: GETTY
A number of other issues were canvassed, with Fitzpatrick saying a night Grand Final was not currently on the agenda and there was no update on the ongoing ASADA investigation into Essendon.
Williams, who was with News Corp when the last five-year broadcast deal signed off by the AFL, was also asked about the potential expansion of AFL Media and the possibility of it broadcasting games.
Williams would only say he would be happy to take an active role in further negotiations in those areas and felt similar arrangements with Major League Baseball and in the NFL were "incredibly interesting".
Finally, Fitzpatrick and Williams were also quizzed on the reasons behind the latter's appointment to the Commission.
One report has suggested News Corp took Essendon and James Hird's side during the peptide saga and Williams' appointment to the Commission is some form of payback by AFL chief Andrew Demetriou.
That was flatly denied by both Williams and Fitzpatrick.
"I'm quite perplexed by that," Williams said.
"I could actually construct it in quite a different way and say it arguably links the organisations through an intimate understanding on both sides."
Fitzpatrick added: "I can tell you precisely that Andrew had nothing to do with this appointment.
"It's a Commission appointment and it was made by the committee of four individuals, two from clubs and two from the Commission."