Who am I? I was a top 10 draft pick who kicked five goals on debut with the Sydney Swans. I kicked four goals in my first game against the Swans, yet I played only 18 career games. And I'm a former reality TV star who is now a national media identity.
Not sure? If you're living in Sydney tune your radio to the Nova breakfast show and you'll find him.
It's Ryan Fitzgerald, one of Australia's favorite football funnymen. Or just "Fitzy".
That he is best known simply by his nickname is proof that the one-time Sydney key forward has made it. Definitely.
For 15 years he's been a fixture on the national Nova network, first in Adelaide and now Sydney. He is also a regular on "The Back Page" on Fox Sports, and an occasional fill-in on "The Front Bar", Seven's hugely popular football variety show.
He could hardly have wished for more … but he did.
Media was his second career choice. First, he wanted to be a footballer.
And when he was drafted at #4 by the Swans in the 1998 National Draft, he had every reason to think that a long and successful career beckoned after a long battle just to get a chance at the elite level.
Tall and skinny as a teenager growing up at Port Noarlunga, a beachside suburb south of Adelaide, he was better known as a record-breaking little athletics competitor until he won an Under 17s football premiership in the Southern Football League in 1993.
But still it didn't just happen. Graduating to open ranks, he found himself in the B-Grade side in 1994, and it wasn't until after an A-Grade premiership three years on in 1997 that football was any sort of realistic career option.
And even then, he had a dilemma. SANFL clubs South Adelaide and Glenelg both wanted him. His father Mick had played at Glenelg and he'd always barracked for the Tigers, but he was making car seats at Mitsubishi at the time and it was easier to get to training at South Adelaide from there, so South it was.
Midway through his fourth game in defence Fitzgerald hadn't exactly set the world on fire and had resigned himself to being dropped when coach Ken Applegarth threw him forward.
"It was against Glenelg and I stood Chad Cornes. Something just sort of clicked. I took a few grabs and started getting a bit of confidence. It all started from there."
Having always barracked for the Adelaide Crows, Fitzgerald had gone with a bunch of mates to the club's first AFL grand final in 1997 but they were unable to snare any last-minute tickets and watched the Crows' first flag at Punt Road.
In 1998, by now a fixture at South, he played well enough to put himself into the draft mix. And as he zeroed in on an AFL career of his own, he righted a frustrating wrong of 12 months earlier.
Again, Fitzgerald and his mates travelled to Melbourne for the grand final, but this time they had tickets. They went in early and, as he put it, had a few drinks during the Under-18s game.
This was the beginning of a story that has been told time and time again.
"We saw a volunteer stand up and yell out 'Whoever needs their red overalls, follow us'. A mate and I just happened to be in the area at the time and we thought we'd follow them. We went down underneath the MCG, got the red overalls and found out we were in a group of on-ground volunteers," Fitzgerald recounts.
"The next thing we knew, we were out on the MCG helping set up and Muhammad Ali was driving past us. We kept the red overalls just to remember the day, but at the end of the game when the Crows got up we looked down and all the guys in red overalls were on the ground taking out the stages for the presentations.
"Security didn't question us at all, so we ran down onto the ground. It was a couple of months before the draft. 'Blighty' (Adelaide coach Malcolm Blight) and 'Bicks' (captain Mark Bickley) looked and me and asked, 'what are you doing out here?' I said, 'It's a long story. I just hope I get to pick No.16 and you guys can draft me!' It was one of the greatest days."
But it didn't go to plan. Fitzgerald had played too well and shown too much potential to go so deep into the draft, and after Brisbane took Des Headland at #1 and Fremantle chose Justin Longmuir at #2, Sydney, with the next two picks, went with Nic Fosdike at #3 and Fitzgerald at #4.
It was an era where the draft process wasn't as precise at it is today, as evidenced by the fact that only three top 10 picks in 1998 rank among the top dozen players in terms of games played for that draft. And seven of the other nine were drafted at #24 or beyond.
Still, it was a great draft for Sydney. Fosdike was the Swans' leading possession-winner in the 2005 grand final win over West Coast and played 164 games, and Jude Bolton, taken at #8, played the most games among first-time draftees that year with 325.
Bolton was followed by selection #11 Lenny Hayes (297), #44 Heath Scotland (268), #57 Andrew Embley (250), #15 Brady Rawlings (245), #9 Mark McVeigh (232), #29 Tyson Stenglein (208), #7 Josh Carr (207), #38 Brendan Fevola (204), #24 David Wocjinski (203) and #27 Steven Baker.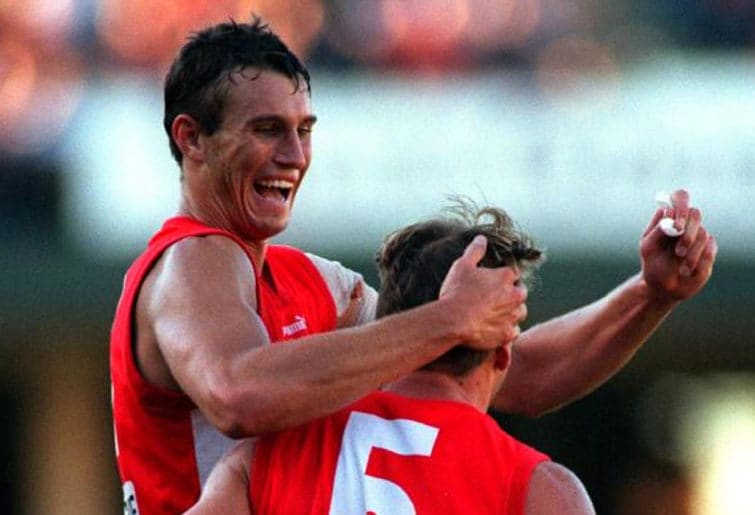 Just outside the top 10 and the 200-game mark was Craig Bolton, drafted at #33 by Brisbane before forging a stellar career with Sydney that ended at 199 games.
It was an era, too, in which not every player lived every minute of their day for football.
Fitzgerald bypassed the AFL Draft Combine and remembers that on 1 November 1998, when the football world gathered for the National Draft, he was "feeling a bit dusty after a few beers with mates down at Victor Harbour".
Still, it had been a life-long dream to play AFL football, so he packed up his bags and arrived in Sydney full of hope.
His profile in the 1999 AFL Guide was positive. It read: "An athlete who could eventually take over at centre-half forward, Fitzgerald needs to bulk up a bit before he is ready for a key position. On a weights program and Sydney is prepared to be patient. Had an excellent first year last season with South Adelaide and may find a spot on a flank early in the season."
But after playing in the Reserves in Round 1 and being listed as an emergency in Round 2 he ran into shoulder problems and didn't play again until turning out in the Reserves in Rounds 19, 20 and 22.
Still, he'd done enough to be an emergency for the qualifying final against Essendon.
His profile in the 2000 AFL Guide read: "A shoulder reconstruction forced Fitzgerald to miss most of the season …. Came back to the Reserves late in the season and was close to senior selection when he hurt his other shoulder. A mobile key position player, Fitzgerald impressed in his five reserves games."
He also impressed over the summer, and after two eye-catching performances in the pre-season competition he was selected by coach Rodney Eade for his debut in Round 1 against St Kilda at what was then Colonial Stadium, now Marvel Stadium.
Off-season pick-ups Jason Ball, Andrew Schauble and Brett Allison also made their Swans debut against a Saints side coached by Tim Watson, which included four imports: Damien Monkhorst, Sean Charles, Justin Plapp and Tony Delaney.
It was the second game at Docklands on a Sunday night after Essendon and Port Adelaide had christened the new venue on the Thursday night.
Fitzgerald admits it is "a bit of a blur" but remembers starting on the bench and getting his first opportunity when Andrew Dunkley was forced off the ground under the blood rule.
Ever the joker, he recalled: "I stood one of the greatest defenders of all-time in Tim Elliott (who played 47 games over four years) and was lucky enough to get a couple of goals early. I only had nine possessions, but I kicked five straight. It was a good day."
The Swans kicked 21.8 (134) to the Saints' 15.10 (100) to win by 34 points as Michael O'Loughlin also kicked five goals in his 102nd game to go with a career-best 31 possessions and pick up three Brownlow Medal votes.
Fitzgerald kicked two goals against West Coast in his second and four goals against Melbourne in his third. He could have been excused for thinking life was pretty good.
The Swans were unbeaten and he was sixth in the Coleman Medal with 11 goals, behind only St Kilda's Peter Everitt (20), Essendon's Matthew Lloyd (18), Adelaide's Tony Modra (14), Brisbane's Daniel Bradshaw (13) and Hawthorn's Nick Holland (13).
But as he learned it's never that easy. He went 0-2-0-1-0 in the goal column in the next five weeks, was dropped in Rounds 9-10, kicked one goal in Round 11 and was goalless in Round 12 against Adelaide at Football Park.
Selected for Round 13, he was late out with a groin problem. He missed two weeks, was an emergency in Round 15 and played Reserves in Round 16 before a hernia ended his season, and ultimately his career at the Swans.
He missed the entire 2001 season following a knee injury in the then Ansett Cup, and at the end of the season he was traded by Sydney to Adelaide.
It was 2000 all over again. He debuted in Round 1, won his first three games and kicked seven goals to lead the Crows goal-kicking.
In his first game against the Swans at Football Park in Round 3 he had a career-best 12 possessions and kicked four goals.
But five weeks later his AFL career was over. Fitzgerald's good knee, his left knee, buckled. After another reconstruction he went back to South Adelaide in 2003 but the week before he was due to resume playing he did his knee again at training.
"I remember ringing Dad and I was just in tears. He started crying too. I said to him, 'I'm over it. I'm just over football. I can't do this anymore'. I had to get out of Australia. I didn't want people to ask me about my knee, so before I had the operation I bought an around-the-world plane ticket and travelled for two months by myself," he said.
After contemplating one more crack at football his mind was swayed by the opportunity to audition for the TV reality show 'Big Brother'.
He spent three months living in the Big Brother House on the Gold Coast in 2004, and although he didn't win the competition he was a hugely popular member of the House and finished fourth overall. He'd won the hearts of the Australian public, and a radio job with Nova in Adelaide.
Fifteen years on, now a 42-year-old father of two, he's still at Nova, albeit in Sydney, and a hugely popular media personality.
He is player #1302 on the Swans all-time playing list, and 10-gamer who kicked 15 goals in jumper #18.
Last week, too, he picked another career "honour" when Melbourne sports radio station SEN named captain of the station's Team of the Century for footballers who are "famous for not being footballers". Like Fitzgerald.
It is a regular weekly afternoon segment hosted by Kevin Bartlett and 'Doctor Turf' in which listeners nominate players and then Bartlett, the former AFL games record-holder, picks his team.
This was one of their best and also included former Swans players turned cricketing ace Jamie Siddons.
BACKLINE
Bill Mildenhall. International basketball referee. Played 74 games for St Kilda from 1974-82.
Craig Ellis. Bikini and swimwear mogul. Played 107 games with the Western Bulldogs from 1994-2001 and 15 games with Melbourne in 2002.
Rex Hunt. Fisherman and media personality. Played 113 games for Richmond from 1968-74, including the 1968 and 1973 premierships and the 1972 grand final loss, plus 32 games for Geelong from 1974-75 and 57 games for St Kilda from 1976-78. Total: 202 games.
HALF BACK LINE

Jamie Siddons. Record-breaking Sheffield Shield cricketer with Victoria and South Australia. Played two games with the Swans in 1984
Lindsay Fox. Trucking magnate. Played 20 games with St Kilda from 1959-61.
Robert Hickmott. Two-time Melbourne Cup-winning horse trainer with Green Moon (2012) and Almandin (2016). Played two games with Melbourne in 1990-91.
CENTRE LINE
Jamie Cooper. Artist best known for painting the 'Team of the Century' of the AFL and a number of AFL clubs. Played 26 games with Fitzroy from 1994-97.
Don Chipp. Inaugural leader of the Australian Democrats Party. Played three games with Fitzroy in 1947.
Barry Ion. Legendary South Australian radio broadcaster. Played 40 games with Footscray from 1961-65 and was a member of the Dogs' 1961 grand final side.
HALF FORWARD LINE
Ryan Fitzgerald (captain). Breakfast radio host, television regular and comedian. Played 10 games with the Sydney Swans in 2000 and eight games with Adelaide in 2002.
Keith Miller. Legendary Australian Test cricketer named vice-captain of the Team of the Century. Played 50 games with St Kilda from 1940-42 and 1946.
Brian Morrison. A world champion shearer and member of the World Shearing Hall of Fame. Played six games with Richmond in 1960.
FULL FORWARD LINE
Bill Lang. Australian Boxing Hall of Famer who was the first Australian to fight for the world heavyweight title. Played 14 games with Richmond in 1908-09.
Simon O'Donnell. International Cricketer of the Year and noted horse racing and media personality. Played 24 games with St Kilda in 1982-83.
Shaun Hampson. Husband of supermodel Megan Gale. Played 98 games with Carlton and Richmond from 2007-16.
RUCK
Max Walker. Test cricketer and author. Played 85 games with Melbourne 1967-72.
Ambrose Palmer. Australian boxing champion, trainer and Hall of Famer who was in Johnny Famechon's corner when he fought for the world title. Played 83 games with Footscray from 1933-43.
Ray Groom. Tasmanian Premier. Played 92 games with Melbourne from 1963-68.
INTERCHANGE
Ray Steele. Manager of the Australian Cricket Team on the 1972 Ashes tour to England and long-time Victorian cricket administrator who led the establishment's fight against Kerry Packer and World Series Cricket. Played 42 games with Richmond from 1940-43, and was a member of the 1943 premiership side after grand final losses in 1940 and '42.
Jack Galbally. Victorian politician and prominent barrister . Played seven games with Collingwood in 1933-34.
Israel Folau, Australian rugby league and rugby union international. Played 13 games for GWS in 2012.
Karmichael Hunt. Australian rugby league and rugby union international. Played 44 games for Gold Coast 2011-14.