Swans hope to welcome back Jack
Greg Denham
The Australian, June 6
Sydney may not be able to make the final eight, but they can at least shape it, starting on Thursday night at the SCG against the Western Bulldogs.
After their three-win/seven-loss start to the season, the Swans face the task of winning up to 10 of their remaining 12 games to sneak into an eighth-straight finals campaign.
In the second game this season between last year's grand finalists, the Swans will have midfielder and former co-captain Kieren Jack available as well as ruckman Sam Naismith.
Jack, who was restricted earlier in the season by a hip problem that had troubled him since receiving a knock in February, has not played since round five, while Naismith has also missed five games this season after twice damaging his medial ligament.
Whether they both play against the Bulldogs or have a hit out in the NEAFL will be decided tomorrow, but Sydney general manager of football operations Tom Harley told The Australian, they would resume at some level.
"While most players had a break during the bye, Kieren trained through the break," Harley said. "He's been in full training for more than a week, he trained last Friday and again on Sunday, so the expectation is that he'll play. He's done a big chunk of conditioning and strength work."
Boots & all footy feast
Ben Horne
Daily Telegraph, June 6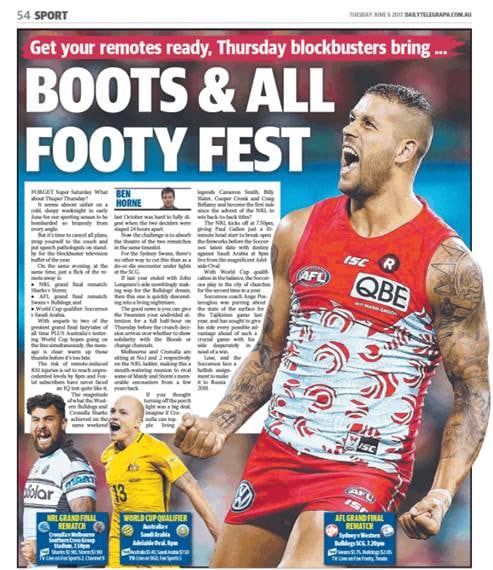 Jack's back and under pressure at Sydney
Ben Horne
Daily Telegraph, June 6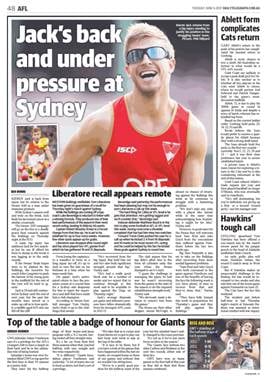 KIEREN Jack is back from injury but he returns to the Swans' fold as a man under immense pressure.
With Sydney's season well and truly on the brink, Jack finds his decorated AFL career at a similar crossroads.
The Swans' 2017 campaign will go on the line in a Grand Final rematch against the Bulldogs on Thursday night at the SCG.
A nasty hip injury has sidelined Jack for the past five matches but he can ill afford his form to slump to the levels it was lagging at in the early rounds.
If the Swans' finals hopes were to be dashed by the Bulldogs, the incentive for coach John Longmire to push the barrow of his young guns in the midfield for the rest of the year will be hard to ignore.
Jack is 29 and still contracted at the Swans until the end of 2018, but the past few months have served as a wake-up call as to how quickly a middle-aged AFL star can fall off the cliff.
From losing the Swans captaincy, to a nosedive in form, to a long injury lay-off, it's up to Jack to turn the tide on his fortunes at a time when his team needs him most.
On paper, Jack's anticipated return to face the premiers comes at a crucial time for a Sydney side desperate for him to inject the experience and skill that has made him a club champion.
According to Swans' football manager Tom Harley, Jack's body is up to the challenge.
"For the past five weeks he's recovered from the hip injury that held him out and he's also built significant strength around that hip," Harley said.
"He's had a really good block now for a number of weeks and we expect that to continue through to this week and to be available to play against the Dogs on Thursday night."
Liberatore recall appears remote
AAP
Daily Telegraph, June 6
WESTERN Bulldogs midfielder Tom Liberatore has been given no guarantees of a recall for Thursday night's match against Sydney.
While the Bulldogs are coming off a bye, coach Luke Beveridge is reluctant to tinker with a winning formula. They produced one of their best performances of the season in their most recent outing, beating St Kilda by 40 points.
Captain Robert Murphy (knee) is a forced change from that line-up. He is set to be sidelined for up to four more weeks. However, few other spots appear up for grabs.
Liberatore was dropped after round eight and has since played two VFL games from which he has gathered 19 and 21 disposals.
Beveridge said yesterday the performances had been pleasing but may not be enough to earn Liberatore a call-up this week.
"The hard thing for Libba at VFL level is he gets that attention. He's getting tagged and we'll consider that," Beveridge said.
Swans need at least nine more wins
James Buckley
SMH, June 5
The Swans are refusing to give up on making the AFL finals despite sitting on just three wins during their bye week, with the club likely needing nine victories from its last 12 matches to secure a top-eight finish.
Sydney return to action in Thursday's crunch clash against the Western Bulldogs at the SCG sitting an unfamiliar third from the bottom, and three wins outside the top eight.
Many fans ruled a line through the Swans after last weekend's narrow loss to Hawthorn, but with a positive percentage and key trio Kieren Jack, Sam Naismith and Jarrad McVeigh close to returning from injury, the league's most consistent club over the last two decades is still mathematically in the frame.
Since the introduction of the top-eight system in 1994, clubs have qualified for the finals with an average of just under 12 wins.
Given the tightness of the competition in 2017, 12 wins and perhaps a strong percentage looks likely to be enough for a finals finish, which gives the Swans three losses worth of wriggle room in their last 12 fixtures.
Three times the eighth-placed team has qualified with just 10 wins, Essendon most recently in 2009, but that figure looks too low this season. And in 2012, the year the Swans last won the flag, North Melbourne occupied eighth place with 14 wins, albeit with a gap of two wins back to ninth-placed St Kilda.
The Swans have made the AFL finals an astonishing 18 times in the past 21 seasons.
Forward Gary Rohan said Sydney were refusing to project any further than the Bulldogs game, but knew there was still time to turn their faltering season around.
"We haven't given up on making finals, we still believe that we have a chance," Rohan said.
Papley not giving up on Swans' season
Neil Cordy
Daily Telegraph, June 4
AFTER an injury-interrupted start to the season Tom Papley is back and giving the Swans plenty of what they need but he could use a few more mates to come to the party.
His enormous pressure around the ball and tackling inside forward 50 was certainly missed in the opening rounds when he was recovering from shin and knee surgery.
It was also missing from his fellow forwards against Hawthorn when they moved the ball with ease out of defence.
Despite their stuttering 3-7 record, Papley has the optimism of youth and believes Sydney can still see action in September.
"We still believe we can make the finals," Papley said.
"Why not? In 2014 we won 12 in a row, we have the personnel to do that. If we worry just about next week the rest will take care of itself. We will do that until that last round. It's about staying positive and believing we can win."