Sydney Swans defender Aliir Aliir started his second AFL pre-season with one main goal in mind – to improve his fitness and endurance.
After slashing 59 seconds off his personal best time in the first three kilometre time trial of 2015, it's clear Aliir has made significant improvements but he doesn't plan to stop there.
"Fitness was always an area that I needed to improve on and I went back and worked really hard and knocked a minute off my PB but I've just got to keep going," Aliir told SwansTV.
"I can't set a limit on it, I've just got to keep working hard and knocking seconds, or a minute off my PB.
"I can't really be satisfied with just knocking a minute off my PB, I've improved, but I've just got to keep going."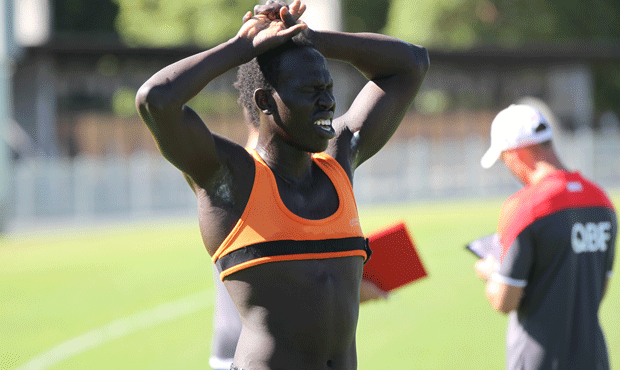 Aliir has put in a number of gut-busting runs at training to improve his fitness.

As coach of the reserves in 2014, Swans development manager Jared Crouch has been with Aliir every step of the way throughout his short career and has been impressed with the gains he's made this pre-season.
Crouch said Aliir's three kilometre run in particular was a great show of perseverance and a sign the talented defender can go even further before the pre-season is over.
"I think it continues to highlight to Aliir that he does have improvement in him," Crouch said.
"Even in that run he could've gone a bit harder so he just needs to, like all the young boys, make sure every training session he's working as hard as he can and pushing himself even when he feels like he's tired and challenging himself mentally."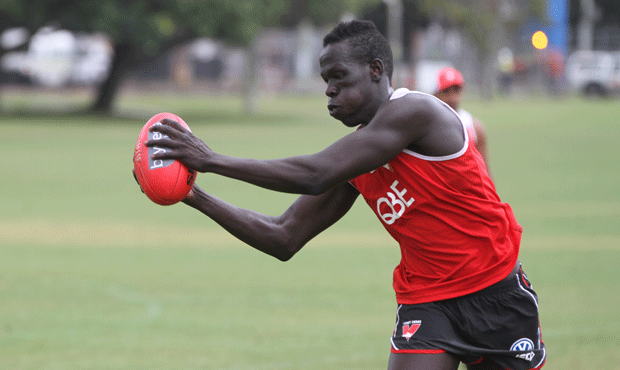 The 20-year-old has been working hard on the track this pre-season.

In his first year at the Swans, Aliir enjoyed a number of consistent performances but his season was cut short by a shoulder injury that required surgery.
While Aliir was unhappy to miss matches towards the end of the year, it was even harder to sit on the sidelines as his teammates played off in the season decider.
"It was pretty frustrating because I went down to the NEAFL Grand Final and couldn't play and watched the boys lose so it was disappointing," Aliir said.
"My shoulder is fine now, I'm back to full training, I'm doing full contact work so I'm feeling better and ready to go and ready to play again."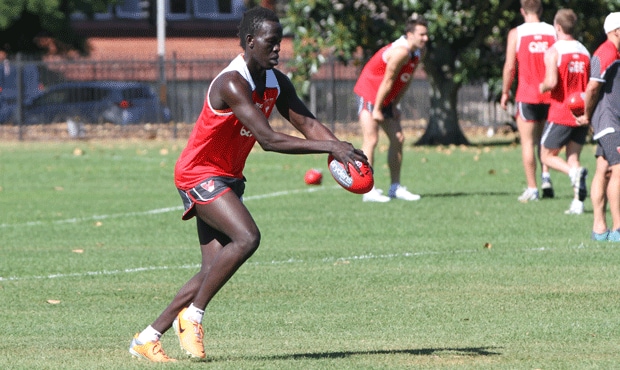 The defender during a kicking drill at training.

With the injury well and truly behind him before the start of pre-season, Aliir is relishing the opportunity to play on the Swans' tall forwards each training session.
The 20-year-old plans to continue to put in the hard yards on the track, learn as much as he can from his teammates and coaches and see where it takes him in 2015.
"My goal (for the year) is to keep training hard at the moment, play well and if my opportunity comes, I'll take it with both hands," he said.