Three young QBE Sydney Swans Academy players have left the comforts of home as part of an Academy program to help them pursue their dream of becoming AFL players.
The Academy provides opportunities for talented teenagers from regional NSW to move to Sydney to further their football and their schooling.
This year Harry Parker has moved from Coffs Harbour to Sydney, along with Ky McGrath, who has come from Newcastle, and Hamish Ellem, who's re-located from Grafton.
The players, all aged 16, have received support from AFL NSW-ACT and scholarship funding from the Sydney Swans Foundation to help with relocation, board and tuition.
The trio were part of the NSW-ACT Rams U16 team last year, and all are considered promising AFL prospects. They'll train with the Academy's Top End program for 16 to 19-year-olds, and also help coach younger Academy squads and conduct footy clinics for AFL NSW.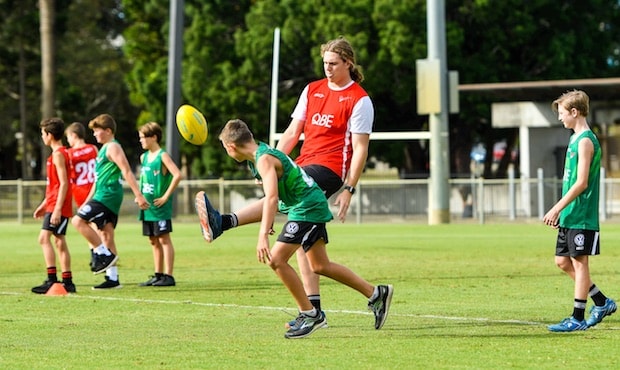 As part of the move, they're attending SEDA College, an innovative school where they complete Year 11 and 12 in a hands-on, sporting environment. SEDA has partnered with AFL NSW-ACT so students can do part of their learning in the AFL industry. The boys can graduate with their HSC as well as certificates in business services, sport and recreation and sport coaching.
Academy general manager, Chris Smith, says Parker, McGrath and Ellem are motivated young men who'll benefit from the move to Sydney, where he has arranged for them to board with local families.
"They're talented young footballers but as with all Academy programs, it's about much more than that. We believe the combination of school, and Academy training and coaching, will really help them develop as confident, capable young men,'' Smith said.
Parker, McGrath and Ellem have been inspired by the likes of Swans' star Isaac Heeney, and Swans rookie players Jake Brown and James Bell, who all re-located to Sydney from regional NSW as teenagers to give themselves the best chance of being drafted.
Parker, 16, says he's excited about the move.
"I've been nagging mum and dad for two years to move and they finally agreed,'' Parker said. "If I want to get drafted, moving down to Sydney will give me a better chance of doing that. It's a fantastic opportunity.''
All three boys became involved in the Academy through trial days in the North Coast and Hunter regions when they were aged 11.
Even though they are still U17 players, this year they're aiming to make the Academy's U18 team to play a series of matches against Academy teams from the Brisbane Lions, Gold Coast Suns and GWS as well as NT Thunder and Tasmania. The best players are then chosen in an Allies U18 team to play in the National Championships against Vic Country, Vic Metro, SA and WA.
Ky has set his sights high. "My goal this year is trying to make the Allies team as an under-age player and through that you get noticed for next year, that would be huge,'' he said.
The Swans Academy would like to acknowledge the support for this program from QBE, the Sydney Swans Foundation, AFL NSW-ACT, AFL Sydney clubs including North Shore and Manly Bombers, and the generosity of the boys' host families – Robyn and David Jones (Harry Parker), Jacqui and Andrew Varasdi (Hamish Ellem), and Michelle Monaghan and Jason Taylor (Ky McGrath).