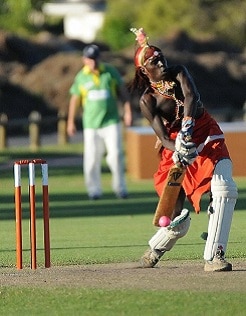 Deep in the heart of Africa a tribe of traditional Maasai Warriors are about to set out on a new adventure – swapping mud huts for skyscrapers and spears for cricket bats and Sherrins.
For the first time ever, members of this colourful nomadic tribe will be in Sydney for the Primary Club's Marathon Cricket Event where they're set to take on a Sydney Swans XI Legends team in a cricket match at the SCG on Thursday, February 4.
The Maasai Warriors, who are world famous for their traditional jumping dance, will be dressed in their red tribal costumes for this historic match against the Swans XI, which will feature the likes of champions Michael O'Loughlin, Jude Bolton and board member Brad Seymour.

It will be a first for the Sydney Swans, a first for the tribal warriors, and a first for the Sydney Cricket Ground.
Swans members and fans are encouraged to come along to the SCG for the historic match. Entry is a gold coin donation with every dollar raised from Swans supporters donated to the Club's charity partner, Cerebral Palsy Alliance.
Following the match against the Swans XI, the Maasai Warriors will take on a combined Rugby/Rugby League XI.
The remote Kenyan villagers, who have only been involved in cricket over the past five years but have already played at Lords, are being brought to Australia by the Primary Club of Australia, a charity which raises funds for sporting and recreational facilities for the disabled.
The matches involving the Maasai are the centerpieces of the Primary Club's annual Marathon Cricket event, which will run over two days to give 500 everyday Aussies the chance to play on the SCG.
The Maasai tribesmen will call Australia home on a nine-day whirlwind trip, which will include a training session with the Swans at the SCG on Tuesday, February 2, followed by a trip to Manly on the famous ferry.
The Maasai Warriors will also be playing games at Sydney University, Bradman Oval in Bowral, and at Riverview and Newington Colleges during their stay.
DETAILS
What: Maasai Warriors v Sydney Swans XI legends
Where: SCG
When: Thursday 4 February, 5.30pm (warm-up commences at 4pm)
Entry: Gate A, donation upon entry with funds going to Cerebral Palsy Alliance for sporting facilities