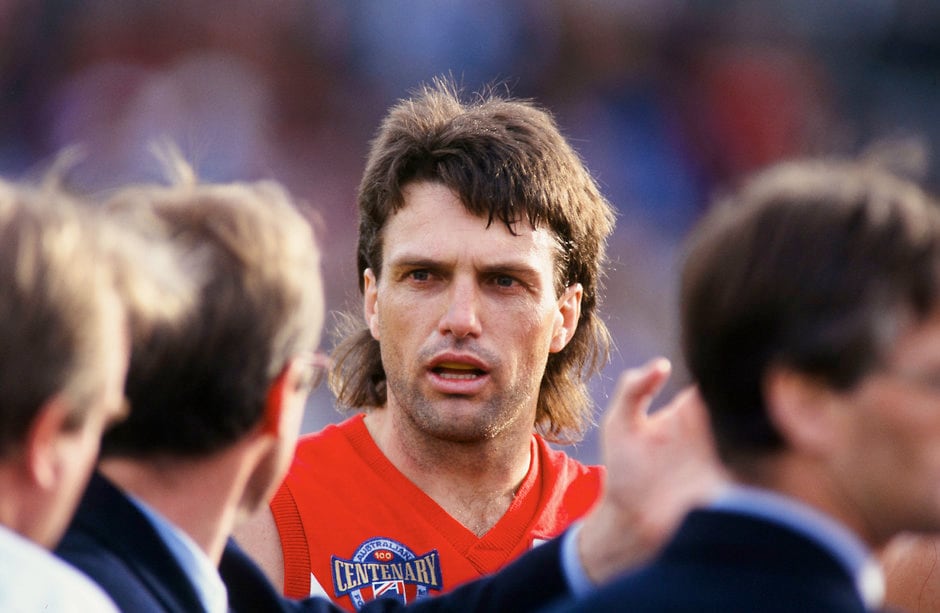 Twenty-three years ago today, on 15 June 1996, the Sydney Swans enjoyed one of the great 300th game celebrations in AFL history.
Guest of honour was Paul Roos, who posted his triple century in Round 11 against North Melbourne at Princes Park.
It was only the former Fitzroy star's 31st game in Swans colors, but, almost as if they knew the joy Roos would bring them nine years later, the collective Swans family put on a mighty 'party'.
Fifth on the ladder going into the match, coming off a 70-point win over Fitzroy in Round 10, they belted ladder leaders North by 79 points.
Captain Paul Kelly earned three Brownlow Medal votes with 26 possessions and a goal, and Tony Lockett kicked 10 goals as the Swans piled on 16.4 to 5.7 after halftime to win 24.8 (152) to 10.13 (73).
It was Stuart Maxfield's 100th AFL game and Leo Barry's third game. And, fittingly, in a North side captained by current West Coast coach Adam Simpson was one of Roos' best mates, former Fitzroy teammate turned Swans Director of Coaching John Blakey.
Even Roos got in on the party – the long-time defender had 30 possessions and kicked two goals for only the second time in his career. And the last time.
In what is now 87 times in which the AFL has celebrated a 300th game the 79-point winning margin in Roos' 300th is the third biggest.
The all-time biggest, too, is a red and white party. It was in 2006 when Sydney beat Richmond by 118 points at Docklands to celebrate Paul Williams' 300th game.
The only other 300th-game win bigger than Roos' was back in 1949, when Richmond beat Hawthorn by 89 points at the old Glenferrie Oval in Jack Dyer's 300th, and Dyer himself kicked six goals.
Chronologically Roos was the 33rd player to reach 300 games and, 11 days short of his 33rd birthday, he was the 36th youngest. Or 51stoldest.
It was a triumphant end to what had been a tough journey. While there had been many individual accolades during 13 years at Fitzroy, the ultimate success had eluded him. He'd played only six finals in 269 games with Fitzroy for two finals wins, and all in his first five years.
Among 87 members of the 300 Club Roos reached this huge milestone with just 124 career wins. And 14 had come with the Swans.
Only three players have endured a tougher ride. Carlton's Kade Simpson reached 300 games in 2018 with 109 wins, while Fitzroy's Kevin Murray did so in 1973 with 112 wins and Swans great John Rantall had won only 123 of his 300 games when he reached the milestone in 1978.
It was almost as if the Swans players had known these numbers when they produced such a fantastic effort against North in Roos' 300thgame in what turned out to be a preview to the 1996 grand final.
Roos had been remarkably durable in his 300-game journey, missing only 22 games in 15 years. Six of them were in his first season in 1982, and six were in 1993. In 13 seasons he'd played 20+ games.
When finally he retired in 1998 after 356 games, still 14th on the all-time list, he'd missed only 27.
Coincidentally, it was a career that had started against Sydney at the SCG.
It was Round 4, 1982 when Sydney beat Fitzroy by 56 points under coach Rick Quade. Silvio Foschini kicked an equal career-best seven goals for the Swans and Stephen Allender a career-best four goals. Captain Barry Round led the possession count with 27 in his 262ndgame.
It was a good early season win by a side which had finished 9th on a 12-team ladder the year before over a 1991 semi-finalist, but at the time it wasn't exactly a red letter day in Swans history.
Yet if Sydeny fans had known then what they would learn in years to follow they may have taken more notice of an 18-year-old wearing the #1 Fitzroy jumper, who had 10 disposals and kicked two goals and two behinds on debut.
It was the first time the #1 jumper at Fitzroy had been worn since 1980, when Rantall, South Melbourne Team of the Century champion, played the last six games of his stellar career to break the AFL games record.
With a flowing 'mullet' that would become his long-time trademark it was Roos.
Sharing his debut with a 16-year-old Gary Pert wearing jumper #43, Roos had begun one of the great AFL careers, which 23 years later would make him a heroic life-changer in the eyes of Swans fans when he coached the drought-breaking 2005 premiership side.
Roos had left Fitzroy ranked second in all-time games for the club. He'd been captain for six years, had won five best and fairest awards, was the AFLPA Player of the Year in 1986 and was five times All-Australian – twice as captain.
He was a Victorian captain and regular Victorian representative who twice won the E.J. Whitten Medal in interstate matches.
But he'd seen a constant stream of teammates leaving the money-stricken club for greener pastures, and finally he'd had enough.
Citing the heavy exit of teammates, financial difficulties and Fitzroy's relocation to Footscray's Western Oval as primary reasons, he decided he wanted out. He was gleefully picked up by the Swans with selection #1 in the 1995 Pre-Season Draft.
Roos was going on 32 when he played his first Swans game in Round 1, 1995 against Footscray at Western Oval. It was also Lockett's first game in red and white, and the AFL debut of Shannon Grant, later to become another AFL 300-gamer.
Roos was a star in 87 games with Sydney, earning All-Australian selection and finishing 5th in the Bob Skilton Medal in 1996 and '97, and being one of the Swans' best in the 1996 grand final loss to North.
Later, having replaced Rodney Eade as Swans coach mid-season in 2002, he coached the club in 202 games and 16 finals from 2002-10 for a 116-2-84 win/loss record before 66 games as Melbourne coach from 2014-16.
And he repaid Sydney faithful for his unforgettable 300th game celebration with three words while holding aloft the 2005 premiership cup … "Here it is"!!!
AFL 300-GAMERS
Among other prominent and long-term Swans players, Rantall was the AFL's 7th 300-gamer in 1978, including a stint with North Melbourne, Barry Round was 21st in 1983 after starting his career at the Western Bulldogs, Williams 48th in 2006 after starting at Collingwood, Michael O'Loughlin 62nd in 2009, Adam Goodes 66th in 2012, Jude Bolton 67th a week later in 2012 and Jarrad McVeigh was 83rd in 2017.
Three other members of the 300 Club played with the Swans.
Len Thompson, primarily a Collingwood player before one year and 20 games at South Melbourne in 1979 and one year at Fitzroy in 1980, was the League's 9th player to 300 games with Fitzroy in 1980.
Terry Daniher, who had two years and 19 games with Sydney in 1976-77 before being a household name at Essendon, was the 27thplayer to 300 games in 1991.
And Shannon Grant, who played his first 58 games with Sydney from 1995-97 before switching to North, was the 57th player to 300 games in 2008.
YOUNGEST
30years 241days - Justin Madden (Ess)
31years 43days - Mark Riccuito (Adel)
31years 76days - Russell Greene (Haw)
31years 102days - Nathan Burke (StK)
31years 133days - Shannon Grant (Syd/NM)
OLDEST
36years 128days - Alastair Lynch (Fitz/Bris)
36years 22days - Roger Merrett (Ess/Bris)
35years - 309days - Gordon Coventry (Coll)
35years 254days - Craig Bradley (Carl)
35years 254days - Ted Whitten (WB)
MOST WINS
217 - Gordon Coventry (Coll)
209 - Jimmy Bartel (Geel)
207 - Shaun Burgoyne (PA/Haw)
205 - Bruce Doull (Carl)
205 - Chris Langford (Haw)
LEAST WINS
109 - Kade Simpson (Carl)
112 - Kevin Murray (Fitz)
123 - John Rantall (SM/NM)
124 - Paul Roos (Fitz/Syd)
127 - Nathan Burke (StK)
MOST GOALS
1273 - Gordon Coventry (Coll)
817 - Leigh Matthews (Haw)
652 - Nick Riewoldt (StK)
626 - David Neitz (Melb)
618 - Alastair Lynch (Fitz/Bris)
BIGGEST 300TH GAME WIN
118 - Paul Williams (Coll/Syd)
89 - Jack Dyer (Rich)
79 - Paul Roos (Fitz/Syd)
73 - Kevin Bartlett (Rich)
73 - Eddie Betts (Carl/Adel)
BIGGEST 300TH GAME LOSS
76 - Barry Breen (StK)
76 - Shannon Grant (Syd/NM)
74 - Rohan Smith (WB)
74 - Scott West (WB)
69 - Paul Salmon (Ess/Haw)