In a series new to 2019, we revisit moments in history involving the Sydney Swans' round-by-round opposition.
History, nostalgia and memories form a special part of what makes Australian rules football great, and we hope the Footy Flashbacks series reignites some of your fondest Swans moments.
In the latest edition, we wind back time to the day the unheralded Paul Bevan won a premiership medal in Sydney's 2005 Grand Final victory over the West Coast Eagles.
Fate threatened to play out against Paul Bevan on the Sydney Swans' march to their first flag in 72 years, but he will forever be a 2005 premiership hero.
Bevan didn't earn a single Brownlow Medal vote in the 129 AFL games he played, often tackling the crucial but thankless task of quelling the influence of a star small forward.
And fittingly, the utility drew little attention as the Swans powered towards 2005 premiership glory, playing at AFL level in Round 13 and not again until Sydney's semi-final clash with Geelong.
But as history has it, he'd be one of the 22 men swimming in red and white confetti at the MCG come Saturday, September 24, 2005.
"To be shipped in to the team late in the season and play a role in the premiership, I was absolutely over the moon," Bevan told Swans Media.
"I had played some good footy up until then, so I definitely felt like I deserved my spot, and the premiership just came with a huge sense of relief. I had been working towards that goal since I was five years of age.
"It didn't really sink in until a few years after the Grand Final. The week leading up to the Grand Final and the week after were both a bit of a blur with everything going on. And I think I was also one of the youngest in the squad at that stage, so to be around some really good players and to experience that was awesome."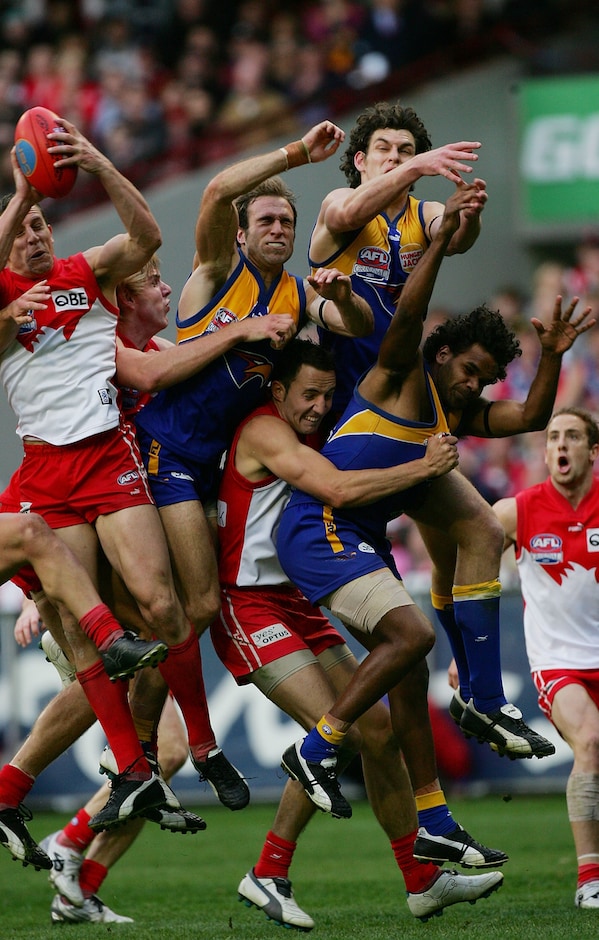 Leo Barry's epic 2005 Grand Final mark sits among rarefied air in Sydney Swans folklore.
Bevan missed the last nine rounds of the 2005 home-and-away season, and he didn't make the cut for Sydney's qualifying-final clash with the West Coast Eagles in Perth.
But he was back in red and white for Sydney's three-point semi-final win against Geelong, and he held his place for the 31-point preliminary-final win against St Kilda, before tasting premiership glory in a four-point victory over West Coast.
The then-20-year-old played a lock-down role on Ashley Sampi in the 2005 Grand Final, limiting the lively Eagles forward to just nine possessions and no goals.
Bevan, who coach Paul Roos typically used as a defensive option in the backline or midfield, looks back on his 2005 Grand Final performance with immense pride.
"Ashley Sampi was a creative-type forward who didn't need to get a lot of the footy to hurt you, and he could also take some really big pack marks," Bevan said.
"My role was to negate his influence on the game and I did a good job on him. I didn't get a whole heap of the footy, but I kept Ashley quiet and worked with the other defenders to help out where I could.
"My direct opponent was fairly quiet, but it was a matter of everyone chiming in where they could as a defensive unit – and I reckon that's probably what made the team so strong that year. You might line up on someone, but that doesn't mean you forget about the other players around you."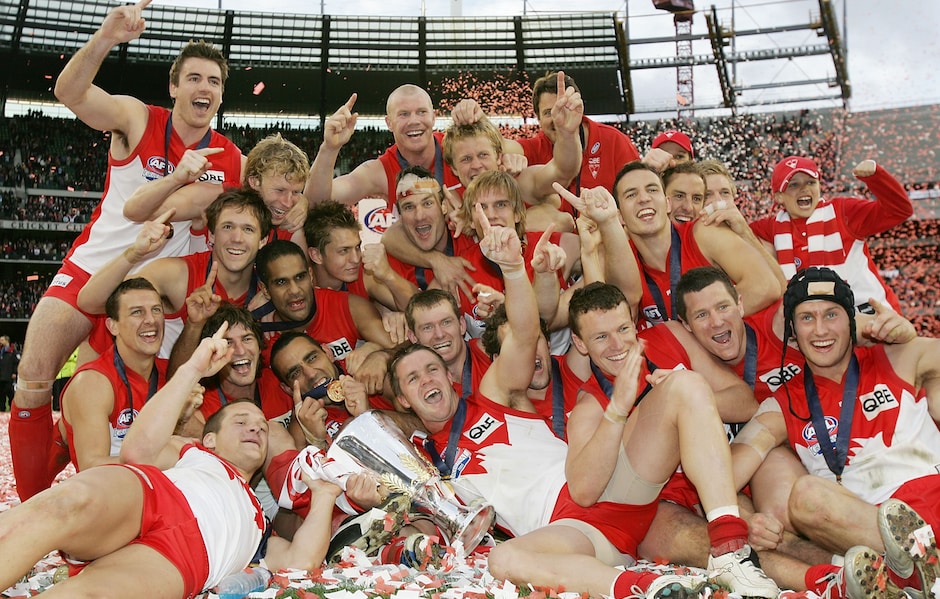 Elated scenes as the Sydney Swans celebrate their 2005 Grand Final victory.
Bevan spent the entire final quarter on the bench and will never forget tearing on to the ground as the final siren reverberated throughout the MCG.
Star Sydney defender Leo Barry plucked his well-documented mark from the heavens and, just seconds later, the Swans fans among the 91,828-strong crowd were delirious.
"It's all a bit of blur, but I remember just getting around anyone I could see in red and white," Bevan said.
"It was pure emotion. So much goes into winning a premiership, and when that final siren goes you've won the ultimate, which not everyone gets to do. I was getting around to anyone I could, whether it was players or support staff, and it was absolutely brilliant."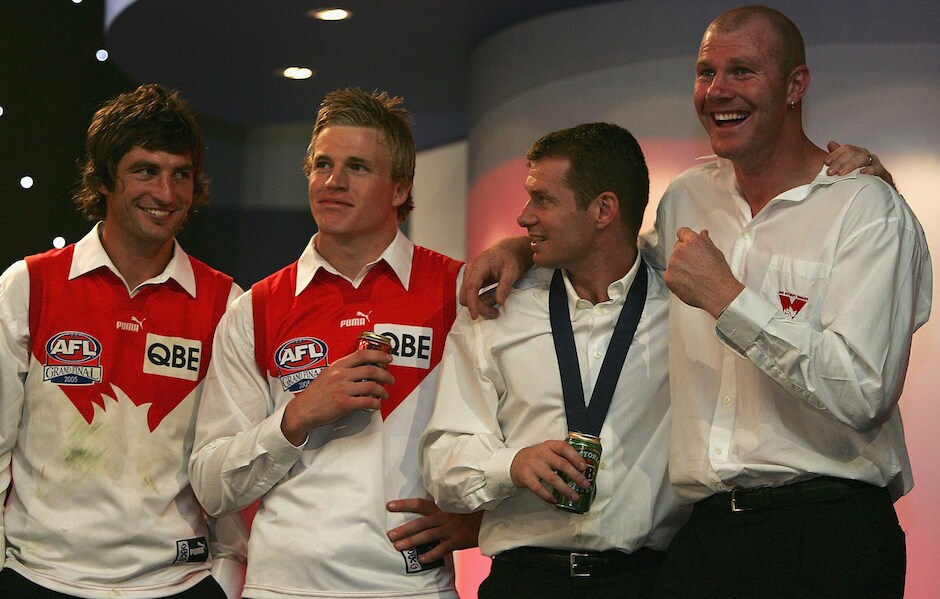 From left: Brett Kirk, Paul Bevan, Paul Williams and Barry Hall share a laugh after the 2005 Grand Final win.
Bevan spent the early years of his life on the NSW-Victoria border but moved to Sydney for high school.
He played junior footy for the Western Suburbs Magpies and NSW/ACT Rams, and the likes of young Swans Isaac Heeney, Callum Mills and Nick Blakey are now flying the NSW flag.
Sydney's Heeney, Mills, Blakey, Jarrad McVeigh, Kieren Jack, Dane Rampe, Harry Cunningham, Sam Naismith, James Bell and Sam Wicks all hail from NSW, meaning 22 per cent of the Swans' list consists of New South Welshmen.
Bevan says NSW has become a hotbed for AFL talent.
"They come in and they're ready-made AFL players," Bevan said.
"Especially with all these Swans Academy programs in place, the fruits of that are showing now because they've tasted that really serious footy at the Academy.
"It's great to see so many NSW players getting around, and not just for Sydney but for other clubs as well."
Bevan retired from footy at the end of season 2011 and now lives a long way north of Sydney.
The Sunshine Coast is home and he and his wife Hailey are the parents of three daughters: four-year-old Mila, two-year-old Harper and – in wonderful news – newborn Lola, who they welcomed into the world on Wednesday.
Bevan, who now works in medical sales, says his daughters aren't yet interested in the Swans or Australian rules football.
But he and his wife Hailey simply want them to find a sport of their choice.
"We just want to get them involved in a sporting environment," Bevan said.
"You learn so many life skills from playing sport."
And what better sporting role model for his daughters to have than a man with an AFL premiership medal.