In a series new to 2019, we revisit moments in history involving the Sydney Swans' round-by-round opposition.
History, nostalgia and memories form a special part of what makes Australian rules football great, and we hope the Footy Flashbacks series reignites some of your fondest Swans moments.
In the latest edition, we wind back time to the day the Sydney Swans defeated the all-conquering Brisbane Lions in Jared Crouch's 150th AFL match in 2004.
The Sydney Swans emerged from the Paul Kelly Race as a heavy underdog for a clash with the mighty Brisbane Lions at the SCG in Round 18, 2004.
But they'd spring back down the stairs three hours later to the elated chants of a 34,296-strong crowd, strains of "Cheer, cheer …" reverberating throughout the stadium on a sweet Saturday night for the faithful.
Brisbane had won premierships in 2001, 2002 and 2003 and had headed to Sydney for Round 18 sitting atop the ladder.
And while the Swans had lost their previous two games and were clinging to eighth position, the Lions were riding a four-match winning streak and leading the competition.
The Lions had torn the Adelaide Crows to shreds in a 141-point victory the week prior, and they'd been particularly impressive in the second half as they charged to 21 goals to two.
But in the late-season duel against arguably the greatest team of all time, Sydney orchestrated a 32-point victory in Heritage Round that Swans coach Paul Roos would describe as "our best performance since I've been here".
The Sydney mentor even went as far as declaring "we're realistic enough to know that's about as good a team performance as we can have", adding "if we play like that we don't have to improve".
Roos had engineered a number of vintage wins since succeeding Rodney Eade as coach during season 2003, but possibly none better than the night the Swans trumped the fearsome Lions to keep their finals hopes alive.
Swans midfielder Jared Crouch, who celebrated his 150th AFL match that night, labelled the Lions of the early 2000s "a dominant force".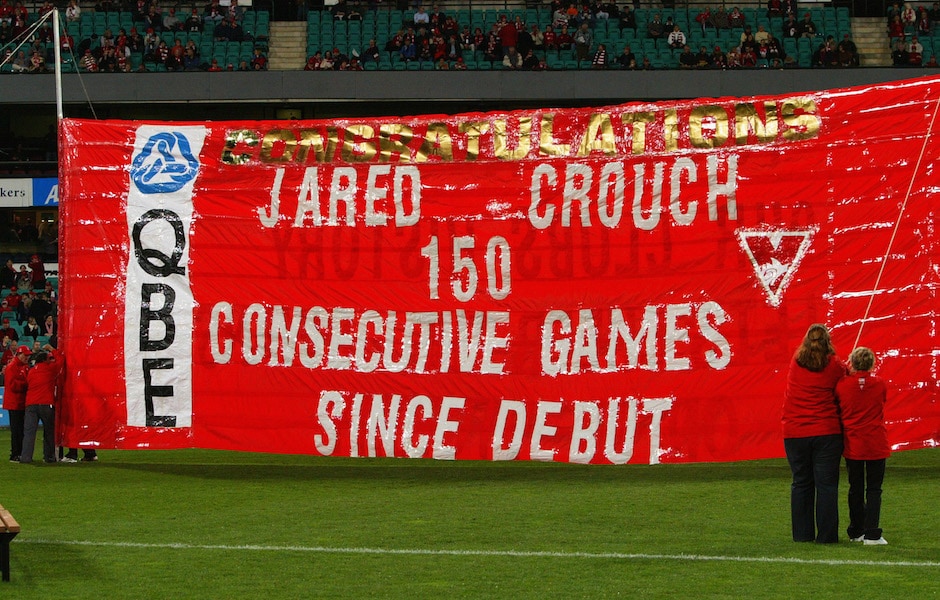 The Sydney Swans' banner pays tribute to milestone man Jared Crouch.
"Whichever clubs were the grand finalists or premiership-winning sides from the year before, you just wanted to test yourself against them. In the early 2000s that was certainly the Brisbane Lions and in the late 1990s it was clubs like Adelaide," Crouch told Swans Media.
"In that period we were striving to win a premiership, so we just wanted to test ourselves and see if we could match it with the best. Brisbane were certainly a very dominant force for a number of years. Whenever you played against the Lions you needed a real team effort and each individual had to play their role."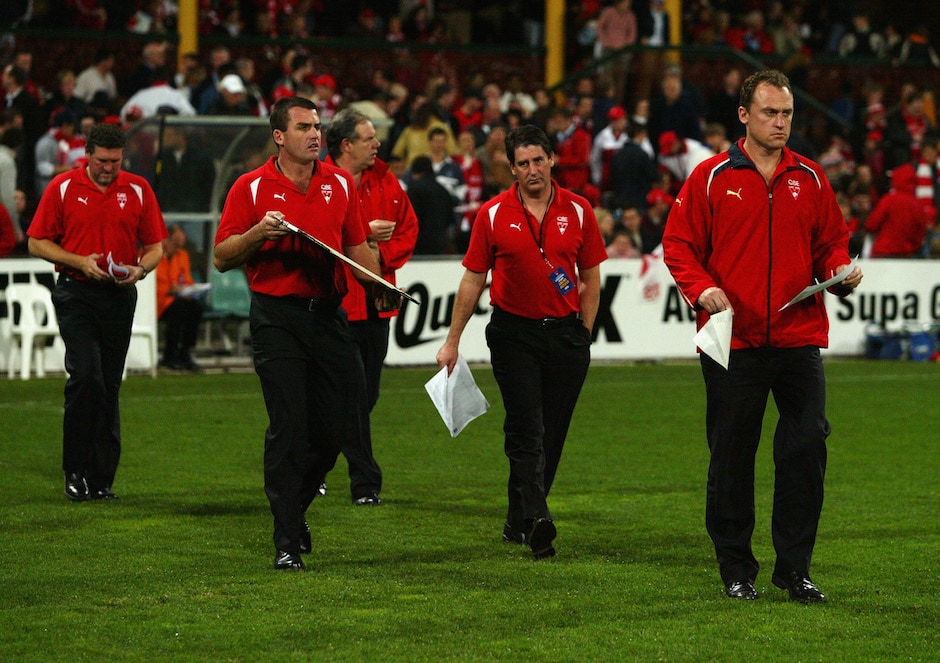 From left: Peter Jonas, Matthew Frost, Stephen Taubert, Ross Lyon and John Longmire make their way into the middle during a break in the game.
Brisbane's midfield contingent of the early 2000s is widely regarded the best of all time.
Michael Voss, Jason Akermanis and Simon Black all finished their careers with Brownlow Medals and All Australian honours, and Nigel Lappin and Luke Power collected All Australian blazers of their own.
Lappin was among the best in the Swans' stunning 2004 victory over the Lions, with Jude Bolton (three), Lappin (two) and Barry Hall (one) earning the Brownlow Medal votes.
While Crouch, who played a tagging role on Akermanis in the Round 18 encounter, said the Lions were formidable in all areas of the ground, he spoke particularly highly of the away side's midfield brigade.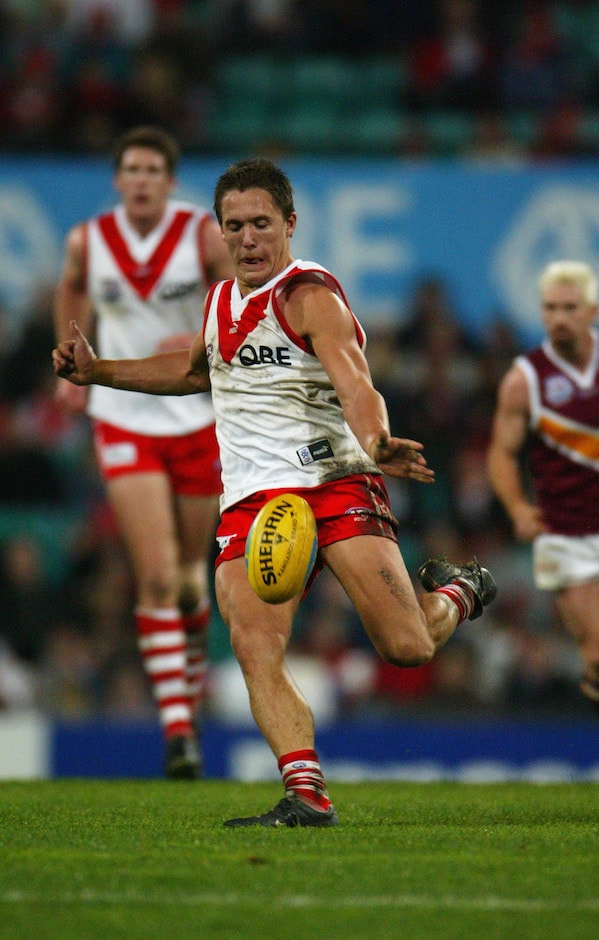 Sydney Swans midfielder Luke Ablett reels off a kick.
"They were tough. They went so deep. They had Voss, Black, Lappin, Akermanis, Brad and Chris Scott, Luke Power – they were incredibly tough," Crouch said.
"At different times back then we might have been able to quieten one of them. 'Kirky' might be doing a good job on Simon Black, but they'd move him somewhere else and another one would come in and get 30 possessions. Their hardness was the biggest thing about them and they were also very skilful."
Crouch played 150 consecutive matches from his debut game against Collingwood in Round 7, 1998.
And the 2005 premiership star, who remains the only player in VFL/AFL history to have played 150 games from debut, would go on to make 194 appearances in a row.
But even a player of Crouch's stature, who'd retire a 223-game Swans champion, always found playing a shutdown role on Akermanis an enormous challenge.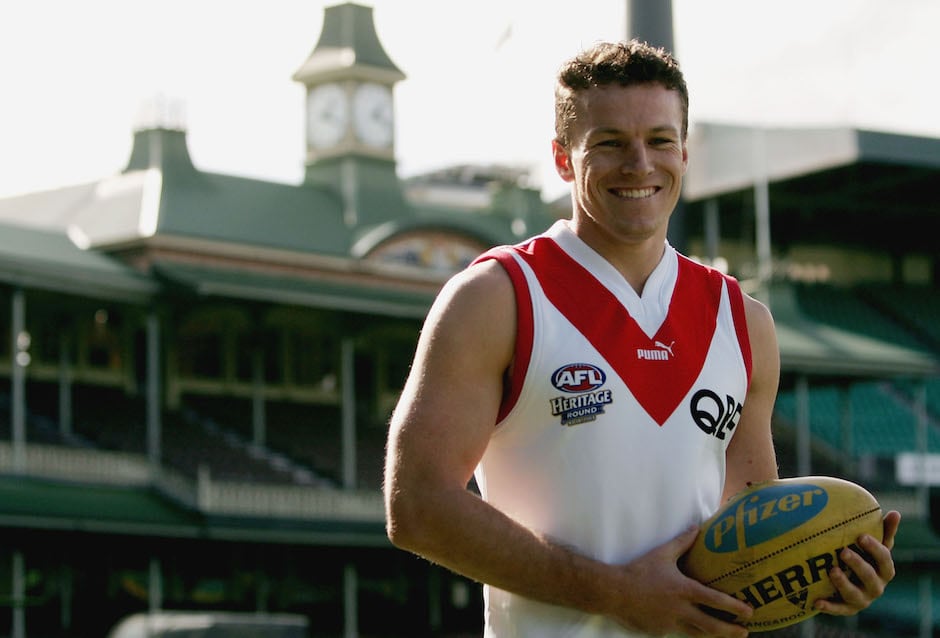 A 26-year-old Jared Crouch fronting the spotlight ahead of game 150.
"Every time I played on Akermanis it'd be a physical, tough game, and every time he'd get the ball around goal he was dangerous," Crouch said.
"You had to hope the boys on the inside were cracking in and stopping Black or 'Vossy' from feeding it out to Akermanis, Lappin, Power or any of their talented runners."
Crouch remembers very little from his 150th match, but he looks back on his time in red and white with fond memories.
"I was living my childhood dream," Crouch said.
"The dream first came true when I was playing AFL footy, and then in 2005 we won a premiership. It's hard to put into words but it was incredibly special to be able to play for the Swans."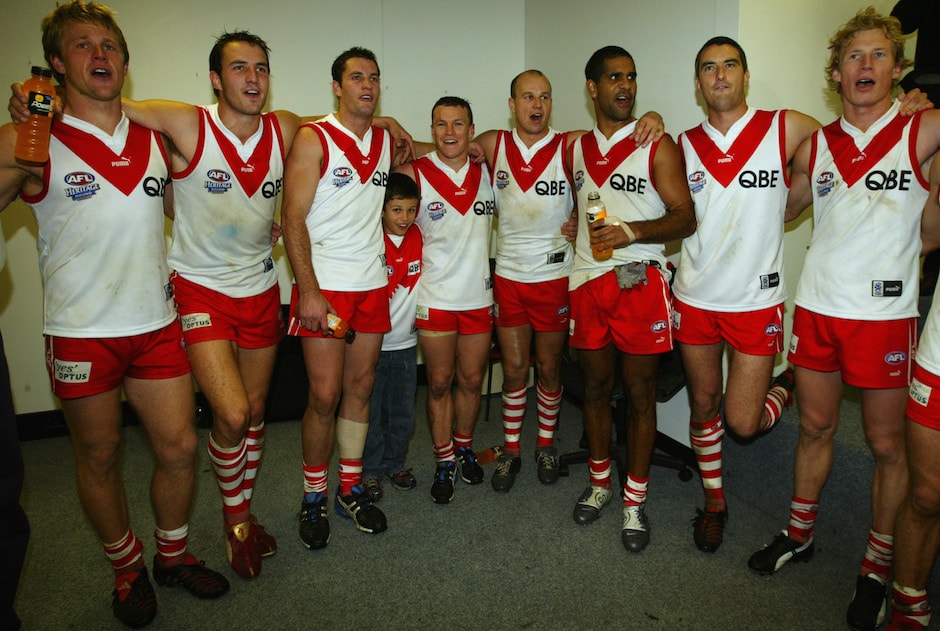 From left: Ryan O'Keefe, Tadhg Kennelly, Heath James, Paul Roos' son Tyler, Jared Crouch, Matthew Nicks, Michael O'Loughlin, Andrew Schauble and Craig Bolton lapping up the elation of the victory song.
Crouch hasn't gone far since calling time on his career at the end of season 2009, with the Swans Life Member and Hall of Fame inductee now taking charging as head coach of the QBE Sydney Swans Academy.
Crouch took over from Sydney great Michael O'Loughlin in February 2016, and he says he's loving the opportunity to foster the stars of tomorrow.
"I really enjoy seeing the development of young players," Crouch said.
"In Sydney we're trying to give our Academy players a taste of what the southern states have in terms of endless football knowledge. Nick Davis, myself and all our other coaches – we're just trying to pass on some of our knowledge. And whether it's seeing a player improve at training or do something in a game that you've taught, it's incredibly rewarding."
Jared Crouch is relishing the opportunity to lead the QBE Sydney Swans Academy as head coach.
Away from the club, Crouch and his wife Rebecca are raising three footy-mad kids: six-year-old Bennett, four-year-old Roman and three-year-old Edison.
All three of them jump at a chance to join their dad at Academy training sessions or games, running water and joining in on the victory song in the hope of one day pulling on an Academy guernsey themselves.
Crouch and his teammates belted out a roaring rendition of the victory song in celebration of their 2004 triumph over the colossal Lions.
And many years on, his sons are now soaking up the euphoria of the famed song themselves.