Graduates from the QBE Sydney Swans Academy have been in demand ahead of the 2018 football season.
Two Swans Academy players, Jake Brown and James Bell, were picked up by the Sydney Swans in the AFL rookie draft.
And Academy general manager, Chris Smith, is pleased a number of other players have been snapped up by North East Australian Football League (NEAFL) clubs – the competition that includes the Sydney Swans reserves team.
Four Academy graduates - Angus Baker, Harrison Carr, Jarrod Osborne and Luke Robertson - have chosen to take up offers from the Canberra Demons, while Will Gowers is moving to Queensland to play for Aspley.
Smith says the players all have bright futures and have chosen to move to further their football development. He believes the NEAFL clubs will provide a strong, positive environment for emerging talent.
Two more graduates from last year's Academy program, Sam Barkley and Cooper Lee, have stayed in Sydney to join the Sydney University NEAFL squad. They will play alongside seven other former Academy members who joined Sydney Uni in 2017.
The NEAFL has become a solid breeding ground for the AFL, with 13 players from NEAFL clubs drafted onto the primary or rookie list of AFL clubs last November.
Baker, Carr, Osborne, Robertson, Gowers, Barkley and Cooper were all part of the Swans Academy NDS (NEAFL Development Squad) in 2017.
The NDS is a group of promising Under 19 Academy players who train with the Swans senior team, and have the opportunity to play for the Swans' reserves team.
Smith says the NDS is proving to be a great pathway for players to transition from the Academy and under age football, to senior clubs in the AFL, NEAFL and other high-level state-based competitions.
"I'm really pleased that our players are finding supportive playing environments to continue their development as footballers and people,'' Smith said.
"I'm confident these boys will have a significant impact at their clubs, and will get the opportunity to be the best players they can possibly be. We know they've got potential, and they'll be in the right spots to nurture that.''
Baker, 19, said the move to the Canberra Demons was exciting. He had a tough year in 2017, after tearing his ACL in a pre-season practice match while training with the Swans.
"I got bumped by Joey (Josh) Kennedy and landed awkwardly,'' Baker recalls. "It was a setback but I tried to stay positive and I'm back into full training now.
"Going to Canberra has been a fresh start and I'm more keen than ever to play good footy,'' said Baker, who grew up playing on Sydney's north shore at the Willoughby and Mosman junior clubs.
Baker said it was great to see Academy players graduating to NEAFL clubs. "I've got a few other boys with me in Canberra. It's exciting to see we're spreading out and getting opportunities, and the clubs will benefit from it as well.''
Will Gowers is excited by his move to Brisbane, and joining Aspley.
"I spoke to a few different clubs but Aspley seemed like the best fit for me,'' Gowers said. "They have a good record of playing NEAFL finals, and also getting players drafted into the AFL.
"It's a great opportunity for me to move interstate and keep developing and progressing.''
Gowers, a Glebe Greyhounds junior, said he really benefited from being part of the NDS program as a 19-year-old.
"It's a great structure. You get to do pre-season with the Swans boys and get a look at what it takes to go to the next level with your football.
"You see how hard the Swans players work, and it gives you a realistic idea of what you need to work on.''
Gowers played a number of games for the Swans reserves in the NEAFL competition in 2017. He earned a NEAFL Rising Star nomination in round five and says the experience helped him believe he could compete at that level.
Gowers has been a member of the Swans Academy since he was 11.
"It's been fantastic to be in a professional environment at the Academy for so many years. You get such great coaching, understanding of game plans, and you learn about diet and fitness. Not many 13 and 14 year olds get that, and I realise how lucky I've been to be part of the program.
"And now it's great to see Academy boys not just contributing to football in Sydney, but going to play all around Australia,'' Gowers said.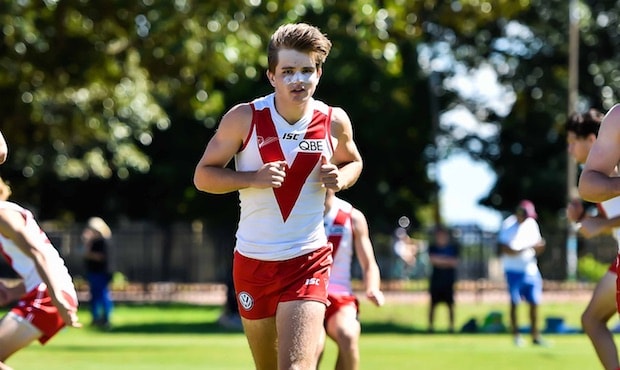 Will Gowers warms up for the QBE Sydney Swans Academy.