Sydney Swans youngster Colin O'Riordan grew up in a remote Irish village, hinged his childhood on little more than Gaelic football and "had no clue" when he first wrapped his fingers around a Sherrin.
But the boy from Killea will soak up a moment "not in my wildest dreams" when he bursts through the banner for his AFL debut on Sunday, capping off a journey from the green hills of county Tipperary to Melbourne's Etihad Stadium.
The up-and-coming defender says pulling on the red and white for the North Melbourne clash will make for a "really special moment".
"To start the journey three years ago and now to be able to run out for my debut is something I've wanted to do ever since I came here," O'Riordan said.
"That's what I've come to Australia to do and I'm just absolutely stoked. I have a huge sense of pride and it just feels like all the hard work has paid off.
"I didn't really know what to expect walking into the team meeting on Tuesday morning. It was all a bit surreal and I wasn't expecting to be told I'd be making my debut one little bit. Then when you walk in and the coaches are there and all the players are there it's a really special moment.
"I reflected on my journey a bit when I was told and to come from where I came from and to get the chance to make my debut is surreal."
The 22-year-old took out Gaelic football's 2014 young player of the year, twice earned junior All-Ireland honours and was also a star hurler in his youth.
But O'Riordan, the youngest of five boys and a son of a policeman and social worker, fumbled his way through the first series of ball skills at the 2015 AFL draft combine at Etihad Stadium.
Swans recruiter Kinnear Beatson watched on from the stands alongside a host of other scouts as the fresh-faced Irishman, 19 at the time and on his first trip to Australia, feared he had blown his chance to land an AFL contract.
While the round shape of a Gaelic football had felt sure in his hands from a young age, in October of 2015 he was left to grapple with the oblong-shaped Sherrin he had only laid his mitts on a handful of times.
"It would bounce and I wouldn't know where it was going to go," O'Riordan said with a grin.
"In one of the first drills, it bounced and I went to gather it like a Gaelic football and it bounced the other way and the other 20 boys ran after it and I was rattled. I didn't know what was happening. They were all laughing at me and they're still laughing at me. We all have a bit of a giggle about it now.
"I grew up playing with a round ball where it bounces and it bounces up to you."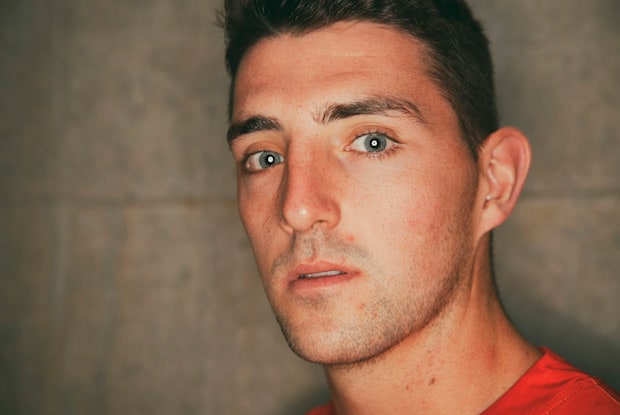 O'Riordan said a reassuring Beatson "lifted me up" and the Irishman would soon put pen to paper, thwarting offers from a number of rival clubs to sign a two-year international rookie contract with the Swans.
As a young Tipperary native living and breathing Gaelic football, he knew of 2005 Swans premiership star Tadhg Kennelly, a fellow Irishman, but "wasn't engrossed in AFL football" and "never thought I'd play it".
Even after O'Riordan had inked a deal with the Swans late in 2015, he struggled to believe what he had just achieved.
"Never did I ever think I'd be in Australia, let alone playing professional sport here," O'Riordan said.
"It never even crossed my mind. Even though I had signed a contract and went home for eight weeks before coming back for my first pre-season, it didn't even hit me until I had to get on the plane to head back to Australia that it was happening."
O'Riordan admits the news of his AFL debut won't sink in until he returns to Etihad Stadium, the venue his journey began as his use of the Sherrin left him red-faced.
But almost three years after linking with the Swans, the reliable half-back has earned a shot at the big time off the back of admirable form in the NEAFL.
He has averaged 29 possessions per game across 11 NEAFL games this season and was at his best in the Swans' match with the Giants last Saturday, reeling in 39 touches, 12 marks and two goals as Sydney collected a 46-point win.
O'Riordan said a renewed approach was key to his strong form this season.
"Last year I was probably concentrating too much on trying to make my AFL debut and was forgetting the game I was playing was right in front of me," O'Riordan said.
"This year I've had a real focus on going into every game with the mindset that if I play well in this game I'll have a chance. I decided to forget about my AFL debut and started to take every game as it came. I wanted to let next week take care of itself and let whatever happens happen. That way I'll then know after every game that I've done everything I can to earn my debut and if that's not good enough you just put your head down and go again and try to improve."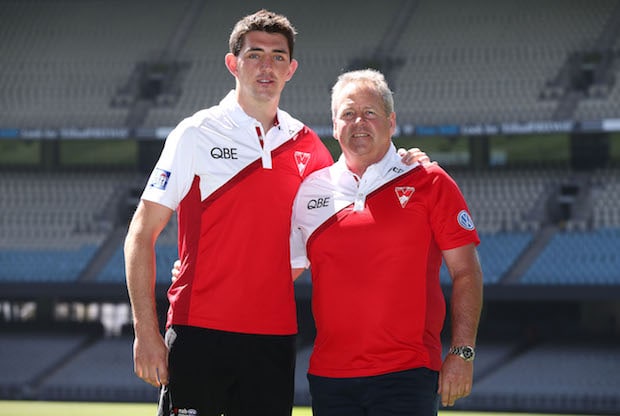 Kennelly returned to the Swans as a development coach ahead of season 2018 and has played a big hand in O'Riordan's surge of form, taking control of the NEAFL side alongside Jeremy Laidler to help usher in the next generation of talent.
The 197-game Swans champion lives a five-minute drive from the debutant and regularly invites him over for dinner.
O'Riordan says Kennelly has helped him find his feet on the other side of the globe.
"Tadhg has been through everything," O'Riordan said.
"He's reached the highest level. He knows what happens when an Irish kid comes over and ever since I came here he's been nothing but supportive. He's always asking if I need anything and he's a real father figure. He's made me feel right at home and really comfortable."
O'Riordan's mum and dad have already arrived in Australia for the young gun's special game and will watch on from the stands alongside his girlfriend and one of his four brothers.
If their reaction to O'Riordan's mid-week news is of any indication, they wouldn't miss his debut for the world.
"They were pretty happy and mum got pretty emotional," O'Riordan said.
"It's not easy for her sending a child halfway across the world. They all feel pretty fulfilled with the whole thing and it's a really exciting time."