Swans resist urge to hurry Jack back
Ben Horne
Daily Telegraph, May 23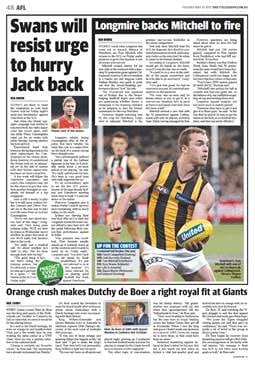 SYDNEY are likely to resist the urge to rush back Kieren Jack for Friday night's must-win blockbuster against Hawthorn at the SCG.
Just when the Swans' top-eight campaign had started to resurrect itself, the club's injury curse has struck again, with utility Harry Cunningham ruled out for six weeks with ankle damage, leaving another big hole up front.
Jack looms in the background as the ideal replacement for Cunningham for the Hawks showdown, however, it's understood the Swans look set to ultimately err on the side of caution with their former captain who has been out since Round 5.
A bye week will follow the Hawthorn encounter, and coach John Longmire may opt for the chance to give Jack another fortnight to completely rid himself of a hip complaint.
Jack is still a smoky to play but it would seem youngsters Jordan Dawson and Oliver Florent are in the box seat to take over the reins from an in-form Cunningham.
"We're not sure about Kieren Jack at this stage," said Longmire.
"He's doing some training today. We'll see how he trains on Wednesday (as to) whether he plays this week or not. We'll make that decision later in the week.
"It's really just a medical call.
"It's about whether he's right to play. Has he done enough work with his hip?
"The good thing is he's out there doing the training session, but it's obviously a massive step up to get him to a game — the Hawks at the SCG on Friday night."
Longmire backs Mitchell to fire
Ben Horne
Daily Telegraph, May 23
SYDNEY coach John Longmire has come out in staunch defence of Hawthorn ace Tom Mitchell, who returns to the SCG on Friday under pressure to prove his stardom is not all smoke and mirrors.
Mitchell created history for his new club on the weekend with a stunning 50-possession game against Collingwood but it did not translate to a Hawks win and Magpies coach Nathan Buckley was quick to point out that the record-breaking performance did not "hurt" his side.
The 23-year-old was squeezed out of Sydney due to the Swans' bulging midfield depth and critics are questioning whether there's a cheapness to his stunning statistics as he prepares to face his former teammates for the first time.
However, despite watching him fly the coup for Hawthorn, Longmire is adamant Mitchell is the premier one-on-one footballer in the entire competition.
Not only does Mitchell lead the AFL for disposals, he's third for contested possessions as well, and Longmire believes the stats don't lie when it comes to a former student he knows as well as anyone.
According to Longmire, Mitchell would get his hands on the footy, even if it was the last one on earth.
"I know as good as anyone how good a player Tommy Mitchell can be and how he can find the footy," he said.
Mitchell is a contested possession gun: Longmire
Rob Forsaith
SMH, AAP, May 23
Sydney coach John Longmire has lavished former charge Tom Mitchell with praise, saying no AFL midfielder is better at winning contested ball.
Mitchell's 50-possession effort against Collingwood was one of the talking points of round nine of the AFL season, with Magpies coach Nathan Buckley among those suggesting the Hawthorn on-baller "wasn't hurting" the opposition despite some impressive numbers.
Mitchell returns to the SCG on Friday night for the first time since leaving the Swans after the 2016 grand final. It is a venue he called home for five seasons before requesting a trade as part of the club's salary-cap squeeze.
Longmire will be excused for looking on longingly at some point during what shapes as an absorbing midfield battle.
"In a one-on-one situation he's as good as there is," Longmire said of Mitchell, who is averaging 35.9 disposals per game this season.
"He always has been since he's been a kid ... he's been in very consistent form and is almost at the peak of his powers.
"I know as good as anyone how good a player Tommy Mitchell can be and how he can find the footy. I reckon if there was one football left in the world and you employed Tom Mitchell to go and find it, he'd find it.
"It could be in a cave in the middle of the jungle somewhere and he'd be able to find it."
Swans blow, with forward to miss six weeks
Adam Curley
AFL.com.au, May 22
SYDNEY midfielder Harry Cunningham will miss up to six weeks of footy with a foot injury he picked up in Saturday's big win over St Kilda.
Cunningham, who had kicked two goals from 12 possessions before he was forced from the ground late in the third quarter against the Saints, has partially torn the Lisfranc ligament in his right foot.
Coach John Longmire said the 23-year-old will be in a moon boot in the short term, but won't need an operation to fix the problem, with the injury just another part of footy that is out of his control.
"It's really unfortunate for him. He's been in very good form and really important for us, so it's a bit of a setback," he said.
"Fortunately he's avoided surgery, which is a good thing because that would mean the season.
"We got a couple of players back (last week) and it's a bit like swings and roundabouts at times, but you've got to be able to deal with that.
"We've been pleased with the players that have come into the team and we've got players in good form in the reserves as well."
AFL to do more work to stamp out racism
AAP, SMH, May 23

AFL social policy manager Tanya Hosch calls racism a real challenge that demands more action from the league.
At the launch of the AFL's showpiece Sir Doug Nicholls indigenous round, Hosch had mixed feelings about what progress is being made to stamp out the racism problem.
She applauded Adelaide and Port Adelaide for joining forces in a show of solidarity for Crows star Eddie Betts, who was abused by a fan during last month's Showdown.
But Hosch said such incidents showed that more needs to be done to stop them happening.
"It's a real challenge for us in the AFL," she said.
"What we're thinking about is how we can do more work to make sure that AFL games are a safe place for everyone – players and the spectators," she said.
Adam Goodes the face of anti-racism in Archibald portrait entry
Alicia Vrajlal
Yahoo7, May 22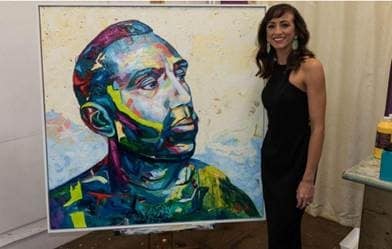 It was back in 2013 when AFL star Adam Goodes was the subject of a racial slur, as a 13-year-old girl called him an "ape" from the sidelines.
Since then the retired Sydney Swans player has campaigned widely against racism, and now local artist Megan Adams has thrown her support behind it by painting the sportsman for the Archibald Prize.
"The portrait of Adam Goodes is called Colour Doesn't Matter, showcasing the point that colour doesn't matter when it comes to people's skin colour," Megan tells Be.
"Everyone should be treated equally and with respect, regardless of their race," she continues, explaining the artwork will be sold on her website for $5,000, and 100% of the proceeds will go to the GO Foundation, founded by Goodes.
For Megan, a chance meeting with Adam in 2016 led to the Archibald creation she has produced today.
"When I bumped into Adam Goodes on the street I was thinking, 'This is Adam Goodes, the 2014 Australian of the year, anti-racism ambassador, champion AFL player…I would LOVE to paint him for the Archibald next year!'," Megan recounts of what went through her mind at the time.
"When I approached Adam I was very straight forward, starting with, 'Hi my name is Megan and I would like to paint you for the Archibald next year'," she continues.
"His response was, 'Have you painted before?'"
From there the pair got chatting, and after his manager was thrown into the conversation, official preparations kicked off.
The GO foundatian is certainly a cause very close to Megan's heart.
"My friend's indigenous son received a racial slur last year and that's what motivated me to call the artwork Colour Doesn't Matter," she tells Be.
"The gorgeous boy was very upset by the remark. It hurt me to see him like that, especially when he is the kindest child you will ever meet.
"I think it is important to raise awareness about racism as it's more common than most people think and these words that are being flung around have an impact on the people they are directed at and when has that ever been ok?" she adds.
Agitator for race reforms in footy
Michael Maguire
Daily Telegraph, May 20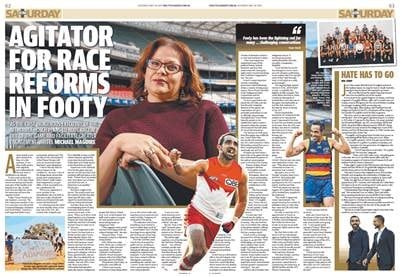 A RACIST attack is not just a moment in time, it's a life sentence. It can take a full-grown, well-adjusted, successful adult all the way back to childhood in an instant. To the cruel words in the school yards. To the days when taunts, and teasing and insults were part of the hurdles to be jumped every day.
So that even 40 years after the event, the memories still have the capacity to hurt.
Today, Tanya Hosch is clearly a success. The first indigenous member of the AFL executive, her title is general manager, inclusion and social policy. She is a well-regarded leader at a national level.
Yet, her days in the schoolyard at Gilles Plains Primary still carry an emotional weight that cannot be shrugged off.
"I feel to this day that it's had an impact on my confidence," she says. "One of the things about racism that people don't understand is that it doesn't really matter what happened as you get older, or how successful you are considered to be.
"When you experience a racist incident it can immediately take you back to that time in the schoolyard where you felt powerless and scared and humiliated."
It's a background she could call on recently when, in her new role at the AFL, she worked with Adelaide and Port Adelaide to issue a swift, united response against the racist slurs directed towards Eddie Betts and Paddy Ryder at the Showdown in April.
Hosch was at the Adelaide Oval for the game and says she was not shocked that such incidents still took place at the footy.
"I know there are people who carry these sort of views and think this sort of behaviour is acceptable," she says.
But that was not the whole story. The positive part was the reaction, and the fact that other fans felt they could report the racist behaviour without feeling threatened. Then there was the show of unity from both clubs to show racism had no part in the game.
"When such fierce rivals stand together, it is a fantastic thing to see and really great leadership and that is probably the best thing to come out of it," she says.
Hosch had a rough start in life. She was born to a Welsh mother and a Torres Strait Islander father. Her mother travelled to Adelaide for the birth because Hosch believes she had not told her parents she was pregnant. At three weeks old she was given up for adoption, which is when, paradoxically, she got lucky.
She was adopted by an Aboriginal father and a white mother. This was 1970, it was only three years after a referendum had agreed to allow the Federal Government to make specific laws for Aboriginal people.
And, in the hospital, the staff went to pains to ensure the new parents were okay about taking home an indigenous child.
"That suggests some would not have been happy with my cultural background," she says. The good news. "I was fortunate to land in a fabulous, loving family."
Hate has to go
Neil Cordy
Daily Telegraph, May 20
Just a few weeks after Michael O'Loughlin arrived at the Sydney Swans, he rang his mum in South Australia, saying he was homesick and wanted to go home.
His mum Muriel said he couldn't because his bed was now occupied by one of his cousins. It turned out to be a good thing for the Swans, and footy in general.
O'Loughlin went on to play a record 303 games for the red and whites including the drought-breaking 2005 premiership win.
On Friday night, when Sydney and Hawthorn kick off Indigenous Round at the SCG, the players will be vying for the Goodes-O'Loughlin medal for best on ground.
The other name on the medal, Adam Goodes, needs no introduction. One of the game's greatest players, he retired in 2015 after 372 games for the Swans.
His career included two Brownlow Medals, two AFL premierships (2005 and 2012), three Bob Skilton Medals and the 1999 AFL Rising Star Award. He was named in the Indigenous Team of the Century and four All-Australian teams. In 2014, Goodes was named Australian of the Year.
O'Loughlin and his great mate Goodes have proven as outstanding off the field as they were on it. When O'Loughlin retired in 2009, the pair started the GO (Goodes O'Loughlin) Foundation to develop and empower the next generation of indigenous role models in Australia.
"The GO foundation is our baby," O'Loughlin told The Saturday Telegraph. "Adam and I don't take a cent, everything goes to the kids. We run it out of the Swans office with the tremendous support of Andrew Ireland (Swans CEO) and Andrew Pridham (Swans chairman)."