Daniel Bradshaw was a football enigma. As a key forward he matched it with the best in the AFL through 15 years and 231 games with Brisbane and Sydney, but as a personality he was largely unknown.
Bradshaw very rarely engaged the media, preferring to let his quick lead, powerhouse marking and reliable kick do his talking for him.
It wasn't a malicious thing. The media and the public spotlight just wasn't for him.
Six years into retirement nothing has changed.
The now 38-year-old, living with his family in his home town of Wodonga, prefers not to engage even those wanting to write a 'where is he now?' story on the most recent common link between the two Round 6 combatants at the SCG on Sunday.
Bradshaw's life is not about the past. It's about wife Angie, their four children, and his job with North Eastern Roadmarkers.
But if he turns on the television on Sunday afternoon he'll see his two clubs doing battle.
Taken by Brisbane at #56 in a 1995 AFL National in which Sydney grabbed Jared Crouch at #8, Clinton King at #21 and Paul Licuria at #24, Bradshaw debuted for the Bears as a 17-year-old in 1996 and played 222 games for the Bears/Lions through until 2009, kicking 496 goals.
He was a 2001 and 2003 premiership player, missing the 2002 flag through injury, was the club's leading goal-kicker in 2005-06-08 and represented Victoria in 2008.
Having famously missed a semi-final as a 21-year-old in 2000 when his wife went into labour with their first child the night before the game, and he formed a fearsome key forward combination at his peak with Alastair Lynch and Jonathan Brown.
In 2009 he kicked the winning goal from the boundary line in a five-goal elimination final haul over Carlton, and booted three in a losing semi-final effort against the Western Bulldogs a week later.
But as the off-season unfolded Bradshaw quit the club.
Incensed that he and teammate Michael Rischitelli had unknowingly been offered as trade bait as the Lions chased Carlton full forward Brendan Fevola, he knocked back a contract offer from the Lions and was snapped up by the Swans with selection #4 in the 2010 Pre-Season Draft.
The then 31-year-old was given the #19 jumper of newly retired Swans legend Michael O'Loughlin.
But while Rischitelli went on to enjoy a 100-game career with the Gold Coast Suns, injury prevented Bradshaw from showing his best form with the Swans.
He played the first seven games of 2009 and kicked 24 goals, including six against West Coast and Brisbane at the SCG in Rounds 5-6. He added one more in Round 9 before injury struck and a bad knee sidelined him for 14 weeks.
In a brave selection call by coach Paul Roos, Bradshaw returned in the semi-final against the Western Bulldogs after the Swans had beaten Carlton by five points in an elimination final a week earlier.
After scores were level at three-quarter time, Bradshaw kicked his third eight minutes into the final term to put the Swans within one point. It was a team-high, but Bob Murphy and Daniel Giansiracusa answered for the Dogs, and a late goal for the Swans from Lewis Jetta was not enough. Dogs by five.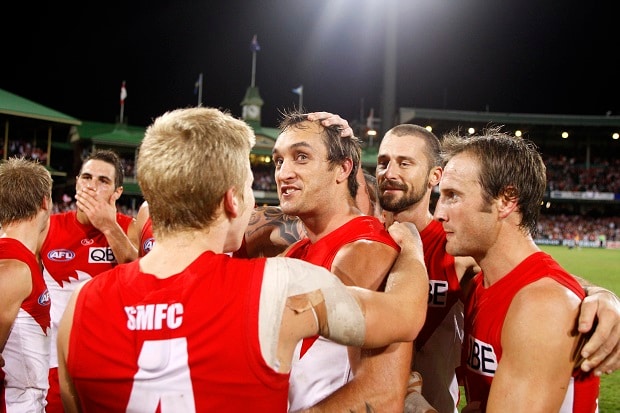 Daniel Bradshaw after he kicked a six goal haul against the Lions at the SCG.
It was the last game Bradshaw played. He was contracted to the Swans for 2011 but missed the first half of the season with further chronic knee problems and retired after yet another unsuccessful operation.
Bradshaw is one of 14 players to have played for Sydney and Brisbane in the AFL since the Bears turned Lions joined the competition in 1987.

The others?
Jim Edmond and Mark Roberts were in the very first Bears side in '87 after playing with the Swans, and Jamie Duursma was in the first Bears squad and played one game for the club in the same year.
Warwick Capper went north in 1988, followed by Craig Potter (1991), Dion Scott (1993), Adam Heuskes and Stefan Carey (1999) and Amon Buchanan (2010).
It hasn't been all one-way traffic. Five players played for Sydney after time in Brisbane – Matthew AhMat (1994), Shannon Corcoran (1997), Brent Green (1998), Craig Bolton (2003) and Bradshaw (2010).
And while Bradshaw's nine games and 28 goals with the Swans will hardly get him into the club's Hall of Fame, he is part of another intriguing trivia question that asks what he has in common with Bob Pratt, Capper, Tony Lockett and Buddy Franklin?
There is one defining fact that links this classy septet.
It's tough. What if you add Simon Minton-Connell, Austin Robertson, Lindsay White, Harry Brereton and Stan Lawler to the list?
Nobody but a fanatical Swans historian or statistician would know, but among 1411 players who have represented the club in VFL/AFL football only these 10 have averaged three goals a game or more wearing red and white.
Lockett, the game's all-time leading goal-kicker who was elevated to Legend status in the AFL Hall of Fame in 2015, heads the list at 4.71 goals per game. He played 98 Swans games from 1995-99 and in 2002, and kicked 462 goals.
In a statistic that will surprise most, second on the list is Lindsay White, who kicked 111 goals in 25 games for South in 1942-43 to average 4.44 goals per game. He topped the VFL goal-kicking in '42.
One of the game's leading full forwards of the 1940s, White was primarily a Geelong player but squeezed two years at South into his 142-game career when Geelong went into temporary recess due to travel restrictions during World War II.
Pratt, the Swans' all-time leading goal-kicker and an inaugural AFL Hall of Fame Legend in 1996, is third on the list. He played 158 games, from 1930-39 and in 1946, for 681 goals at 4.31 goals per game.
Next best is Simon Minton-Connell at 3.67 goals per game. He kicked 169 goals in 46 games for the Swans from 1992-94, before playing at Hawthorn and the Western Bulldogs.
Capper averaged 3.52 goals per game in two stints in Sydney, from 1983-87 and in 1991, to rank fifth. He played 90 games for 317 goals.
Then follows 2015 AFL Hall of Fame inductee and key World Series Cricket figure Austin Robertson. A former West Australian champion full forward, he kicked 60 goals in 18 games for South in 1966 at 3.33 goals per game. He also managed, among many cricketers, Shane Warne.
Bradshaw's 3.11 goals per game average for the Swans is identical to that of Franklin, who to Round 5 had 221 goals in 71 games for Sydney.
Rounding out the list is Harry Brereton, who kicked 52 goals in 17 games in 1919-20 and 1922 to average 3.06 goals per game, and Stan Lawler, who kicked six goals in two games in 1930-31.
But don't ask Bradshaw about it. Not being one for obscure statistics, he won't have any idea. And if he did he wouldn't talk about it.