The Sydney Swans have announced a succession plan for Head of Football Tom Harley to replace Andrew Ireland as Chief Executive Officer, who will retire from the position at the end of 2018.
Ireland informed the Board of his longer-term intentions during the 2016 season. At that time, the Board considered the most appropriate succession plan and determined that Tom Harley was the best person to be the Club's next CEO. This decision is being made public today to facilitate the commencement of a recruitment process for a new Head of Football.
Following his retirement as CEO, Andrew Ireland will remain a Director on the Sydney Swans Board and has entered into a long-term consultancy arrangement with the Club in the areas of business operations and list management.
Ireland joined the Sydney Swans in 2002 as the General Manager of Football, before stepping into the role of CEO in September 2009. Under his tenure to date, Ireland has been involved in 13 finals series, including five grand final appearances and two premierships. During his time as CEO the Sydney Swans have achieved record growth in all commercial areas of the club.
Harley joined the Sydney Swans in October 2014 after holding key roles at AFL NSW/ACT, including the role of General Manager. A veteran of 198 AFL matches and dual premiership captain of Geelong, Harley has overseen a strong and successful football program during his time at the Sydney Swans.
Sydney Swans Chairman Andrew Pridham has praised Ireland for his contribution to the Sydney Swans over 15 years.
"Andrew Ireland is among the most respected and experienced football administrators in Australia and his contribution to the Sydney Swans cannot be overstated," Pridham said.
"He played a pivotal role in winning the 2005 premiership, our first in 72 years, and has been a fundamental driver of a culture and process that has delivered sustained high performance on and off the field.
"Andrew informed us of his intention to retire in early 2016, and after due consideration from the Board we determined a succession plan with Tom Harley was the best fit to take our club forward.
"I have the upmost confidence in Tom's capacity to undertake the role of CEO with energy and imagination. I expect that he will build on the incredibly strong foundation laid by his predecessors and the senior executive team over many years."
Andrew Ireland said the end of next year is the right time for him to retire.
"I've had a wonderful time at this club, it's a great club, but there does come a time when you need to step aside. At the end of next year, I would have been here for 17 years, so I think it's the right time for me and the Sydney Swans," Ireland said,
"Over the journey I've worked with some wonderful people and what I'm most proud of is the culture at our club, which is largely about people. Together we've achieved consistency in performance on and off the field and that's a testament to having a great team
"I'm rapt that Tom will be my replacement as I'm certain he has all the attributes to be a strong CEO for the Sydney Swans – he's a great leader and culturally a terrific fit for the club."
Tom Harley, who will take the reins as CEO at the end of 2018, said he's excited by the challenge ahead.
"When you're involved in the AFL in Sydney you see it through a totally different lens and the Swans have reaffirmed my passion for the game, so it's a real privilege and an honour to take this opportunity," Harley said.
"I'm very honoured and humbled to be endorsed by Andrew and the Board. Under Andrew Ireland I've had a great learning experience and I think our team, from the football department to the broader staff, understand what I stand for.
"Sydney is also very much my home now – I've been in Sydney for the best part of nine years, I've got two young boys and my wife is from Sydney, so it's home and I love it here."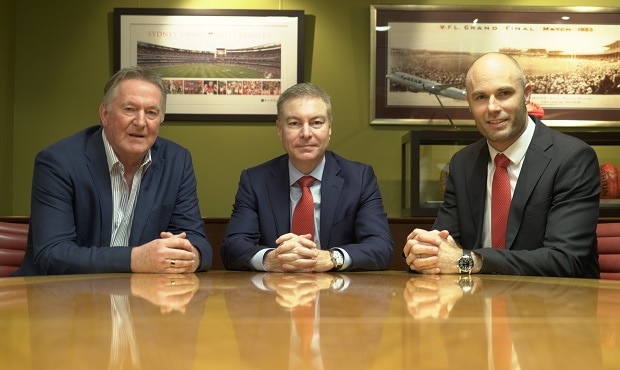 Andrew Ireland, Andrew Pridham and Tom Harley at the Sydney Swans boardroom table.