We bring you all you need to know from the newspapers around the country in the latest Swans in the media.
A family of champs crossing the world
Ben Horne
Daily Telegraph, June 29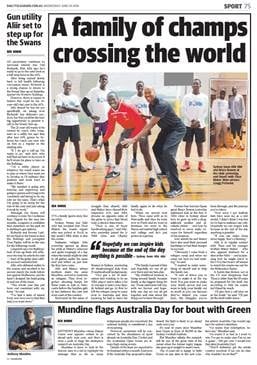 IT'S a family sports story like no other.
Sydney Swans star Aliir Aliir has revealed that Thon Maker, the Aussie export who was picked at No.10 in last week's NBA draft, is also his cousin.
Sudanese refugee Aliir yesterday opened up about his pride at Maker's selection and spoke longingly of a day when the family might be able to all gather under the same roof and reflect on just how far they have come.
Aliir and Maker, whose mothers share the same bloodline, arrived in Australia as refugees. They lived together shooting hoops for three years as kids in Newcastle before the families split in two between the east and west coast of the country.
Motivated by the sense of struggle they shared, Aliir and Maker have chased their respective AFL and NBA dreams on opposite sides of the globe to prove that blood truly is thicker than water.
"Thon is one of those hardworking guys,'' said Aliir, who yesterday joined the Jr NBA clinic and Charity Bounce in Sydney, mentoring 40 disadvantaged kids from 15 multicultural backgrounds.
"He's put a lot of dedication into wanting to be an NBA player and it takes a lot of courage to leave your family behind and go. At first he left the refugee camp to come over to Australia and then knowing he had to leave his family again to do what he had to do.
"When we moved over here, Thon came with us to Newcastle and then he went over to Perth and we went to Brisbane. He went to the States and started high school and college and he's just grown as a person.
"The family is proud of him and hopefully we can all go over there and see him play.
"My childhood memory is being around family because family is the biggest thing for me. Those memories will stay with me forever and hopefully one day we can all get together and chat about the things we've been through."
Sudanese refugees' success stories will inspire a community
Peter Lalor
The Australian, June 29
One Australian Sudanese family has provided two stories of success to challenge the growing anti-refugee narrative on the extremes of the political debate and at the same time provide inspiration to others in the refugee community.
Aliir Aliir made the news when he played his first senior game for the Sydney Swans in round six this year.
His basketball-playing cousin Thon Maker went one better last Friday when he was taken as a top-10 draft pick by the Milwaukee Bucks in the NBA.
Aliir's parents were Sudanese, but fled the war in that country and he was born in a Kenyan camp where he stayed until they were granted Australian citizenship. He played his second senior match with the Swans against Melbourne in the club's last round.
After that impressive performance, Aliir is waiting to see if he will hold his place for this weekend's match against the Bulldogs with veteran defender Ted Richards fit and expected to play.
Maker is the son of Aliir's mother's sister.
Like his cousin, he grew up in a camp before being accepted as a refugee in Australia.
"We came out here before them but they arrived not long after and he was in Newcastle with us, then we went to Brisbane and Perth, but we have stayed in touch all that time," Aliir said.
"I knew him back at home and I caught up with him a couple of months ago when he came back here to Sydney with his little brother."
Coach confident as depth of Swans' squad faces test
Dominic Bossi
SMH, June 29
Sydney Swans veteran Ted Richards is available for selection for their crucial clash against Western Bulldogs on Saturday, but coach John Longmire may still leave the defender out of his final squad.
The 33-year-old is no certainty of returning for this weekend's match despite training with the team on Tuesday and playing with their reserves in the NEAFL in his comeback from a concussion. While Richards is available after last week's bye, Longmire says there is a chance he will be given another week with the reserves to regain full fitness having missed four weeks with the senior team.
''Teddy Richards played last week so we will see how those sessions go this week before we make the decisions,'' Longmire said. ''We would like to be in a position where we sit down and work out which way we go with that.''
The Swans depth will be tested in the coming weeks with Sam Reid three weeks away from returning from injury and Kurt Tippett in the early stages of his comeback from a hamstring operation. Forward Tippett is continuing his rehabilitation on the exercise bicycle and despite the absences, Longmire is content with the depth available.
''We were confident coming into this season despite some doubts from outside of the footy club. We were confident in our depth coming into the season and it's been really pleasing so far that we have had some players come in and play some really good solid footy for us up until this point,'' he said.
Gun utility Aliir set to step up for the Swans
Ben Horne
Daily Telegraph, June 29
AS uncertainty continues to surround veteran star Ted Richards, Aliir Aliir says he's ready to go to the next level as a full-time force in the AFL.
After being nursed slowly back to full health following concussion issues, Richards is a strong chance to return to the Swans' line-up on Saturday against the Western Bulldogs.
However, there is reason to believe this could be the 33-year-old's last year in the AFL.
Aliir denied he has his eye specifically on taking over Richards' key defensive position, but that could be the next big opportunity to present itself in the Swans' line-up.
The 21-year-old wants to be viewed by coach John Longmire as a utility but says that after two AFL games he believes his coach can now rely on him as a regular in the starting side.
"If I do get a call-up, I'm ready to go," said Aliir, who will find out later in the week if he'll retain his place to take on the Bulldogs.
"I'm a utility player, so whatever the coach wants me to play or where they want me to develop in I'll embrace that position and work hard to make it there.
"My mindset is going into training and improving and going to games and trying to be consistent and trying to do my role for the team. That's what I'm going to be doing for the rest of the year and just taking it week by week."
Recharged Isaac Heeney ready to fly for Sydney Swans
Andrew Wu
SMH, June 28
Sydney forward Isaac Heeney says he has come back from the bye refreshed and ready to recapture the stellar early season form that made his partnership with Lance Franklin one of the most feared in the competition.
After starting the season with a bang, the goals have dried up for the Swans' youngster as the effects of an unforgiving season started taking its toll.
Heeney has booted two goals in the past five games during which Sydney's scoring has also dropped off. Since round 10 the Swans have averaged 79.8 points a game, well down on their average of 105 from their first nine matches, though playing twice in torrential downpours has not helped.
The Swans have still claimed decent scalps during this period but their forwards will be under more pressure in the coming weeks against likely finalists the Western Bulldogs, Geelong and Hawthorn, particularly with Kurt Tippett unavailable. An improvement from Heeney will be crucial if the Swans are to find avenues to goal other than through the dependable Franklin.
Having not missed a game, a considerable feat for second-year player, Heeney believes the break came just at the right point. This is the first time Heeney has had to deal with pushing through the mid-season grind after missing much of last year with injury.
Heeney's forged in steel
Ben Horne
Daily Telegraph, June 28

ISAAC Heeney has turned into a tackling machine for Sydney this season, proving he is not haunted by the savage king hit he suffered on a night out in Hong Kong.
The 20-year-old was left with a broken jaw and was immediately rushed back to Australia after a coward's punch on the Swans' end-of-season trip last year.
Such a deplorable act could have left a then teenager with significant mental scars.
But if anything Heeney returned to action with an even deeper resolve to become more physical in 2016, and the Western Bulldogs ought to watch out on Saturday at the SCG.
Armed with a rock-solid technique and an insatiable hunger for body-on-body contact thanks to his rugby league background, Heeney has tackled the house down in recent matches against Melbourne and Gold Coast.
Known primarily for his flashy brilliance with the ball, the Newcastle boy with the beach-blond hair has showcased his inner tough-man since recovering from the frightening events in Hong Kong.
"It hasn't affected the way I go about things at all. It's not playing on my mind,'" Heeney told The Daily Telegraph.
"Obviously I had that pretty unfortunate, unexpected incident but I came back and did everything right.
"I don't even look at it any more. And when I do, I'm like, 'Well, it's pretty much metal now so it's stronger than usual.
"I would like to think it's stronger than normal so I can go in even harder."
Western Bulldogs welcome back Easton Wood for Sydney clash
Sam McClure
SMH, The Age, June 29
The Western Bulldogs could be buoyed by the return of star defenders Easton Wood and Jason Johannisen, while three others remain in the mix for senior selection ahead of Saturday night's blockbuster against Sydney.
While coach Luke Beveridge confirmed Wood will return from injury, he said the club will have to make a tough call on Johannisen, who hasn't played since round four due to a severe hamstring injury.
Big men Tom Boyd and Will Minson remain in contention after strong performances in the VFL, while Koby Stevens is a chance to come back from a shoulder injury sustained in the round nine loss to GWS.
Beveridge said Johannisen has done everything he could to push for senior selection.
"I said a couple of weeks ago that JJ would more than likely play at VFL level, but the more we think about it, he's done everything conceivably possible during his rehab period," Beveridge said on Tuesday.
"He's really applied himself so he's a chance to come straight in, but we haven't made any decisions, we'll finish that on Thursday."
Boyd, recruited on big money from the Giants, has been playing well in the VFL and has demanded to be in contention for this week, according to Beveridge.
"Yeah, he's close," he said.
"We've still have to totally make sure with that shoulder."