The teams have been named for Saturday's Sydney Swans v GWS Giants women's exhibition match, with basketballers, netballers and a New York Magpie among the contingent set to line up for the Swans.
Here's a snapshot of the Swans players:
#1 Nicola Barr
DOB: 13/06/1996
Local Club: Sydney Uni Bombers
Height: 168cm
Fun Fact: Elite runner, with energy and speed to burn. Runs 12.12 in the beep test. The first female AFL Scholarship recipient at Sydney University. Best and Fairest in Sydney AFL Youth Girls 2013, 2014. AFL Sydney Rising Star 2015.

#2 Stephanie Walker
28/02/1984
Sydney Uni Bombers
161cm
Dynamic, exciting midfielder/small forward. Always looking to attack the footy, create opportunity and score.

#3 Shelby Koh
1/11/1994
UNSW-ES Stingrays
176cm
Represented Singapore in the 2015 Netball World Cup.

#4 Amy Hessell
26/08/1992
Gosford Tigers
Coaching in the Sydney Swans Academy on the Central Coast.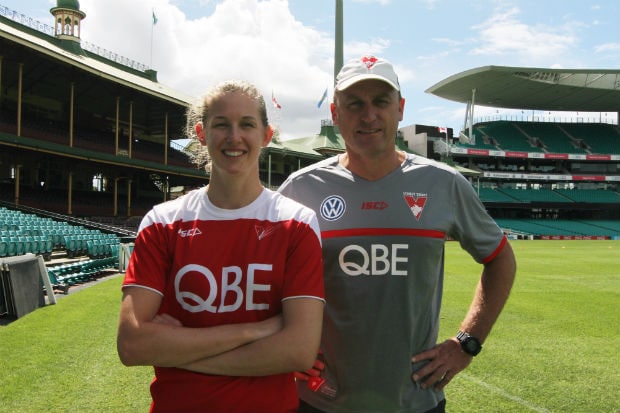 Amy Hessell meets senior coach John Longmire following her appointment as a coach at the QBE Sydney Swans Academy's Hunter Zone.

#5 Rebecca Beeson
20/02/1997
UNSW-ES Stingrays
167cm
Named in the Youth Girls All-Australian side in 2014.

#6 Emma McKay
30/09/1990
UNSW-ES Stingrays
168.5cm

#7 Maddie Collier
14/09/1995
UNSW-ES Stingrays
164cm
Smart, hard-working defender. AFL NSW/ACT Female Football Ambassador.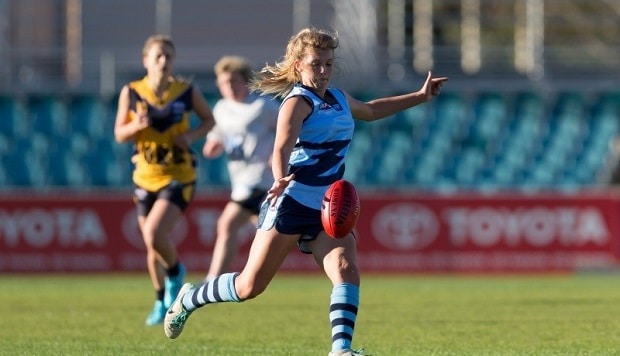 Maddie Collier in action.

#8 Monique Hollick
8/12/1989
UNSW-ES Stingrays
Transitioning from boundary umpire to football player. An elite runner who won the Perth City to Surf in 2010. Holds national talent search beep test record at 13.8.

#9 Kathryn Hull
15/11/1984
Southern Power
173.5cm
Steady, reliable and mobile full back. Leader within the backline, looking to dominate the contest and move the ball back to the midfield.

#10 Jacinda Barclay
18/02/1991
UNSW-ES Stingrays
A baseball player who represented Australia in the 2008 World Cup before turning her hand to gridiron and playing in the Legends Football League.

#11 Jessica Cassidy
30/10/1994
Maitland Saints
168.5cm

#12 Holly Cogle
6/04/1981
UNSW-ES Stingrays
Represented Canberra in the 2013 National Women's Champions in Cairns.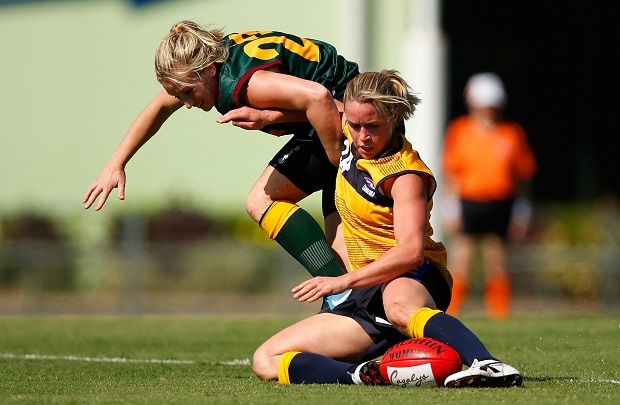 Holly Cogle (front) in action for Canberra during the 2013 National Championships in Cairns.

#13 Kristy De Pellegrini
8/05/1990
Southern Power
171.5cm
A classy utility who has a strong marking presence.

#14 Kim Hemenway
13/04/1984
New York Magpies
Lives in California (USA) and plays for the New York Magpies. Travelled to Australia for the national talent search.

#15 Laura Holdsworthy
30/07/1988
Newtown Breakaways
167cm
Was a member of NSW Institute of Sport for Golf in 2007.

#16 Jennifer Lew
22/09/1985
Sydney Uni Bombers
171.5cm
Hard, crashing midfielder. Always puts her head over the ball and looks to crash through the pack. Was selected for Melbourne Demons in the inaugural 2013 Women's Draft.

#17 Alison Parkin
30/10/1987
Gosford Tigers
168cm
Cricketer who, at the age of just 15, achieved figures of 7/12 in her debut first-grade match in Sydney.

#18 Casey Samuels
2/08/1994
Sydney Uni Bombers
183cm
Elite basketballer transitioning to AFL. Safe, strong hands and reads play well. Achieved bronze in the U/19s World Basketball Championships.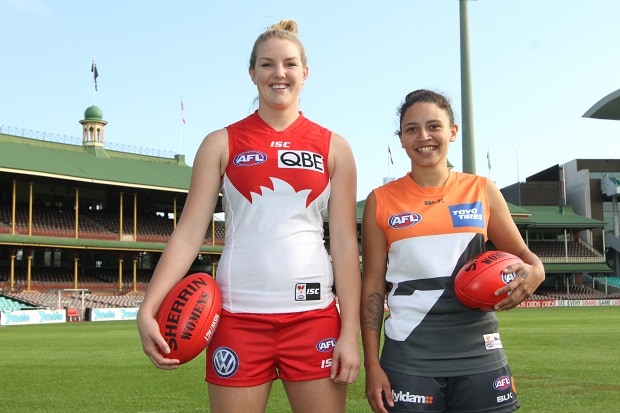 Casey Samuels and GWS' Codie Briggs ahead of Saturday's clash at the SCG.

#19 Jasmine Smith
18/01/1984
UNSW-ES Stingrays
Strong tall body. Effective ruck and reliable back. Great attack on the ball and defensive ability. Basketball background.

#21 Jenna Miller
19/09/1987
Southern Power
165cm
#22 Isabella Rudolph
21/04/1995
Sydney Uni Bombers
159cm
Unassuming small forward with smart positional play.

#23 Georgia Verkuylen
26/08/1985
Newtown Breakaways
169cm
Smart, positional player. Aggressive and strong midfielder.