Christmas arrived early for David Faulks and his family and friends with the group enjoying the ultimate barbecue at the SCG with the Sydney Swans last week, thanks to Citi.

New skipper Josh Kennedy, along with Lance Franklin, Kieren Jack and Luke Parker were just a few of the Sydney players who hosted Faulks and his nearest and dearest for the unforgettable barbecue at the home of the Swans.

Club chef Courtney Roulston prepared the scrumptious dinner, while Faulks and his friends used the opportunity to talk all things red and white in season 2017, before enjoying a tour of the Swans' facilities.

The life-long Swans supporter grew up in Narrandera in country NSW has enjoyed watching the likes of Paul Kelly, Paul Roos and Adam Goodes over the years – and of course enjoying a couple of premierships.

The winner of this year's ultimate Citi barbecue competition said it was a memorable evening and the perfect way to kick off the festive season.

"Seeing those big boys, Buddy and all the other tall timber, is absolutely awesome and it's a privilege to be here," Faulks said.

"I'm looking forward to the meal and enjoying it with my friends and also the Swans as well.

"Citi, the Swans and all the staff that are here tonight, thank you very much.

"It's a privilege, especially at this time of year, to be here with the Swans and I'm looking forward to what's going to happen in 2017."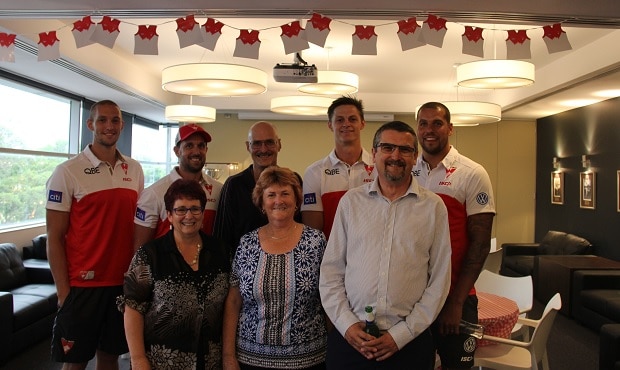 David Faulks with players at the Ultimate barbecue of the Sydney Swans thanks to Citi.