In a series new to 2019, we revisit moments in history involving the Sydney Swans' round-by-round opposition.
History, nostalgia and memories form a special part of what makes Australian rules football great, and we hope the Footy Flashbacks series reignites some of your fondest Swans moments.
In the latest edition, we wind back time to the day Michael O'Loughlin broke the Swans' games record and Adam Goodes played his 200th match.
The South Melbourne-Sydney Swans games record belonged to John Rantall for 30 years, but passing on the honour to Michael O'Loughlin made for "a moment I really cherish".
Rantall was at the SCG for Sydney's clash with Fremantle in Round 14, 2007, a magical afternoon in club history that saw O'Loughlin run out for his record-breaking 261st game and Adam Goodes play his 200th match.
Rantall presented O'Loughlin his guernsey ahead of the match before watching on from the stands with his wife Deb, cheering on the Swans as they cruised to a 28-point victory over the Dockers.
The Swans Hall of Fame member had held the club's games record since South Melbourne met Carlton at Lake Oval in Round 16, 1976.
But O'Loughlin's extraordinary football achievements and lovable personality made handing over the record a moment he will savour forever.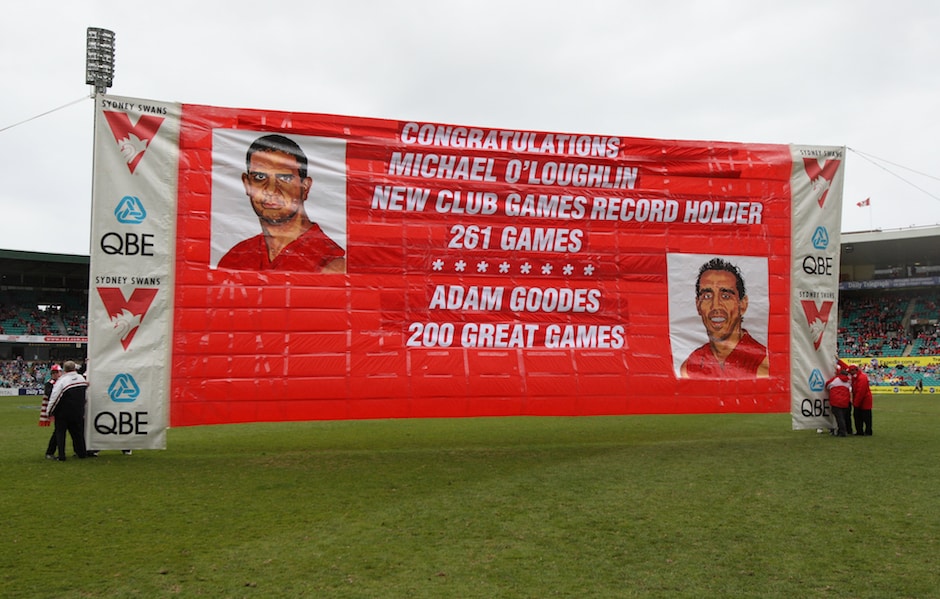 The banner looking immaculate on a special day in South Melbourne-Sydney Swans history.
"I had had the record for a long time and for someone like Mick to come along and break the record was great," Rantall told Swans Media.
"I hadn't met him prior to that, but when I went down to Sydney and met him he was fantastic about the whole thing. I had always admired him over the years but my admiration of him went to a new level with how gracious he was around that game. The way he received me was great. We hadn't ever met each other, but the way he greeted me was as though he had known me for a long, long time. He was so humble. I've met him a few times since then and he's always been very pleasant. I have great admiration for him.
"What he did in his time at the Swans was amazing. I don't think he arrived at the Swans as a full-forward, but he went on to have an amazing career in that position. He's an integral part of the Swans. It's not easy to play even 150 games, so to play 260 and of course to go on to play 300 is a fantastic effort."
In a career spanning 1963-1980, Rantall played 336 games for South Melbourne, North Melbourne and Fitzroy.
One of the finest half-back flankers in the game's history, he claimed North Melbourne's 1974 best-and-fairest award and won a premiership with the club in 1975.
Rantall is also a member of both the Swans Team of the Century and North Melbourne Team of the Century, while he was an inaugural inductee into the Australian Football Hall of Fame in 1996 and joined the Swans Hall of Fame in 2009.
He also had the immense privilege of playing alongside Bob Skilton, Peter Bedford, Barry Round and a host of other champions of the game.
But he says the moment he presented O'Loughlin his match guernsey ahead of his record-breaking match is among his most treasured football memories.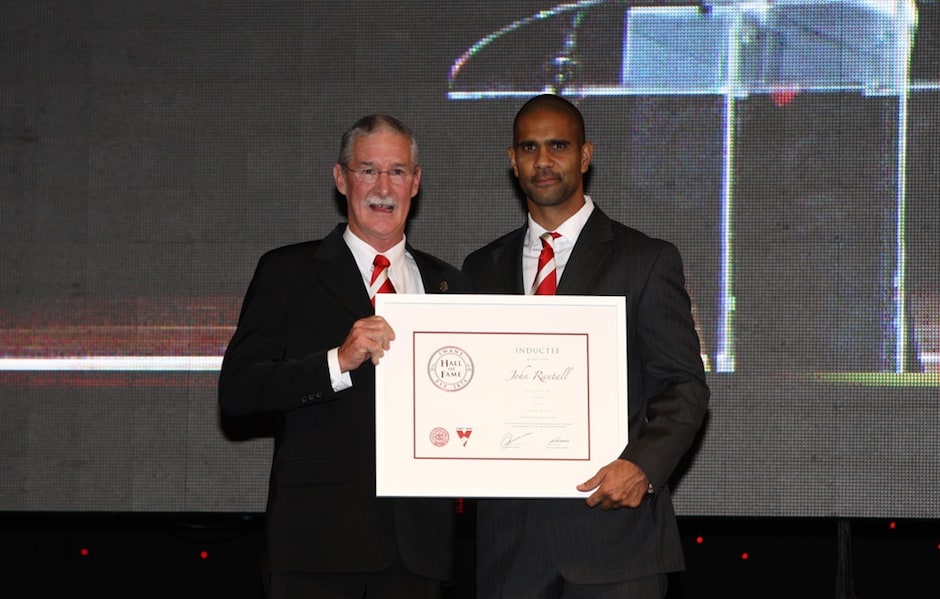 John Rantall (left) and Michael O'Loughlin (right) at the 2009 Sydney Swans Hall of Fame Induction Dinner.
"The presentation took place in front of all the players and you could see just how much Mick was appreciated. They were all very enthusiastic and they all clapped madly for Mick," Rantall said.
"I had been out of the game for a long time and to be invited by the Swans to present his jumper was fantastic. It was a great moment for me. When you retire you move away and you find other interests. I had still followed the Swans and I had still followed Mick's career, but it was great to be invited back and to be able to feel a part of the club again.
"Of all my best moments in football, having that opportunity is right up there with my most cherished."
Rantall said there was a special feeling in the air as the crowd piled in, a sense of occasion rising as O'Loughlin prepared for his record-breaking match and Goodes his 200th.
"It was an absolutely fantastic afternoon in football history," Rantall said.
"Mick and Adam are right up there with the great people in not only Sydney Swans history but South Melbourne history. I started with the Swans in 1963 and the club in those lean years didn't have a great deal of highlights. But when Mick and Adam came on to the scene, it made for a fantastic time for the club."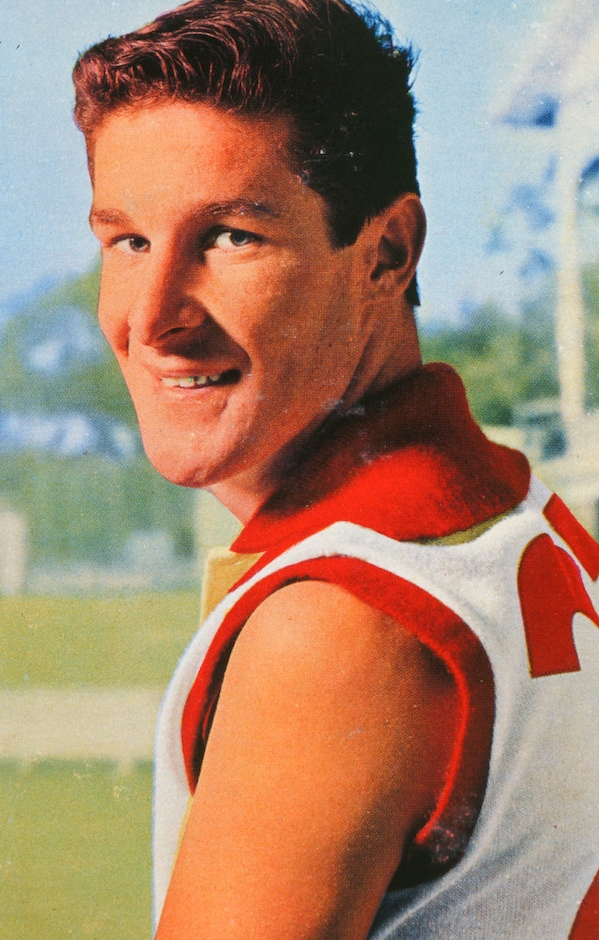 John Rantall in his South Melbourne days.
Rantall played his final game in 1980 but is still living life in the fast lane.
The 75-year-old and his wife Deb are living in Noorat in Melbourne's south-west, where he plays golf, tennis and table tennis, and spends quality time with his brothers who live nearby.
He's also spent retirement travelling all over the globe, an itinerary including visits to not only New York and the Mediterranean, but regular trips to cheer on the Swans.
"Life goes too quick," Rantall says.
"You've got to make the most of it."