Sydney forward Sam Reid has quashed any hope of a family reunion at Collingwood by signing a new four-year deal with the Swans.
Reid was due to come out of his current five-year contract at the end of this season, and with every passing month he went unsigned beyond 2017, talk of him leaving to join older brother Ben at the Magpies, or head back home to another Victorian club, gathered momentum.
But the athletic swingman said the rumours about him departing the Bloods for the Pies were purely a beat-up from the Melbourne footy media.
Reid will marry his long-term partner Kim – a Sydney local – in the off-season, and said his home is in the harbour city, at least until the end of the 2021 season.
"It would be great to play with my brother but the reality is it's pretty tough to do these days," he said on Monday.
"He loves it in Melbourne and I love it in Sydney, so we might have to wait until we're 40 and play a local game in the country somewhere.
"My parents get up here pretty much every second week to watch me as well.
"I'm not missing out on too much being up here, the lifestyle and the weather is really good, and I've just grown to love it over the past eight years."
The lucrative new contract is a huge show of faith by the Swans after Reid failed to play a senior game in 2016 due to hamstring, calf and Achilles issues.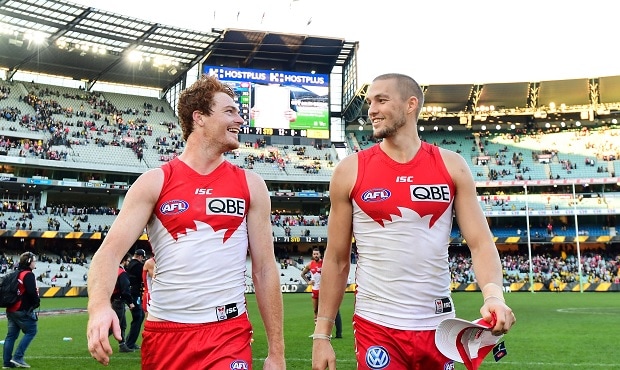 Sam Reid shares a laugh with Gary Rohan as he walks from the MCG after a win.
The versatile 25-year-old has bounced back to kick 24 goals from 17 games so far this season, the result of some hard work and research from the club's strength and conditioning and medical staff at the end of last year.
"It was frustrating but I didn't think that my body had too many issues, it was just a bit of an odd injury that we couldn't put a finger on until later in the year," he said.
"I was focused on staying fit and playing footy (this year), and being able to stay on the field was the main thing (that would lead to) getting another contract.
"That's been the case so far, touch wood, and the Swans have shown faith in me again, so I'm looking to repay that and play as much footy as I can."
Reid made a solid return in last week's win over Geelong with 16 possessions, seven marks and two goals, after missing two games with a groin problem.
That result was massive for the Swans' top-four chances, and the key forward couldn't be more excited for the next two months of footy, after being forced to watch his team go all the way to last year's decider.
"We're really confident (at the moment), the last three months has shown that if we play our best footy we can pretty much match it with every side," he said.
"The last three games are really important and we can't look too far ahead obviously because it's been a funny old year, and you pretty much can't pick a winner.
"Geelong at Geelong is one of the hardest trips in footy, and we follow that up in two weeks with another one of the hardest trips in Adelaide at Adelaide Oval, to go with Fremantle and Carlton at home.
"Carlton knocked us off earlier in the year and Fremantle have been going OK, so we just have to keep showing up and playing our brand of footy to make sure we get the wins."