Long-time Sydney Swans ambassador and legendary football commentator Harry Beitzel has passed away at the age of 90.
Beitzel umpired 182 VFL games between 1948 and 1960, including the 1955 Grand Final.
But his true calling was the media, and after hanging up his whistle he joined 3KZ in 1961, and for the next 30 years he was as big a media voice as there was in the game, figuratively and literally.
In a statement on Monday, the AFL said, "The AFL offers its sincere condolences to the family of Harry Beitzel. A member of the Hall of Fame, he will be remembered for his contribution as an AFL umpire and an outstanding career in broadcasting across radio, television and print."
With his booming voice, Beitzel found his groove as a match-day commentator, and that was his bread and butter on 3KZ for 11 years before his move to 3AW, where he held court until 1989, before a brief and ill-considered switch to 3AK.
Football on radio was huge through the 1970s and 1980s and each station had its devoted listeners. Graham Dawson and Doug Bigelow were the staples on 3LO (now 774), Jack Dyer would mangle the English language every Saturday on 3KZ while partnered with the smooth sounding Ian Major, but 3AW was the biggest broadcaster of the lot.
It started with Beitzel and his distinctive voice. Nobody could roll their 'R's quite like Beitzel so that Garry and Barry (as well as Harry) would come out as "Gaddy, Baddy and Haddy". So, the call was fun and lively and he had a great play-by-play partner in Bill Jacobs.
And he was a pioneer in many respects. 3AW was the first station with extensive pre- and post-game shows and he embraced talkback with supporters.
He also had Tommy Lahiff, a former Port Melbourne legend but by then a kindly octogenarian, who had an access-all-areas pass to every club's dressing room. He was the game's first boundary rider, beginning every cross with "Can you hear me Harry?"
The 'Big H' as he was known, was also a fixture on ABC TV, both on its Friday night preview show and its Saturday evening review program.
Beitzel had a keen eye for where the game was heading. He was a firm believer that match statistics helped paint the picture of a game. Sitting alongside him on match days was Ray Young, whose stats business APB Sports was the forerunner to the behemoth that is now Champion Data.
Match stats also played a big part in Footy Week, the weekly newspaper Beitzel created in the 1960s that pre-dated Inside Football.
Beitzel was a football impresario and his interests extended beyond the media. He was the driving force behind the Galahs, the team of star VFL footballers who travelled to Ireland and the United States following the 1967 season to play a series of Gaelic football matches.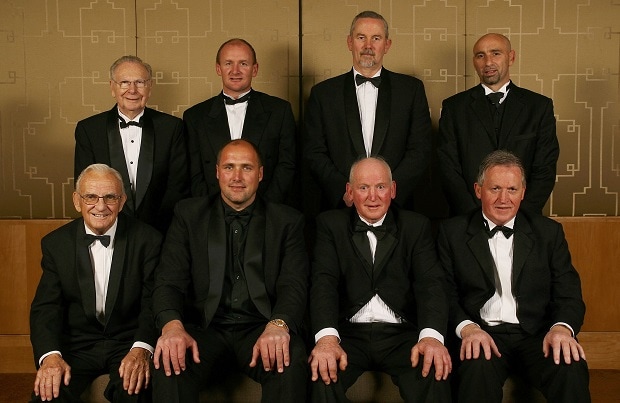 Harry Beitzel (far left, back row) poses with fellow inductees (left to right) Craig Bradley, Rob Walls, Peter Matera, Steve Marsh, Tony Lockett, Daryl Baldock and John Murphy during the 2006 AFL Hall of Fame Dinner at Melbourne's Crown Casino.

It was a self-funded trip outside the auspices of the VFL, and among those to play included Ron Barassi, Bob Skilton, John Nicholls and Ken Fraser.
Beitzel arranged for other teams to tour Ireland after the 1968 and 1978 seasons.
He always went into bat for the umpires. "They're the 13th team of the VFL," he would say, so it came as little surprise when he assumed the position of umpires director for the League in 1981.
But he carried out the role while continuing his media duties, which meant it was doomed for failure. Indeed, for a two-week period in 1981 the field umpires went on strike and were replaced by suburban and junior umpires.
In 1989 Beitzel was lured away from 3AW by Kerry Packer's cashed-up 3AK, but they stopped broadcasting football within a couple of years.
Beitzel then went to jail in 1994 for 18 months after pleading guilty to obtaining financial advantage by deception over a matter involving his work with a lottery company. Beitzel vigorously denied ever deliberately trying to commit a crime.
He spent the last 25 years of his life keeping a low profile and living in NSW. In 2000 he was admitted to the MCG's media hall of fame and in 2006 was inducted to the Australian Football Hall of Fame in the media section.
He is survived by his wife Karolyn and his four children.