The Sydney Swans have an illustrious history when it comes to the Brownlow Medal having won the award on 14 occasions.
Some of the greats to have played for South Melbourne/Sydney have won the honour including names such as Adam Goodes, Bob Skilton and Paul Kelly.
Ahead of Sunday night's ceremony, we take a trip down memory lane to celebrate our past champions to have won the AFL's highest individual accolade. 
Adam Goodes – 2003, 2006
For only the second time in AFL/VFL history the Brownlow Medal was split three ways with Adam Goodes, Adelaide's Mark Ricciuto and Collingwood's Nathan Buckley sharing the top honour with 22 votes.
Goodes then went on to etch his name in the record books alongside great Bob Skilton as the Swans' only multiple winners of the award after winning the 2006 Brownlow Medal. Goodes is one of only 14 in the competition's history to win multiple Brownlows.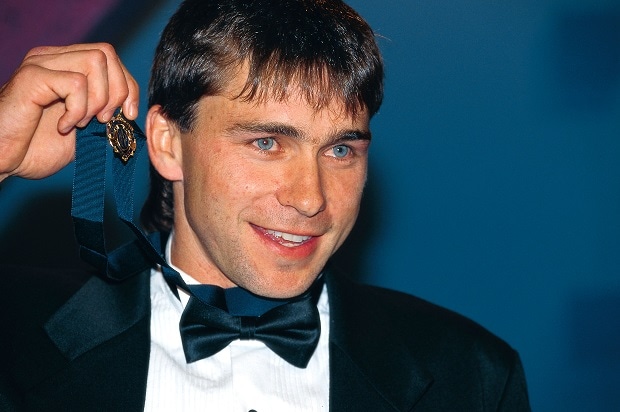 Paul Kelly – 1995
The man known as 'Captain Courageous' collected 21 votes to win the 1995 Brownlow Medal in a runaway victory from the ineligible Darren Jarman (Hawthorn) and Gary Hocking (Geelong).
Kelly, in his acceptance speech, dedicated the win to coach Ron Barassi and '91 Club Champion Barry Mitchell "who took me under his wing and taught me what AFL football is all about".


Gerard Healy – 1988
After playing 130 games for Melbourne, Healy moved to the Swans at start of 1986 season and quickly made a name for himself in the red and white. Two years later he'd be holding a Brownlow Medal after collecting 20 votes and winning the award ahead of Essendon's Simon Madden and Hawthorn's Jason Dunstall (16 votes).
Healy would play 81 games for the Swans, winning three Bob Skilton Medals in the process and later be inducted into the Swans' Hall of Fame and Team of the Century.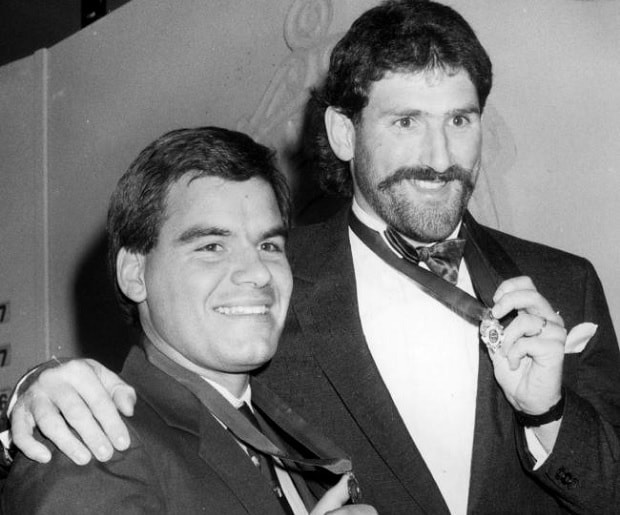 Greg Williams – 1986
The 1985/86 summer would prove a lucrative one for the Swans after welcoming both Gerard Healy and Greg Williams (left in photo). After his first season with the club, Williams would tie with Hawthorn's Robert DiPierdomenico (right) on 17 votes to win the prestigious award.
'Diesel' would play 107 matches across six seasons for the Swans before moving on to Carlton. Williams would later become a Hall of Fame inductee and Team of the Century member at both clubs.
Barry Round – 1981
Barry Round (right in photo) is the oldest winner of a Brownlow Medal, having claimed the 1981 prize at the age of 31 years and 238 days. That season was the first time two medals were awarded for a tie after the ... drew with Fitzroy's Bernie Quinlan (left) on 22 votes.
On top of his 'Charlie' Round won two Club Champion Awards ('79 and '81), was the Sydney Swans' inagural captain and is a member of the South Melbourne/Sydney Swans Team of the Century.


Graham Teasdale – 1977
Graham Teasdale polled 59 votes to win the 1977 Brownlow Medal, which remains to this day the most votes polled in a single season. The voting system in '77 and the previous year had both field umpires awarding votes resulting in higher vote tallies than other years.
The other talking point of that night was Teasdale's velvet suit worn during the ceremony.
Teasdale played for three different clubs in a career spanning 141 games, 121 of those were spent at South Melbourne. Teasdale also claimed South's Club Champion Award in '77.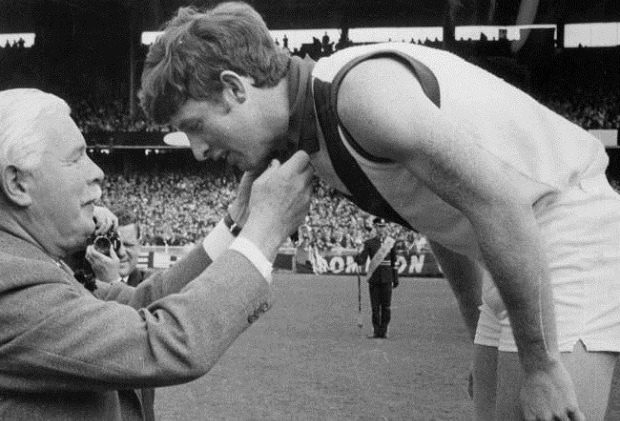 Peter Bedford – 1970
The first Brownlow Medal count to be televised saw Peter Bedford (25 votes) crowned the winner ahead of Gary Dempsey (21 votes), the highest poller in the award's history.
At the end of a career spanning 178 games for the Swans, between 1968 and 1976, Bedford would become a five-time Club Champion and three-time leading goal-kicker. Amazing considering Bedford was quotes as saying football "was an after-thought" having showed plenty of promise as a state cricketer.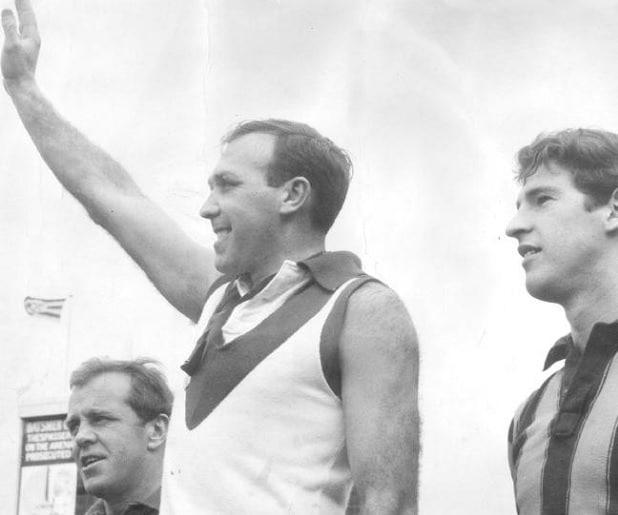 Bob Skilton – 1959, 1963, 1968
Where do we start?
Bob Skilton is one of only four players in AFL/VFL history to win the Brownlow Medal on three occasions. Skilton tied with St Kilda's Verdun Howell in 1959, won the award outright in 1963 ahead of Geelong's Polly Farmer and St. Kilda's Darryl Baldock before taking home the 1968 Brownlow Medal with a convincing 24 votes to Geelong's Denis Marshall.
Fred Goldsmith – 1955
Fred Goldsmith (right in photo next to Bob Skilton) was the first ever, and to this day the only, specialist full-back to win the Brownlow Medal. Funnily enough after winning the 1956 'Charlie', Goldsmith moved to the full-forward line where he played for the remainder of his career. In '57 Goldsmith led the Club's goal kicking with 43 goals.
Goldsmith is named on the interchange bench in the South Melbourne/Sydney Swans Team of the Century.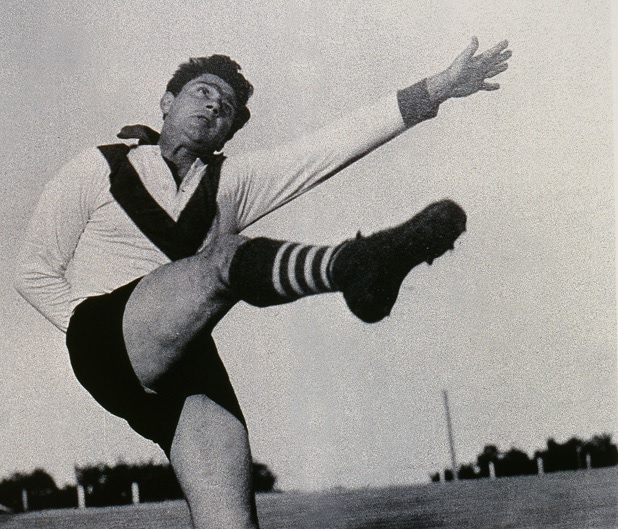 Ron Clegg - 1949
Already a Club Champion at South Melbourne, Ron Clegg went on to win the 1949 Brownlow Medal (tied with Hawthorn's Colin Austen on 23 votes) the following season.
He went on to win two more Club Champion Awards ('49 and '51), place runner-up in the '51 Brownlow and captain South Melbourne on two seperate ocassions (1953-54, 1957-60).
A key position player who locked down positions at both ends of the ground over his 231-game career, Clegg is named as a centre half-back in the South Melbourne/Sydney Swans Team of the Century. He's also a member of the AFL Hall of Fame.

Herbie Matthews - 1940
Herbie Matthews had two Club Champion Awards under his belt before breaking through with a Brownlow Medal win in 1940, sharing the award with Collingwood's Des Fothergill on 32 votes.
Matthews would go on to win another three Club Champion Awards, captain South Melbourne for several seasons and be inducted into the South Melbourne/Sydney Swans Team of the Century and AFL Hall of Fame.