"I feel like I've lost my culture and my opportunity to learn language, to learn stories. Today we've realised that I can connect straight back into that. My stories are still there, my songlines are still there, my language is still there." – Adam Goodes
Australian of the Year and AFL star Adam Goodes was not brought up in Aboriginal culture and has always wanted to connect with his heritage.
In the new Australian series of Who Do you Think You Are? 7:30pm Tuesday 12 August Adam is on a quest to learn about his ancestors' culture. He journeys deep into the remote Flinders Ranges and finds evidence of their lives from thousands of years ago. His investigations also uncover a royal bloodline and a 19th century mining magnate in his family tree.
Adam Goodes' hunger to uncover his Aboriginal heritage is fuelled by a tragic family event. His mother, Lisa Sansbury was placed in state care as a young child and was never returned to her parents. She grew up with no ties to her Aboriginal ancestry. Adam wants to fill that void and finally find a way of connecting to the traditional culture of his ancestors.
Adam's first stop is the South Australian Museum in Adelaide where he and his mum unearth records about the family line of Adam's grandfather, Hurtle Sansbury. The line goes as far back as Adam's four times great-grandparents, a 'Captain Hughes' and an unnamed Aboriginal woman from Moonta in South Australia. As descendants of this full-blooded Aborignal woman, Adam and Lisa learn they are from the Narungga people of the Yorke Peninsula.
Adam discovers that Captain Walter Watson Hughes was a former opium dealer on the China Seas who eventually settled in Australia as a pastoralist. The discovery of copper on his Yorke Peninsula station made him one of the 19th century's wealthiest South Australians. He became a pillar of the establishment whose money helped establish Adelaide University. Official white history states that Hughes never had children but the Museum's archives hold the findings of Australia's largest anthropological survey, overseen by Norman Tindale. It records that Hughes had a relationship with an Aboriginal woman and fathered a son named John Sansbury.
Further investigation into John Sansbury reveals that John's mother was married to the Narungga leader, King Tommy. Tommy raised John as if he were his own son. King Tommy and Hughes knew each other and according to oral history passed down by the Narungga people, Hughes paid King Tommy a pension for bringing up John Sansbury.
King Tommy witnessed European settlement at first-hand and from his dealings with the settlers he saw that education was a way of getting ahead in the world. So he threw his support behind the establishment of a school. When it opened in 1866, King Tommy's stepson, John was one of the first pupils to attend. John Sansbury had a unique childhood, his time split between a traditional life, and a European-style classroom.
Adam travels to Point Pearce where both King Tommy and John Sansbury lived for many years. A local community leader explains how King Tommy's teachings have passed down through the family and Adam is moved to learn that the Narungga culture has survived despite the huge challenges it faced during King Tommy's lifetime.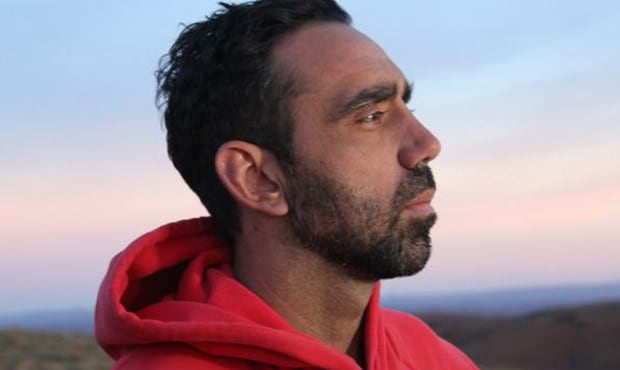 "It's an unbelievable feeling to know that my culture is still there for me." - Adam Goodes.
One last ancestral question remains for Adam. A distant relative once told him that his family had a connection to the Adnyamathanha people of the Flinders Ranges, but he knows little else.
In the ruins of the town of Hookina, Adam meets Carolynanha Johnson, a descendant of his two times great grandmother Jessie Johnson. Carolynanha has a treasure trove of information about their ancestor's life. A letter reveals the tragic events of Jessie's childhood. She was taken from the Adnyamathanha community as a child and raised in white society where she eventually obtained work as a domestic servant. It was in Hookina in 1900 that a heavily pregnant Jessie put pen to paper to ask the authorities for help to get to a hospital before the birth of her baby. Jessie had no means of support and was desperate to escape her dire circumstances, but her pleas were unanswered. Adam discovers that his resilient ancestor walked out of Hookina with her two infant children and trekked to Point Pearce Mission, more than 120 kilometres away.
A marriage certificate brings Adam's Who Do You Think You Are? journey full circle. It is revealed that Jessie Johnson married John Sansbury's son, Edward, at the Point Pearce Mission. Jessie, never had the chance to know her Adnyamathanha culture, and her great great grandson Adam wants to experience it for himself. He travels to Iga Warta, a community centre in the Northern Flinders Ranges. To welcome Adam into Adnyamathanha culture, elder Cliff Coulthard takes him to Malki, an ancient record of the life once led by their ancestors. Then elder Terry Coulthard shows Adam a site where ceremonies have been performed for thousands of years. Terry paints Adam's face with ochre and welcomes him home.
"I felt very honoured. It just gave me a connection back to the spiritual world, there's no doubt that's exactly what I've been looking for."- Adam Goodes

Who Do You Think You Are? 7:30pm Tuesday 12 August on SBS ONE.