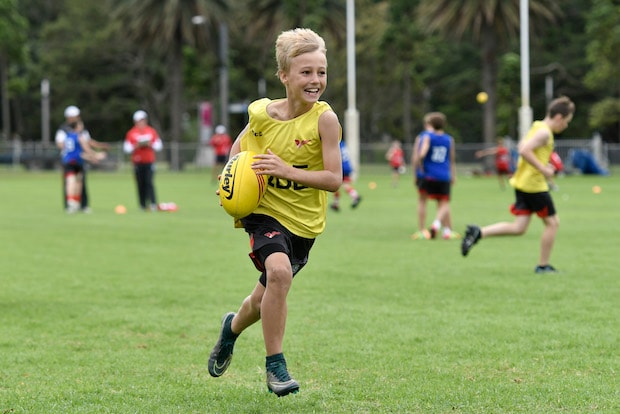 The QBE Sydney Swans Academy was established in 2010. It aims to develop elite players and to build and maintain a strong AFL culture in NSW.
There are more than 700 players in the Academy, aged from 11 to 19, and both boys and girls are involved in the program.
The Academy has 10 training hubs in NSW - Grafton, Coffs Harbour, Port Macquarie, Hunter region, Central Coast, Sydney city, Sydney north, Northern Beaches, Sydney south, and Wollongong.
The Academy has a pyramid structure, with hundreds of players taking part in weekly training sessions in the younger age groups. It is more streamlined in the older age groups as players who are genuine AFL draft prospects enter the elite pathway.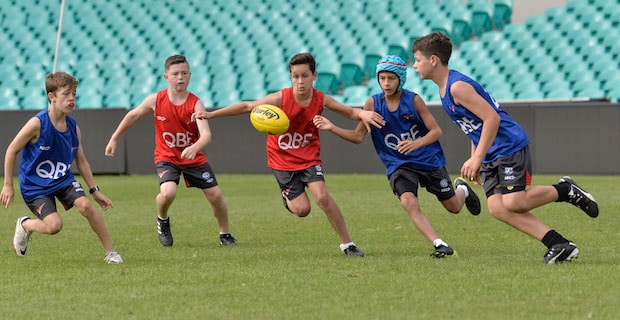 Players also benefit from having strong coaches and mentors who value discipline and commitment. The Academy curriculum emphasises personal development as well as sporting development. Academy members are encouraged and assisted to be leaders among their peers, no matter what level of football they play.
Our long-term aim is broad – to increase the number of skilled Australian football players, coaches and volunteers, and primarily to grow the national talent pool.
In the past 10 years a number of players have graduated from the Swans Academy to the Sydney Swans senior list: Sam Naismith, Isaac Heeney, Callum Mills, Jordan Foote, Abe Davis, Jack Hiscox, Daniel Robinson, Jake Brown, James Bell, Sam Wicks and Nick Blakey.
Another Academy graduate, Ben Davis, is currently on the Adelaide Crows list.