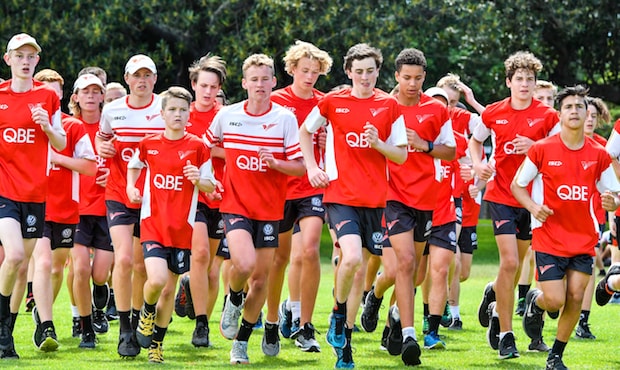 In 2020 our program includes 500 male players aged from 11 to 19, and 250 female players aged from 11 to 15. 
The Youth Girls program was first introduced in 2018, with an intake of 120 players in the U12 and U13 age groups. The Girls program has doubled in size in the past two years and now also includes U14 and U15 age groups.
The Academy has more than 100 coaches and conditioning staff who train players at the 10 locations in regional NSW and Sydney metro.
The Academy program runs for 22 weeks every year, over three terms from February to September. In the older age groups, from U16 to U19, players train for 30 weeks a year as they also complete a pre-season program.
The Academy program involves a number of weekly sessions, which give players of all ages a mix of skill development, fitness training and high-level competition.
All players in the Swans Academy also continue to play with their local club side, regardless of the division or grade their team is in. There is no requirement or need to play in a top division club team.