Fallen giants in a battle of survival
Neil Cordy
Daily Telegraph, May 22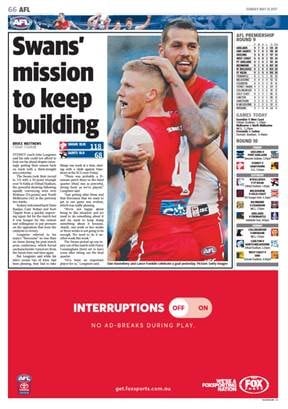 THE resurgent Sydney Swans appear to have fixed their woeful defensive numbers but there's still the one key statistic they're working to improve: 3-6.
The Swans' mission improbable, becoming the first team to make the finals after losing their opening six games, gained further momentum with the weekend's big win over top-eight side St Kilda.
With a bumper Friday night clash against fellow fallen powerhouses Hawthorn at the SCG looming, the Swans' season is suddenly alive and kicking.
While the Swans are mounting a recovery from their horror season start, the Hawks are just trying to get something going.
A loss for either team would be an almost fatal blow to what slim hopes remain for their respective seasons.
Although they're riding a three-game winning streak, no-nonsense defender Nick Smith has a pragmatic assessment of just where the Swans sit.
"It's a shocking start," Smith told the Daily Telegraph. "If you had said you'd be 3-6 you'd never take. But after being 0-6 you'd take 3-6.
"We've had a good three weeks but we're 3-6. We just have to keep going and putting our best foot forward. If we get our stuff right everything takes care of itself."
Swans storm back into finals contention
Rohan Connolly
SMH, The Age, May 21
Sydney are storming back into finals contention after their third win in a row, the Swans thumping St Kilda by 50 points at Etihad Stadium.
The Swans, who were 0-6 after a disastrous loss to Carlton, have beaten Brisbane, North Melbourne and now the Saints, all by convincing margins, with senior hands like Dan Hannebery and Luke Parker pivotal in the resurgence.
Hannebery was best on ground in the big win over the Saints, his 30-disposal, two-goal game following 33 touches and two goals against the Kangaroos a week earlier.
Parker was good again with 27 disposals, his last three games easily his best of the season.
Experienced hands continue to return to the fold, with Kurt Tippett, Gary Rohan and All-Australian defender Dane Rampe all having their moments against the Saints.
Sydney coach John Longmire agreed the win was the Swans' best performance of the year, but said they would have to continue producing the goods.
"We were really happy with the second half in particular," Longmire said. "It was 11 goals to five, and there was probably a 15-minute patch there in the third quarter that was as powerful and strong footy as we've played. Just getting after them and that fierceness that we want to get in our game was evident, which was really pleasing."
Longmire is refusing to look too far ahead
Chris Cavanagh
Herald Sun, May 21
SYDNEY coach John Longmire says his side cannot afford to look too far ahead despite seemingly getting its season back on track with a third-straight win over St Kilda on Saturday.
The Swans took their record to 3-6 with a 50-point triumph at Etihad Stadium, the powerful showing following equally convincing wins over Brisbane (54 points) and North Melbourne (42 points) the previous two weeks.
Sydney welcomed back Dane Rampe, Gary Rohan and Kurt Tippett from a quickly improving injury list for the match but it was hunger for the contest and willingness to put pressure on the opposition which was the catalyst to victory.
Longmire referred to his team's "fierceness" no less than six times during his post-match press conference, which forced uncharacteristic turnovers from the Saints time and time again.
But Longmire said while his side's recent run of form had been pleasing, it had to take things one week at a time starting with a clash against Hawthorn at the SCG next Friday night.
"There was probably a 15-minute patch there in the third quarter (that) was as powerful, strong footy as we've played," Longmire said.
Sydney's win over St Kilda shows they are more than a mathematical chance of finals
Chris Cavanagh
Herald Sun, May 21
COACHES always talk about being a "mathematical chance" of playing finals.
Hope is never lost until the numbers say it is impossible to make finals.
Some said Sydney was finished at Round 6 after a 0-6 start to the season.
No team has ever come back from a 0-5 start to make finals, let alone a 0-6 start.
But the Swans are back and after a third-straight win over St Kilda, their season still mathematically alive.
Ravaged by injury over the opening two months, John Longmire is slowly getting his best side back on the park and senior players who started the season slowly are starting to find form.
Sydney's forward pressure was at fever-pitch against St Kilda, their transition from defence sublime and their reliance on star forward Lance Franklin minimal.
The Swans have grunt on the inside, pace on the outside, a strong defence and a lively forward line which knows how to find the goals.
Swans surge back into season
Rohan Connolly
SMH, The Age, May 21
The signs leading up to this game against St Kilda always looked promising for Sydney. The Swans had clearly found some form over the previous fortnight. Their record against the Saints was an imposing one, and their record at Etihad Stadium even better.
But if anyone still had any doubts about Sydney's return to somewhere near the side we saw last year, they might have been dispelled as early as five or so minutes into the first term.
That was all it took for the Swans to kick the first two goals, the way they did it as important as the scores themselves, a Josh Kennedy intercept of an errant handball launching a chain that finished with a goal to Harry Cunningham, impressive youngster Will Hayward then converting from 45 metres out.
St Kilda's stemming of the bleeding started initially with a free kick and to be frank, a pretty soft 50-metre penalty to Dylan Roberton, Lance Franklin the frustrated perpetrator.
The Saints did, however, began to match Sydney for hardness, their next goal coming after Jack Newnes and the Swans' Callum Mills had knocked each other into next week with a shuddering, but totally legitimate collision, the spills ending up with a goal-bound Jade Gresham.
Only a minute later, Nick Riewoldt played the crumber instead of marking target, snapped around his body, and the Saints were in front.
Swans find Nick Malceski clone
Neil Cordy
Daily Telegraph, May 20
THE Sydney Swans have not only found form in past two weeks, they could have found the next Nick Malceski in the form of Nic Newman.
Malceski went into footy folklore when he kicked the winning goal in the 2012 Grand Final win against Hawthorn.
He booted the Swans' first and last goals in that epic contest but it was his dash off half-back and laser-like left foot which set him apart in his 176 games over 10 seasons.
Newman's left boot has a similar piercing accuracy.
In just his fifth game the 24-year-old was dominant against North Melbourne, picking up a massive 35 possessions including 13 contested.
The Swans will be hoping for a similar output when they take on St Kilda at Etihad Stadium on Saturday.
"Nick Malceski is a nice comparison," Newman said.
"Nick left for the Gold Coast the year I arrived. I've heard stories about him from Rhyce Shaw and Heath Grundy, who played with him. Some of the boys have joked about a similarity in the way Nick played and the role he had at the club. I saw plenty of vision of him when I got to the club and we do have some similarities as attacking half-backs."
Hannebery denies Swans are suffering GF hangover
James Buckley
SMH, May 20
Swans midfield star Dan Hannebery has rubbished suggestions a grand final hangover is to blame for his side's 2-6 start to the year ahead of Saturday's potentially season-defining clash against St Kilda.
The 26-year-old instead believes a horrendous injury toll and lack of performance by senior players in the opening six weeks dug the club into an unfamiliar hole at the foot of the ladder before recent wins against Brisbane and North Melbourne laid the platform for a potential revival.
Sydney returned to pre-season training later than most clubs, and have generally done so for most of the last two decades. They've played in three of the last five grand finals, and have finished in the top eight on 18 occasions in the past 21 years.
Playing in a grand final generally delays pre-season by a month compared with the 10 teams that miss out on the play-offs in the previous season, but Hannebery said any potential effect that had on a slow start in subsequent seasons was a myth.
"Personally I think it makes absolutely no difference whatsoever," Hannebery said.
"The only thing that might hurt teams or players is if you get that surgery so you lose that four weeks to recover from and you start running later. I didn't run for six weeks but that's the case for most players anyway that have played the majority of the year, they won't run for four or five weeks.
"From a team perspective I don't think starting late is a bad thing, it means you're playing deep into finals which is a good thing. It wouldn't bother me and it wouldn't bother the footy club if that was the case for the next however many years.
"It's a thing that we've always been good at adjusting to. By January or February you've done a number of sessions and by the [pre-season] you're generally all ready to go and there's no excuses come round one.
"There's still three or four months to prepare [after playing in a grand final]. There's an enormous amount of time whether you play in a grand final or not to get yourself ready physically and mentally to produce the football that's required at AFL level.
"You might miss a few weeks here or there but in the overall scheme of things it accounts for nothing and doesn't make any difference whatsoever."