The Sydney Swans are proud to announce that its Major Partner, Citi, has renewed its commitment to the Club for a further two years, through to at least the end of 2019.
Citi's partnership with Sydney began in 2005, the same year that the Swans celebrated premiership success. Since then, Citi's logo has adorned the back of the Sydney Swans' jumper while Citi clappers remain a fan-favourite at Swans' match days.
Citi is one of the world's largest financial services organisations. In Australia, Citi serves more than one million Australians and one thousand local companies, multinationals and institutional investors as valued clients.
Sydney Swans' CEO and Managing Director, Andrew Ireland, said that the Club is proud to have a long-standing relationship with such a strong, global brand.
"Citi has been a long-standing loyal partner, with this latest commitment taking our relationship to 15 years," Ireland said.
"Both organisations share a passion for creating unique experiences for our member base and have forged such a strong relationship over the journey that we consider Citi very much part of our Sydney Swans family.
"I would like to thank Citi for its continued support of our football club."
Citi Australia's CEO, David Livingstone, said that Citi is proud to continue its support of the Swans.
"After 13 successful years, Citi is delighted to extend its partnership with the Sydney Swans," Livingstone said.
"We are also thrilled to confirm that Citi will continue as the official Membership Partner, allowing us to support the passionate and ever-growing Sydney Swans' member and fan base.
"We continue to admire the values and attributes that the Swans display, both on and off the field. They align well with our own standards and sense of community, which is why our partnership is so successful."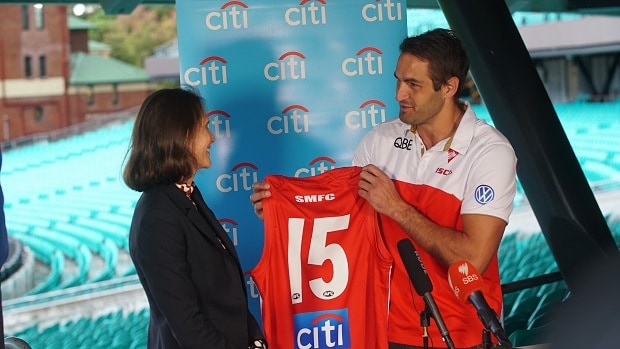 Swans captain Josh Kennedy presents Citi's Tanya Smith at Tuesday's announcement.