Second year Sydney Swans ruckman Toby Nankervis believes he's in a much better position to attack pre-season training after learning some valuable lessons in his first year at the club.
"Coming into an AFL list you know it's going to be tough work, but you sort of don't know exactly what it's going to be, so this year I knew what it was about and I came really well prepared in pre-season," Nankervis told SwansTV.
The 20-year-old from Tasmania was impressive in his debut season playing 18 matches in the NEAFL and developing his skills to play in the ruck or up forward.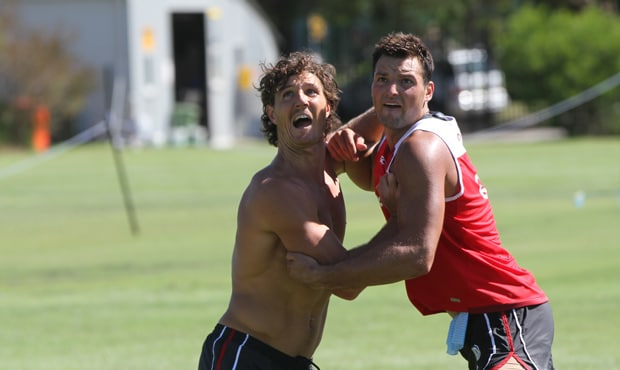 Ruckman Toby Nankervis has been working hard on the track.
At 199cm and 106kg, Nankervis is enjoying a consistent run on the training track this pre-season and is noticing the benefits.
"My pre-season is going well, obviously it's pretty tough and the workload has increased a lot from last year – they sort of manage you a bit in your first year – but this year I've been pretty lucky as I've had no niggles and I haven't missed a training session so it's going really well at the moment," he said.
Nankervis was tantalisingly close to making his AFL debut last year after being named an emergency eight times in his first year at the club.
While Nankervis didn't get the final call up for his first match, he said the experience of being an emergency will hold him in good stead if an opportunity arises this season.
"I know what it's about now, I got to warm up and that with the boys a few times and I will definitely be well prepared if that opportunity presents itself, which hopefully it does this year," he said.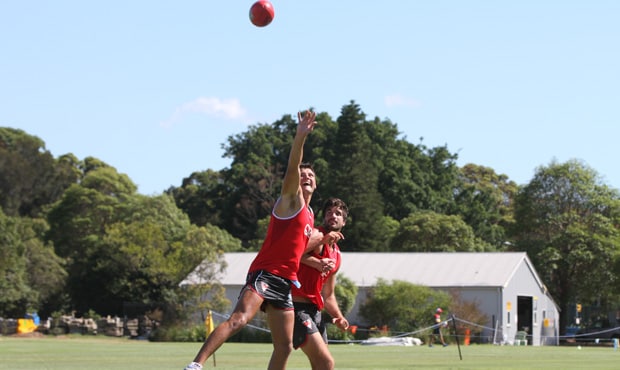 Nankervis practices his ruck work at training.
Nankervis has spent the pre-season improving his fitness while working closely with the other talls on the Swans' list.
"Sammy (Naismith) had a really good year last year as well as Tommy Derickx and Mike Pyke while Tippo is back training now so I'm definitely learning a lot and the healthy competition helps everyone improve," he said.
"They've played senior footy and they've gone to that next level, I think (you learn) how hard they work, their work rate around the ground, defensively as well as offensively, their games are really well rounded."
Swans development manager Jared Crouch said he's been impressed with Nankervis' summer and loves what he brings to the track.
"We love his aggression, he's brought his aggression out to pre-season training and he's done some nice things," Crouch said.
"He's learning more and more about forward leading patterns which gives him the opportunity to either play forward or in the ruck so it just keeps expanding his game."