We know support for the Sydney Swans stretches far and wide, but it's not every day the famous red and white colours emerge in one of the remotest parts of the world.
Club volunteer Serge Beani organised a signed jumper for friend Bob Dittko, a crewmember on the Aurora Australis, an Australian icebreaker which runs research missions and transports supplies to the country's bases in Antarctica.
The 28-strong crew, which sets sail on the 311-foot vessel from its home port of Hobart during the summer months, fill in downtime by holding fundraisers and donating the proceeds to charity.
The jumper, signed by the 2016 playing list, was a hot-ticket item at a recent auction, fetching around $3,000 with the proceeds going towards Camp Quality.
"They know it's going to a good cause so they tend to overspend a bit," Serge laughed.
"But how can you ever pay too much for a signed Sydney Swans guernsey?"
Beani, who's been a passionate servant of the footy club for the past 26 years, asked for one thing in return.
He went to a lot of effort for his good mate, acquiring the signatures himself during last year's Grand Final dinner.
Despite the result, the players were more than happy to pass the marker around and oblige knowing it was going towards a good cause.
"I asked whether Bob could take some photos of the guernsey in front of the boat," Beani added.
"And don't they look spectacular."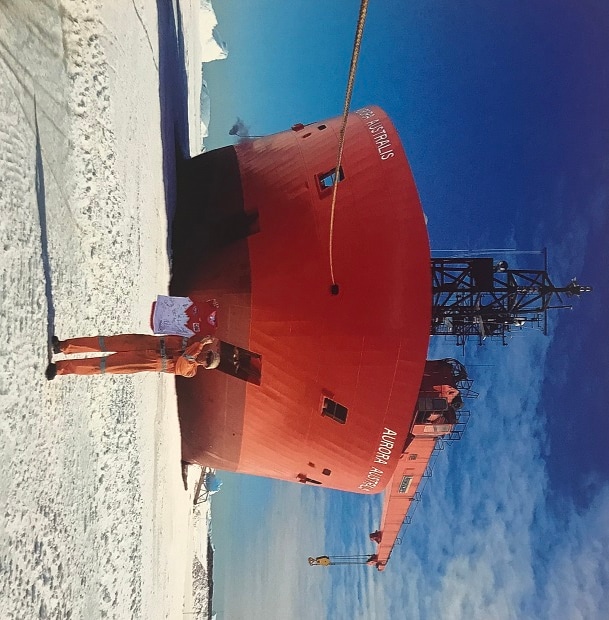 Bob Dittko stands in front of the Aurora Australis, the Australian ice-breaker which runs supply missions to Antarctica.