South Melbourne finished the home and away season in second position, two games behind Richmond, with Carlton and Geelong making up the final four. South therefore played Richmond in the second semi-final and, after trailing by 29 points at half-time, the Bloods looked a beaten side. The Tigers still led by 28 points at the last change, but captain-coach Jack Bisset then made several telling moves. He switched Jack Austin to full-back in place of the injured Ron Hills, moved Jock McKenzie to defence and pushed Bob Pratt out to centre half-forward, with Ossie Bertram at full-forward.

Bisset's moves worked to perfection and quick goals by Pratt, Bertram and Peter Reville put South back in the match. South erased Richmond's lead within 15 minutes of the last quarter and cruised home by 18 points to reach the Grand Final. Richmond then defeated Geelong by nine points in the preliminary final for the Bloods to face the Tigers in the premiership-decider.

An Australian record crowd of 75,754 was at the MCG for the big match, with South starting as if fire from a rocket. The Bloods played ferociously determined football from the first bounce in an effort to unsettle a Richmond side carrying several injured players. South, on the other hand, was without Ron Hillis, who had failed a fitness test after injuring his hip in the second semi-final.

South went into the main break with a 28-point lead, with Laurie Nash and Hugh McLaughlin the Bloods' best players. The Tigers desperately tried to bridge the gap early in the third quarter, but the Bloods' defence stood firm. South easily brushed aside the Richmond forwards and cruised home by 42 points for the club's third VFL premiership. South's best were Nash, Austin, McLaughlin and Len Thomas. The Bloods celebrated the premiership with a dinner at the South Melbourne Town Hall and, late in the night, rubbed salt into Tiger wounds by riding through the streets of Richmond in a charabanc. 
1933 Grand Final, at MCG, September 30
                                    Q1       Q2       Q3       Q4
South Melbourne   3.5       6.7       8.12    9.17    (71)
Richmond                0.2       2.3       3.3       4.5       (29) 
Goals: Pratt 3, Brain 2, Diggins 2, Reville, Thomas
Premiership Side
| | | | |
| --- | --- | --- | --- |
| B: | Jock McKenzie | Hec McKay | Jack Austin |
| HB: | Bill Faul | Laurie Nash | Hugh McLauglin |
| C: | Harry Clarke | Len Thomas | Johnny Bowe |
| HF: | Jim O'Meara | Brighton Diggins | Peter Reville |
| F: | Herbie Matthew | Bob Pratt | Ossie Bertram |
| Foll: | Jack Bisset (Capt.) | Dinny Kelleher | Terry Brain |
| Res: | Gilbert Beard |   |   |
| Coach: | Jack Bisset |   |   |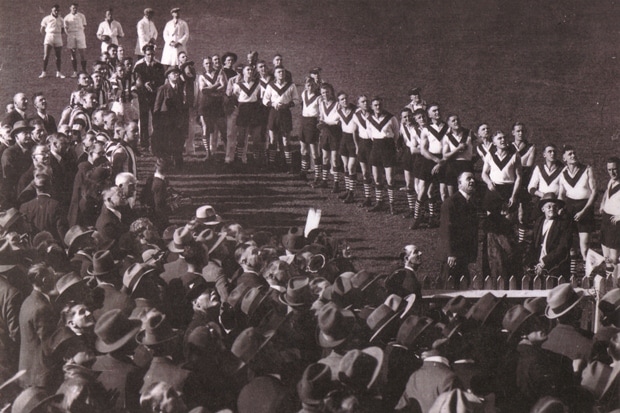 The 1933 premiership is unfurled at the Lake Oval, but no one would have guessed the club would have to wait another 72 years for the next flag.