Lack of footballing success and financial instability continued to dog the Club and on September 1, 1992 the owners of the Swans told the AFL that unless the Club was restructured it could not continue. A crucial AFL meeting on October 14 granted the Swans seven days to produce a plan for survival – a merger with North Melbourne being one of the options proposed by the AFL.
It was a momentous meeting on October 21, 1992. At 7.33pm, the Club's survival was ensured when the other clubs voted that the AFL should waive the Swans' outstanding license fee (almost $2 million), provide working capital to Sydney for three years, and award priority draft choices.
AFL intervention was launched emphatically early in the following season when the team's losing streak extended to eighteen successive defeats and coach Gary Buckenara was replaced by Brett Scott as caretaker coach. On May 4, the AFL Commission led by Ross Oakley resolved that the Swans would revert to a traditional member-based system rather than continuing with private ownership, that AFL Executive Commissioner Alan Schwab would be appointed Executive Chairman of the Club, and that Ron Barassi would be appointed coach until the end of 1995.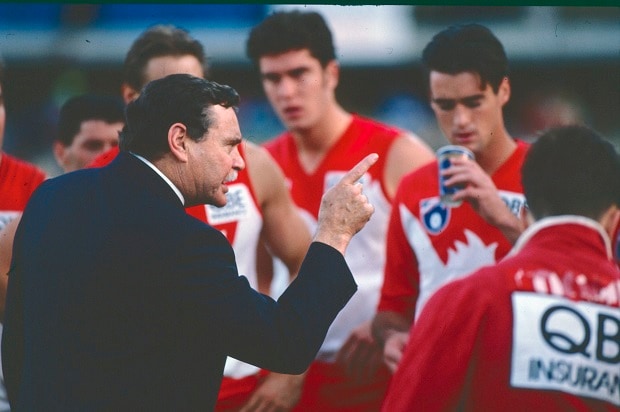 The appointment of Ron Barassi as coach was crucial to the survival of the club.